Posted on
Tue, Dec 13, 2011 : 5:58 a.m.
Top 5: University of Michigan's biggest commercial real estate leases
By Lizzy Alfs
The University of Michigan is one of the largest renters of private commercial real estate in the Ann Arbor region.
The university leases more than 20 percent for various offices at Domino's Farms Office Park in Ann Arbor Township, which is Washtenaw County's largest office complex at close to 1 million square feet.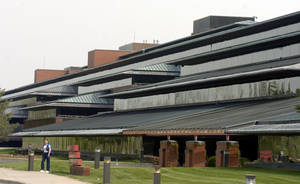 AnnArbor.com files
U-M on Monday released a list of its five property leases for more than 50,000 square feet, which it's required to do annually. Here they are:
1. 222,775 square feet on Frank Lloyd Wright Drive at Domino's Farms in Ann Arbor Township: University of Michigan Health System departments use the space.
2. 125,815 square feet at the KMS Building on South State Street in Ann Arbor: The space, which is leased from Kosmos Associates, is used for hospital clinical billing and other UMHS groups.
3. 65,693 square feet on East Eisenhower Parkway at the Burlington Office Center in Ann Arbor: The space is used by various departments, including physical medicine, rehabilitation, spine rehabilitation and dental school.
4. 63,920 square feet at 2301 Commonwealth Boulevard in Ann Arbor: First Properties Associates leases the space to various UMHS groups.
5. 51,534 square feet on North Canton Center Road in Canton: UMHS Canton Health Center leases the space from Saltz Center.
Lizzy Alfs is a business reporter for AnnArbor.com. Reach her at 734-623-2584 or email her at lizzyalfs@annarbor.com. Follow her on Twitter at http://twitter.com/lizzyalfs.