Posted on
Sat, Jan 19, 2013 : 5:59 a.m.
Top 5 things to do and see at the 2013 Detroit Auto Show
By Ben Freed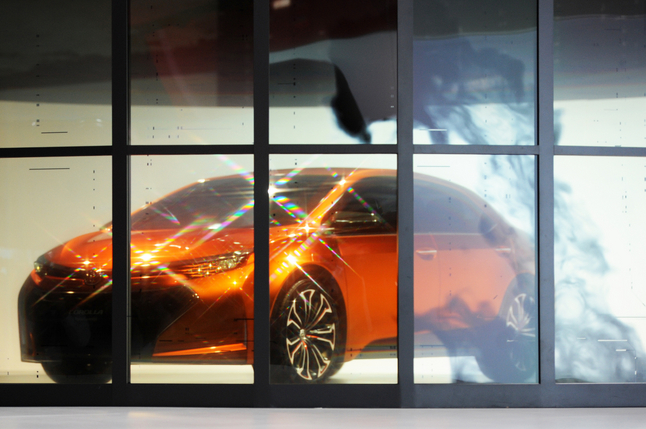 Melanie Maxwell | AnnArbor.com
Since the wheel was invented, humans have spent a tremendous amount of time and energy figuring out how to travel faster and with more style than our neighbors. The
North American International Auto Show
is the yearly showcase of that competition, and it is breathtaking.
Get Ann Arbor news in your inbox
Keep your finger on the pulse of the Ann Arbor business community by signing up for the Business Review newsletter sent out early every Thursday morning. You can also sign up for the daily 3@3 email to see our best local stories every day.
Before attending media days on Monday, the last time I went to the NAIAS I was an eighth-grader at
Tappan Middle School
. I remember being overwhelmed by the grandeur and impressed by the futuristic technology all around me.
Ten years later, I couldn't help but feel the same rush of emotions as I walked around with my mouth hanging slightly open trying to take it all in.
Cobo Center will be open to the public Jan. 19-26 and you can purchase tickets ahead of time at the NAIAS website.
Here's my guide to experiencing the best of this year's show.
Related: Four different itineraries for visiting Detroit and the 2013 Auto Show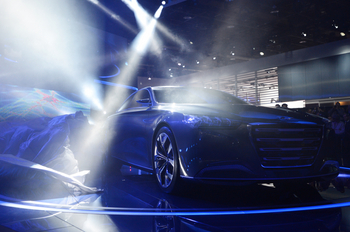 Melanie Maxwell | AnnArbor.com
1. See the cars of the future
This might seem like low-hanging fruit, but it really is the first thing you have to do at the show. While it's impressive to see the new models that will be available in 2013, you also could go to any old auto dealership to do that.
Concept cars are not vehicles you will see on the road any time soon. Some are merely shells, while some come decked out with bells and whistles that are not practical to put in standard models.
"What you are about to see is not set in stone," Hyundai's presenter said during the unveiling of their concept car during the media preview.
"It is a spiritual guide for what will be the next generation of the Genesis."
Those spiritual guides range from breathtaking to head-scratching, but always leave much to the imagination.
2. Check out the local products
While the NAIAS may be held in Detroit, that does not mean Washtenaw County doesn't have a strong presence. While you're at the show make sure to check out the cars and parts designed right here in your own backyard.
If you stop by the Toyota display, it will be tough to miss the new 2013 Avalon, designed and engineered at the Toyota Technical Centers in York and Ann Arbor Townships. Local engineers also completed the Rav 4's electric overhaul, working on the powertrain with engineers from Tesla Motors.
In the Ford area, make sure you peek under the hood of the new electric vehicles and hybrids. The company's Rawsonville plant, located in Ypsilanti Township, has been helping fuel Ford's battery-powered cars since 2010.
"All of the batteries we use in our C-Max, Fusion, and Focus hybrid or electric vehicles come from Rawsonville," chief engineer John Davis said.
At Hyundai and Kia, make sure you tinker with the brand new navigation and audio systems. They were designed at the Hyundai-Kia America Technical Center. The center has been focusing on making user experience with the technologies more integrated and less distracting as you drive.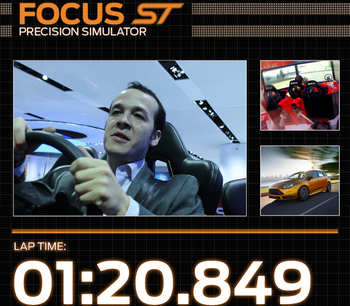 Courtesy Ford
3. Play games!
Honestly, this one might go at the top of my list. One of the few details I remember well from my eighth-grade trip to the show was racing one of my friends in a Mini-Cooper simulator.
I could go on about how much fun NAIAS is for the young (and young at heart!) but I simply will say the simulator at Ford and the hands-free driving game at Toyota were very exciting. I'm sure there were more games I didn't find, but I was there for work.
Check out this video of the Ford simulator, then try it yourself when you visit the show:
4. Go green
While at the show this year, make sure you pay attention to the green initiatives being pushed by nearly every company on the floor. It's no secret that cars are being asked to go further on less gas, but there are even a few companies showing off bikes they designed that "harness the technology" of their hybrid models.
I'm not entirely certain how the bikes work, and I don't recommend trying to ride off on one, but they are indicative of a focus throughout the show on cutting emissions and raising gas mileage.
Of course, some people are still not entirely convinced electric cars can do everything their gas-powered relatives can. While it won't necessarily show off top-end speed or acceleration, there is a "DriveGreen Experience," provided by Japanese company Aisin, in the basement of Cobo. Skeptics and joyriders alike can take a brief ride-along in an electric car.
5. Get outside the hall
The auto show is amazing, but unless you're a car junkie who needs to know the specs of every vehicle, it will not take up your entire day. If you're going to schlep to Detroit, why not spend your remaining time there checking out a part of the city you haven't seen before?
We have a few Detroit experts in the AnnArbor.com newsroom, so I turned to them for tips on what's new, exciting, or just plain fun to do in the city.
Ypsilanti reporter Katrease Stafford said she would simply walk over to Campus Martius Park. Located just a few blocks from Cobo, the park has an outdoor ice skating rink in the winter with a cute cafe right near by.
Our community engagement specialist Kyle Mattson recommends checking out the Belle Isle Aquarium. Just a quick 10-minute drive from NAIAS, the aquarium re-opened in August 2012. Until its closing in 2005, it was the oldest continuously operating public aquarium in North America.
Ben Freed covers business for AnnArbor.com. You can sign up here to receive Business Review updates every week. Reach out to Ben at 734-623-2528 or email him at benfreed@annarbor.com. Follow him on twitter @BFreedinA2