Posted on
Thu, Jul 25, 2013 : 5:59 a.m.
Top 5 vacant retail spaces in Ann Arbor: What's next for these sites?
By Lizzy Alfs
Melanie Maxwell | AnnArbor.com
The start of 2013 spurred a hot streak of retail and restaurant activity in Ann Arbor.
More than a dozen restaurants have opened their doors this year, while both independent and national retailers are pursuing Ann Arbor as an attractive market to join.
That's continuing this summer as high-profile projects — such as the redevelopment of the former Borders building downtown and the construction of the Arbor Hills shopping center on Washtenaw Avenue — near completion, bringing a mix of new retailers to the area.
AnnArbor.com file photo
The active retail landscape also means Ann Arbor real estate is limited. Retail and restaurant vacancies in Ann Arbor are slim, according to local real estate agents, who say "high-quality" space can be hard to find.
"We are literally running out of high-quality space in the (Class A) centers," said Michael Lippitt, a commercial real estate broker with Landmark Commercial. "That's why you're going to start to see some new development."
Lippitt said retailers and restaurant users are attracted to Ann Arbor because sales per square foot are typically higher than the rest of southeast Michigan.
"On the same note, the amount of retail per capita tends to be lower in Ann Arbor," he continued. "Consequently, you get higher sales, but also higher rent. The top restaurants and retailers all want to be there, but then the mid-tier and more price-sensitive retailers are priced out of the market."
Swisher Commercial's Randy Maas said real estate in downtown Ann Arbor and near the University of Michigan's campus is "hot" in heavily trafficked areas such as South University, Main, Liberty and State. When one space is vacated in those areas, a new and optimistic business owner is often ready to fill its place.
"We see a lot of interest, and I get calls from people asking, 'Is there anything else?'" Maas said.
Still, there are vacant retail spaces around town that have sparked my curiosity. Maybe the space has been vacant for a while, maybe it's high profile, or maybe a recent sale has left me wondering: What's next? Here are my top 5 properties to watch in Ann Arbor: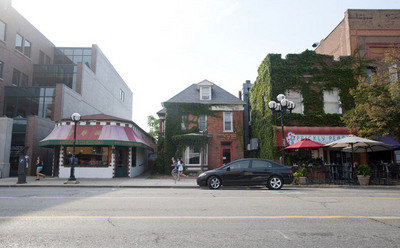 Courtney Sacco | AnnArbor.com
1) Middle Kingdom and Chocolate House buildings, 330-332 S. Main St.: These adjacent properties on downtown Ann Arbor's South Main Street were sold in late 2012 to related business entities, managed by Asuman Erturk. The plan, relayed in December by the new owner's attorney Bill Schlecte, was to reopen Middle Kingdom "as soon as possible," and to open a restaurant or a retail establishment in the former Chocolate House building. Middle Kingdom never reopened, and attempts to reach the new owner — and the owner's attorney — have been unsuccessful. Because both properties are located in the city's Main Street Historic District, any building alterations would require approval from Ann Arbor's Historic District Commission.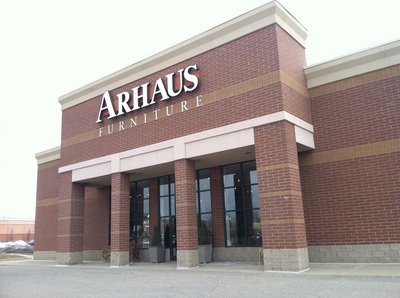 Lizzy Alfs | AnnArbor.com
2) Soon-to-be vacant Arhaus furniture space in Arborland
:
Arhaus
furniture design center is preparing to move from its space in
Arborland
to the under-construction
Arbor Hills
shopping center in August. The move will leave Arborland with a roughly 14,500-square-foot vacant space on the eastern edge of the center, which Lippitt is marketing for lease.
"It's kind of an in-between box-size," he said. "It doesn't lend itself to splitting it up, but fortunately, there are a variety of retailers looking at it right now."
3) Former Maru Korean restaurant, 414 E. William: In fall 2012, a sign in the window of this Korean restaurant at 414 E. William St. read "closed for renovations." Maru never reopened, and the building has sat vacant ever since. City records show the property sold for $460,000 in December 2012 to William and Thompson LLC, an entity registered to John Lagos. Lagos — whose family owns several Ann Arbor properties — did not respond to requests for comment on his plans, but the property seems like a prime restaurant corner. It's situated just across the street from the newly constructed Zaragon West high-rise and NeoPapalis Pizza restaurant.
4) Freestanding former Arby's building, 3021 Washtenaw Ave: The Arby's restaurant at 3021 Washtenaw Ave. closed in 2012, shortly after the 1,825-square-foot building was listed for sale. It's located on the north side of Washtenaw Avenue, near the Huron Village shopping center and across from Arbor Hills. The property has a 2013 assessed value of $271,600, and is being marketed for sale for $550,000 with William LaKritz of Mid-America Real Estate Group.
Kyle Mattson | AnnArbor.com
From Mid-America's marketing materials: "This freestanding former Arby's is an excellent food site located near Whole Foods, between the University of Michigan and Eastern Michigan University. A new center is being constructed across the street. The area consists of a strong population and income."
5) Redeveloped building on the southwest corner of the Maple-Miller intersection: The 2,200-square-foot building on the southwest corner of the Maple-Miller intersection was redeveloped in 2008. Although Subway franchisee Mike Heffner signed a lease in August 2011 to occupy half the building at 1251 N. Maple, the restaurant has yet to open and Heffner hasn't returned requests for comment. Construction work was underway at the space last week, although it appears the restaurant has a ways to go before opening.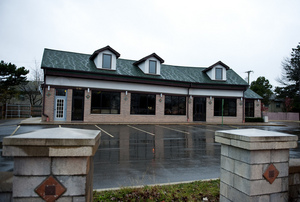 Lizzy Alfs | AnnArbor.com
Meanwhile, plans fell through for a Charlevoix-based
specialty wine shop
to open in the remaining half of the building, leaving a 1,100-square-foot vacancy. The owner of the property is
Lagos Investment Company LLC
, an entity registered to
Basile Lagos
.
The building sits empty as real estate activity continues near the Maple-Miller intersection. Most recently, a Speedway opened on the intersection's northeast corner. In addition, Juicy Kitchen and several other restaurants opened this year in the shopping center just north of the intersection.
Lizzy Alfs is a business reporter for AnnArbor.com. Reach her at 734-623-2584 or email her at lizzyalfs@annarbor.com. Follow her on Twitter at http://twitter.com/lizzyalfs.