Posted on
Sun, Apr 14, 2013 : 5:59 a.m.
Arbor Hills shopping center poised to alter Ann Arbor's retail landscape
By Lizzy Alfs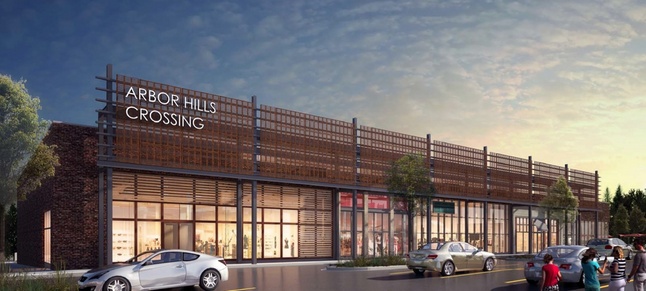 Rendering by reForm Studio
It was too good to pass up: a mostly vacant Ann Arbor property nestled near County Farm Park and directly across the street from a high-volume Whole Foods store.
The largest retail development constructed in Ann Arbor in a decade is now taking shape on the 7.45-acre site, on Washtenaw Avenue between Huron Parkway and Platt Road. When Arbor Hills opens on Aug. 22, it could rival Briarwood Mall as a regional shopping destination and it will bring multiple new retail concepts — many which are found in Troy's upscale Somerset Collection — to Ann Arbor.
Developers were eyeing the property long before Arbor Hills was proposed. Ann Arbor City Council approved a site plan in 2006 for The Shops at Arlington — an ambitious 138,000-square-foot retail and residential project with underground parking that would replace vacant commercial buildings and a former car dealership.
But as the economy spiraled, the project fell apart and lender Comerica Bank sought to sell the property following foreclosure. One local developer didn't hesitate.
"You had this site that was just sitting there doing nothing…but at the same time, it seemed to be an attractive location with Whole Foods across the street now and (adjacent to) County Farm Park," said Tom Stegeman of Ann Arbor's Campus Realty.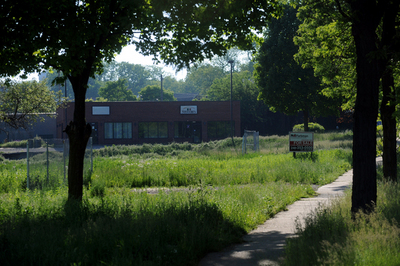 AnnArbor.com file photo
"Personally, being from Ann Arbor, it seemed like a nice opportunity to clean up an eyesore on Washtenaw Avenue," he continued.
In 2010, Stegeman partnered with North Shore Properties Group co-founder Max Reiswerg, who has decades of experience in retail leasing, to purchase the property for $3 million and propose Arbor Hills — a scaled-back version of the project originally planned for the site. Their offer on the property beat out several development groups.
A brownfield plan was later approved for the project that included $6.7 million in tax-increment financing over a period of 19 years. Of that total, $5.4 million would reimburse the developer for eligible expenditures, including removal of contaminated soils at the site, which are a result of the former car dealership and gas station.
Reiswerg and Stegeman declined to reveal the total cost of the Arbor Hills development. In comparison, the Huron Village shopping center across the street has an estimated market value of about $21.5 million based on its 2013 assessment, city records show.
In June 2012, the project broke ground. Originally called Arbor Hills Crossing, Arbor Hills totals 90,700 square feet spread across four buildings. It's mostly retail and restaurant space, with about 9,000 square feet of offices.
"We took the (original) proposed plan, and we just simplified it," Reiswerg explained. "We thought there was just too much in there…we revamped it as far as tenant mix and scale of the project."
The four buildings are quickly taking shape on the site, and the developers hope to turn individual spaces over to tenants this month. The center's grand opening is scheduled for Aug. 22.
The design of Arbor Hills is unusual for Ann Arbor's shopping centers; three of the buildings are only a few feet from the sidewalk along Washtenaw Avenue, and parking is dispersed next to and behind the buildings. It diverges from the typical shopping center layout, with buildings set far back from the road and a sea of parking in front.
"Specifically, from day one, what we heard was that the city wanted to see buildings right on Washtenaw," Stegeman said. "Another thing we heard a lot that we incorporated into our design was connectivity."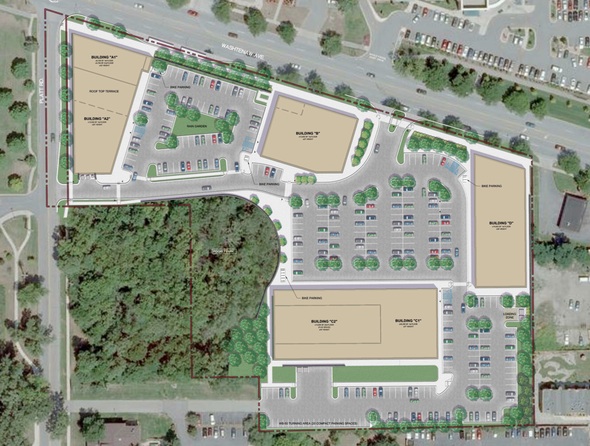 The developers worked to meet some goals of the ReImagine Washtenaw initiative, including putting the buildings close to the street and breaking the center into several smaller buildings.
Nathan Voght, project manager for ReImagine Washtenaw, said that kind of design helps to create a walkable environment and promotes sidewalk interest. It also consolidates curb cuts so it's safer for bikers and walkers.
"There was a time, for a few decades, where the thinking was we need berms and landscaping so nobody driving down the street sees ugly stores…it ignored walkability and bicyclists. This development definitely moves the ball forward in that regard," he said.
The eventual goal, Voght said, is that developments in the Washtenaw corridor will have stores with direct entrances from the sidewalk and zero or minimal setbacks. Most of the Arbor Hills stores won't have sidewalk entrances, but the buildings have windows that give the tenants exposure from Washtenaw.
"I think when they're done, with the windows put in and active stores inside, it's going to make a big difference (to the corridor)," Voght said.
As part of the plans, a traffic light is being installed at the Platt Road intersection, and a covered bus stop will be located on Washtenaw outside the center. There will be 30 covered bicycle spaces and new public sidewalks. The developers are restoring the wetlands on the site, which will have a viewing platform for the public. The approved plans include 310 parking spaces, but Reiswerg said there could be slightly more than that.
The tenants in the center include a mix of national, regional and local businesses, many of which have been circling the Ann Arbor real estate market for years. The developers have 15 signed leases and Reiswerg said he is in various stages of negotiations with other tenants. There is room for about 22 or 23 businesses, depending on how space is divided.
The developers declined to reveal their asking lease rate. Online marketing materials don't list a rate, either, but it markets the property as the "dominant retail center of its type in the Ann Arbor market."
There will be three restaurants with outdoor patios and two of those are confirmed: Metro Detroit's Pizzeria Biga and a restaurant by Ann Arbor's Cafe Zola owners.
"(Michigan has) great local restaurants, and we would be selling ourselves very short if we would had put a chain in there," Reiswerg said.
Retail tenants include: Running Fit, Anthropologie, Brooks Brothers' Flatiron Shop, Sur La Table, The North Face, and Bluemercury, among others. (See a full list of Arbor Hills tenants) The developers intentionally did not sign a lease for an "anchor" store, choosing instead to have a mix of stores with smaller footprints.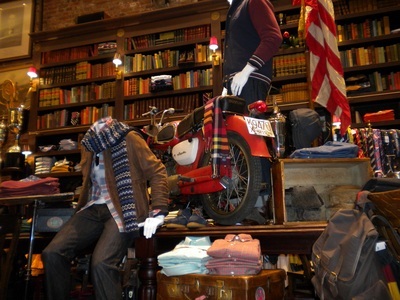 Photo Courtesy Of: Phaon Spurlock | luxuriousprototype.com
For many of the tenants, this will be their first location in Ann Arbor, although about half are located in the Somerset Collection. Reiswerg and Stegeman said because Arbor Hills is a "design-driven development," they were able to attract tenants that otherwise may not have come to Ann Arbor.
"Typically, the tenants that we're bringing in are street tenants," Reiswerg said. "They're really sensitive to the architecture; they have a brand…If we would have done a typical strip center, there's no way we would have gotten these guys, no matter how good the location was."
Added Stegeman: "Some of these (tenants) have been looking in (Ann Arbor) for years…they just haven't been able to find the right venue."
Greg Teed, chief operating officer of Arhaus Furniture, said his store is making the jump from Arborland Center to Arbor Hills for one main reason: the architecture of the new development.
"Our company (has been) moving forward in the last three, four, five years in a more upscale direction. A lot of the stores we've been building out over the past few years have very cool architectural elements to it," he continued. The architecture at the Arbor Hills development fits well with that vision, he added.
So what does this mean for the region's retail landscape?
Retail is a constantly evolving industry. The big-box heyday has likely passed, and some independent retailers in downtown Ann Arbor have struggled to compete with larger chains and the rise of online shopping.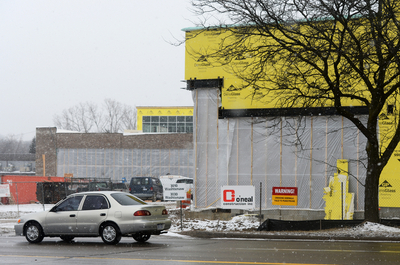 AnnArbor.com file photo
A retail project of this scale hasn't been constructed in Ann Arbor in a decade, and nationwide, retail development has slowed significantly since 2008.
Arbor Hills will create competition for Briarwood Mall, which has stood firm as many residents' go-to shopping destination for decades. Briarwood already has responded to that pressure with the announcement of several upscale tenants and a plan to renovate the mall this year.
"We certainly pay attention to our competition and we do consider (Arbor Hills) competition," Denise Murray, Briarwood Mall's director of marketing and business development, told AnnArbor.com in March. "But (our renovation plan) has been in the works for about 2.5 years now."
It also will be interesting to see how the development alters the traffic on Washtenaw, which some residents say is already congested during peak hours due to its role as a key connector from U.S. 23 to downtown Ann Arbor and the University of Michigan campus.
Mostly, Reiswerg believes Arbor Hills will fill the upscale niche for shoppers in the Ann Arbor area.
"If you're a mall shopper, Briarwood is a good center…if you're a big-box guy, you have Arborland…Ann Arbor is fortunate to have a lot of cool independent retailers in Kerrytown and downtown. We've come in, and we've given that Ann Arbor shopper another choice. I think what we've done is completed the menu," he said.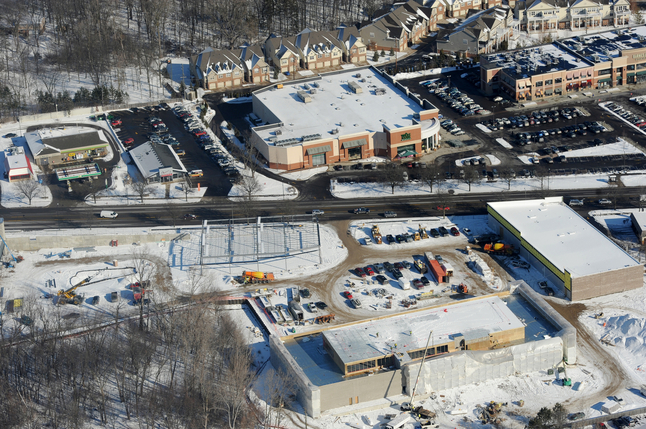 Melanie Maxwell | AnnArbor.com
Lizzy Alfs is a business reporter for AnnArbor.com. Reach her at 734-623-2584 or email her at lizzyalfs@annarbor.com. Follow her on Twitter at http://twitter.com/lizzyalfs.