Posted on
Fri, Mar 15, 2013 : 5:57 a.m.
Top floor of the old Herb David Guitar Studio will become repair shop
By Ben Freed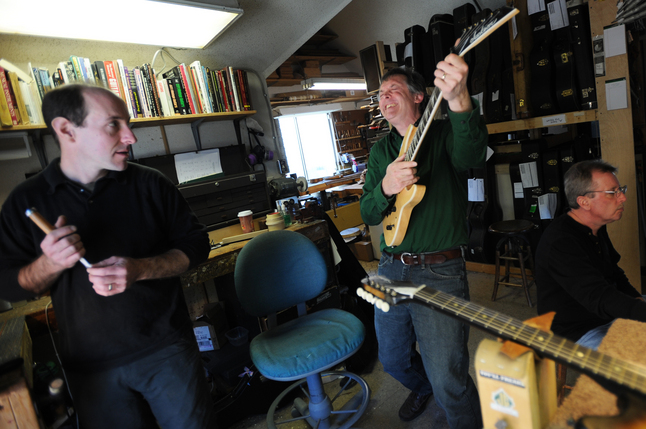 Melanie Maxwell | AnnArbor.com
Related Stories:
Herb David's Guitar Studio is closing at the end of March, but those who have been tutored by the long-time Ann Arbor guitar maven will continue to repair the guitars, basses, and banjos of Southeast Michigan musicians.
A "stairway to heaven" leads to the third-floor repair shop in the house at the corner of Liberty Street and Fifth Avenue. Instruments and tools are spread out in the converted attic, giving off a cluttered yet organized vibe the three luthiers working in the shop seem perfectly comfortable with.
"A luthier is a maker or repairer of stringed instruments," David Collins said. "We are a special subset that specializes in stringed instruments that are fretted and plucked."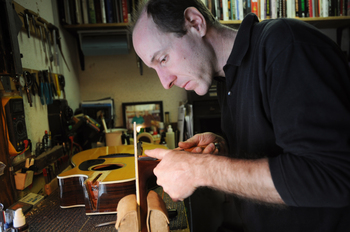 Melanie Maxwell | AnnArbor.com
Collins,
Brian Delaney
, and
Hesh Breakstone
are staying in the old repair shop and opening their own business,
Ann Arbor Guitars
. The group has worked in the shop together for more than two years, and when they heard that the store would be closing, presented a proposal to Herb David and his wife Andrea to continue their operations in the space.
"This is [Herb]'s legacy, and this is what he loves," Andrea David said.
"He couldn't be happier that there are people that he likes who are very professional who want to continue the work here."
Collins said most luthiers in Ann Arbor can trace their training back to someone who was trained by Herb David. He recited the "lineage" of his training that indeed came back to someone who was trained at the studio.
"It's like a huge pyramid with Herb at the top," he said.
"He was in this profession before it really existed. When he started there were no books on how to build or repair guitars and certainly there weren't any YouTube videos. The people who wrote the first books on the subject all approached Herb to ask him questions."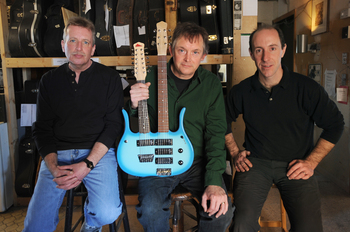 Melanie Maxwell | AnnArbor.com
Ann Arbor Guitars will complete all of the "leftover" work from the Herb David Guitar Studio and then will continue to work on new client's instruments. Collins said all three luthiers know how to build guitars, but it's not their main focus.
"Right now it's about 0 percent of our business," he said. "But for the right price, we can definitely work something out."
Recently, Collins has focused on restoration of vintage and damaged guitars. As he read off his inventory, which included a guitar neck cracked by an 18-wheeler and Martin from the 1870s, Andrea David could not help but remark that he "sounded like a young Herb."
At 82, Herb is no longer an every-day guitar repair man, but still is the expert on a number of rare instruments that come into the shop from time to time.
"He will still be welcome to come in and fix things, or carve different things. He was making a really unique ukulele the other day," Collins said.
"And if we ever have anyone bring in an oud or a lute, he's still the best expert available to do the repairs on those."
Collins has been a luthier for a number of years, and taught at the Bryan Galloup school of lithiery, but he's joined in this venture by one of his more recent apprentices.
Melanie Maxwell | AnnArbor.com
"I was actually a manager at
General Electric
. I was promoted to vice president, and I quit the same day," Breakstone said.
"So I decided I needed something to do with my time so I started to teach myself how to build guitars. Eventually I was told that I had to learn the repair side as well and that was how I ended up apprenticing for Dave [Collins]. So I was in technology and now I'm doing old-world workmanship. It's come full-circle for me."
Andrea David said she and Herb have not decided what will become of the bottom two floors of the house.
"It was designed as a music space, so we'd love to see it be something music-related, but we haven't settled on anything," she said. "We don't want to be come a restaurant though."
Another major component of Herb David's studio are the music lessons that span a vast range of instruments and abilities. Ann Arbor Music Center owner Alex Johnson said he took his first guitar lessons at Herb David's studios and taught at the store for four years in the mid-1990s.
The center, located a few blocks away on Ashley Street, opened in 2001. With a staff of 25 instructors, the center will be growing April 1 when some of the instructors from Herb David will transfer to the music center after the studio closes.
"Herb was certainly an icon in the Ann Arbor community and the town won't be the same without him," Johnson said in an email.
"We just want people to know that there is still a place that's thriving here and is a part of the music community."
Ben Freed covers business for AnnArbor.com. You can sign up here to receive Business Review updates every week. Reach out to Ben at 734-623-2528 or email him at benfreed@annarbor.com. Follow him on twitter @BFreedinA2