Posted on
Wed, Nov 2, 2011 : 5:58 a.m.
Toyota minivan engineered in Ann Arbor area will be exported
By Nathan Bomey
(See previous story — Analysis: Toyota shifts resources to U.S., positioning Ann Arbor area engineering center for growth)
A minivan engineered by the Ann Arbor area's Toyota Technical Center will be exported to the Korean market, the Japanese automaker announced Tuesday.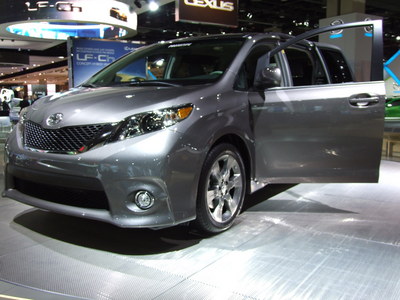 Nathan Bomey | AnnArbor.com
The manufacturer will export the
Sienna
minivan —
which was engineered in York Township
and is assembled in Indiana — to South Korea starting this month.
The automaker exported about 100,000 U.S.-assembled vehicles to 19 countries in 2010, but this is the first time the Sienna will be exported outside North America. The company expects to export 600 vehicles at first.
Other vehicles that have been engineered at the Toyota Technical Center and exported to other markets include the Avalon sedan and the Tundra pick-up truck.
"Toyota's North American operations are constantly working to identify and expand new export opportunities for the vehicles we produce here, building on our extensive investments in auto production, research and development in the U.S. and helping to maintain a strong, stable base of jobs," said Yoshimi Inaba, president and COO of Toyota Motor North America Inc., in a statement. "With this development and other possible achievements in the future, we hope to continue boosting exports from our North American operations."
The Wall Street Journal reported: "The move indicates consumers in other global markets may be slowly embracing larger 'American style' vehicles."
The news comes after the U.S. approved a new free trade agreement with South Korea last month. Toyota did not mention the free trade agreement in its news release.
Toyota employs about 1,100 people at the tech center's campuses in York Township and Ann Arbor Township. Engineers develop and test new vehicles under tight security on a 690-acre parcel at the corner of Platt and Willis.
Contact AnnArbor.com's Nathan Bomey at (734) 623-2587 or nathanbomey@annarbor.com. You can also follow him on Twitter or subscribe to AnnArbor.com's newsletters.