Posted on
Wed, Sep 26, 2012 : 6:52 p.m.
Two 14-story high-rise apartment buildings proposed for downtown Ann Arbor
By Lizzy Alfs
Editor's note: The number of total units in the developments has been corrected.
Ann Arbor's housing boom isn't over yet.
The city's Design Review Board received preliminary design plans this week from developers for two separate downtown apartment projects: one located above Pizza House restaurant on Church Street and one on East Huron Street.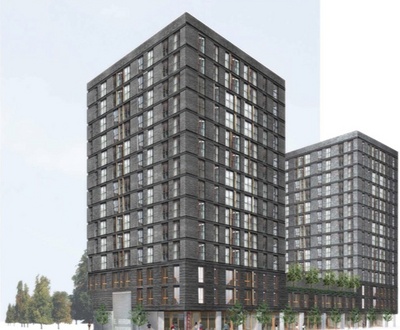 Rendering by Humphreys & Partners Architects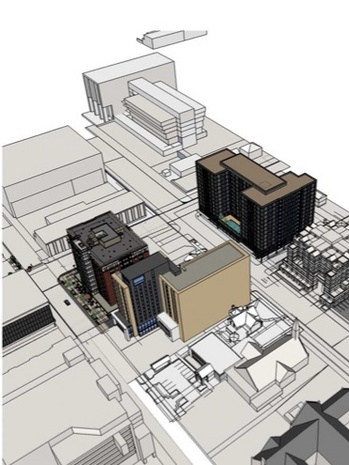 Rendering by Humphreys & Partners Architects
One project, located on the northeast corner of East Huron and North Division streets, calls for a 14-story, 213-unit high-rise that would target young professionals, graduate students and upperclassmen, according to the plans. Plans call for two main towers with an inset upper level garden and courtyard.
The second project, located on Church Street near the University of Michigan campus, is proposed by Pizza House restaurant owner Dennis Tice and Minnesota-based The Opus Group.
The 14-story, 83-unit project would be built next to and over a portion of the existing Pizza House restaurant at 618 and 624 Church St. The project calls to demolish the existing two-story residential structure on the site south of the existing restaurant. It includes one and two bedroom units and a rooftop plaza.
The units would be marketed to those "with a connection to the University of Michigan," according to the plans.
The Huron Street project would replace a vacant, 10,300-square-foot building, a house and the former Papa John's pizza store, which closed earlier this month in preparation for the development.
According to an AnnArbor.com report from Sept. 6, Connecticut-based real estate firm Greenfield Partners is under contract to purchase the property at 401 E. Huron St. from a Zahn family trust. The group purchased the adjacent vacant building at 413 E. Huron St. in June for $4.5 million.
Representatives from Greenfield Partners have not returned multiple requests for comment.
According to the plans submitted to the city, the developer of the project is Georgia-based Carter, which has been "engaged by the owner to develop and oversee the property."
The building, which would be located in the city's D1 zoning district, would be 150 feet tall.
It would have 3,000 square feet of retail space on the ground floor, with 149 underground parking spaces in addition to 14 surface parking spaces for retail and visitor use.
The units would be a mix of one, two, three and four bedroom apartments. Amenities would include a fitness center, pool, community gardens and business center.
The building would be located adjacent to Sloan Plaza Condominiums and across East Huron Street from Sterling 411 Lofts and the under-construction The Varsity development.
Rendering by J Bradley Moore & Associates
The possibilities for the Pizza House property gelled in 2010, when Tice, along with local developer Peter Allen, started marketing the property as a development opportunity. When Tice expanded his restaurant in 2006, he put a foundation system in place that could support the weight of additional floors above.
Allen, who brokered the deal between Opus and Tice, said Tice's ownership of the restaurant property and business will remain, while Opus is purchasing the air rights above the existing building.
The architect for the project is Ann Arbor-based J Bradley Moore & Associates in association with Ann Arbor's Meier Architects.
The building would be between 140 and 150 feet tall, Allen said. It's located in the city's D1 zoning district.
According to the plans, parking would be provided off-site in an agreement with Ann Arbor's Downtown Development Authority via its "contributions in lieu" provision. Allen said they have submitted an application to the DDA to request 40 parking spaces, and they hope the majority of them will be located in the Forest Street parking structure.
The 14-story development would abut the Zaragon Place high-rise, which is on East University Street, and is located two blocks west of the 14-story Landmark development.
"(Opus is) going to do one and two bedrooms, which is very complementary to what's there," Allen said. "This would fit very nicely."
Under the city's design review process, developers are required to submit preliminary design plans to the Design Review Board prior to applying for site plan approval. City ordinance requires a meeting with the board, but implementation of its suggestions is voluntary.
The projects are expected to go before Ann Arbor's Design Review Board at its Oct. 17 meeting.
Lizzy Alfs is a business reporter for AnnArbor.com. Reach her at 734-623-2584 or email her at lizzyalfs@annarbor.com. Follow her on Twitter at http://twitter.com/lizzyalfs.