Posted on
Tue, Nov 16, 2010 : 2:25 p.m.
University of Michigan offers $1.725M to buy 2 student rentals on South Division in Ann Arbor
By Paula Gardner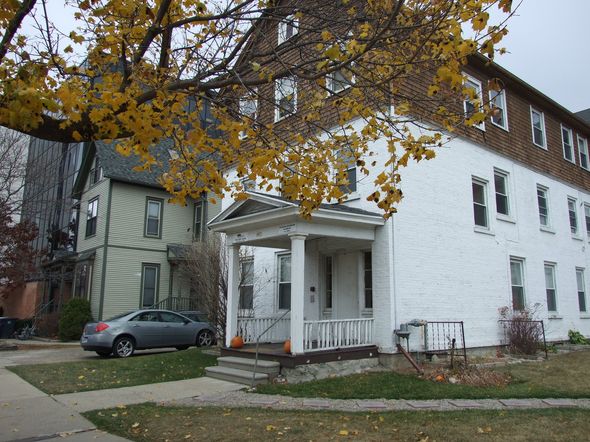 Paula Gardner | AnnArbor.com
Two adjacent student rentals on South Division — both next to the Institute for Social Research — will be bought by the Univeristy of Michigan in December, if officials approve the purchases on Thursday.
The properties are:
443 S. Division, listed in city assessor records as 405 E. Jefferson, which is a three-floor, 6,048-square-foot apartment building.
439 S. Division, a 3,210-square-foot converted house that once was home to playwright Arthur Miller when he attended U-M.
"It's too soon to know what the university will do with the space," U-M spokeswoman Kelly Cunningham said in an e-mail statement. "Because the houses are adjacent to the ISR building, it could serve for possible future development opportunities."
The purchase price would be a combined $1.725 million, according to documents prepared for the Board of Regents, which has to approve the purchase. The deals — along with a third home sale to U-M — are on the agenda for Thursday's meeting, which is taking place at 3 p.m. at U-M Flint.
The properties are on the northeast corner of South Division at East Jefferson, where the ISR in recent years built an addition that covered a former surface parking lot along East Jefferson.
The location also is one block southwest of the corner of Thompson and East William, where the Zaragon Place II high-rise is under construction — signaling more changes to the student housing market in the blocks closest to Central Campus.
Both owners of the South Division properties approached the university about the purchases, Cunningham wrote. Neither owner returned calls from AnnArbor.com seeking comment.
The building at 443 S. Division was purchased for $575,000 in 2000 by an entity related to its management company, Bartonbrook. It's assessed at $466,800, and U-M would pay $805,575 for it.
The property at 439 S. Division is owned by an entity related to management company Jones Properties. While not in a city historic district, it earned a reputation as a former home of Arthur Miller.
Marketing for the property even touted, "Come live in the old digs of famous playwright Arthur Miller. ..." until that description was removed from local property listings this week.
It's assessed at $178,100, and U-M would pay $919,425 for it.
Both properties are leased through August 2011, according to U-M.
If the deals with U-M take place, the houses will come off of the city tax rolls, said assessor David Petrak.
While the city doesn't kept track of ongoing U-M property purchases, "there seems to be one or two a year …. It's the reality when you live in a big college town," Petrak said.
Tax revenue on the properties in 2009 totaled $23,978 for 443 S. Division and $7,205 for 439 S. Division.
Meanwhile, a third property purchase also is on this week's regents agenda: 963 Wall St., near Broadway and Maiden Lane, where U-M has bought other homes over the past several years as they've become available. The location is near Kellogg Eye Center.
The house at 963 Wall is a 1,056-square-foot single-family home, and U-M would pay $350,000 for it. The city has it assessed at $71,100.
Paula Gardner is Business News Director of AnnArbor.com. Contact her at 734-623-2586 or by email. Sign up for the weekly Business Review newsletter, distributed every Thursday, here.