Posted on
Fri, Nov 4, 2011 : 10:15 p.m.
U-M Technology Transfer Office honored for launching startup business incubator
By Nathan Bomey
See also: AnnArbor.com's Business Review reveals winners of 2011 Deals of the Year awards
Pfizer exited Ann Arbor in 2008 — but companies are now flocking to the space the pharmaceutical company abandoned.
That's because the University of Michigan officially launched a 16,000-square-foot business incubator at the former Pfizer site in northern Ann Arbor in early 2011.
Managed by the U-M Technology Transfer Office, the new Venture Accelerator has quickly become a magnet for the university's own startup companies. With about a dozen startups already, the new incubator will reach full capacity in early 2012 — about a year ahead of schedule.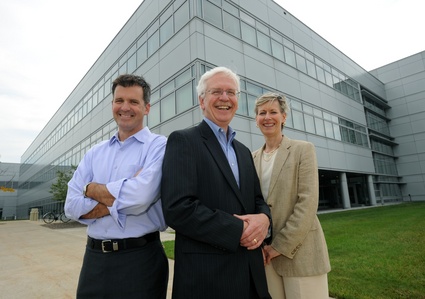 Lon Horwedel | AnnArbor.com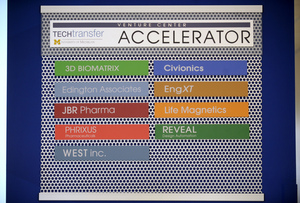 Angela J. Cesere | AnnArbor.com
The U-M Technology Transfer Office on Friday night was named as the
Research
winner of
AnnArbor.com Business Review's 2011 Deals of the Year
ceremony.
The incubator leases space to early-stage startup companies that have licensed intellectual property from the university.
Companies like medical device startup Life Magnetics, which is funded by Ann Arbor-based Arboretum Ventures, and consultancy Edington Associates, founded by wellness industry pioneer Dee Edington, are among the first tenants.
The facility underscores the university's commitment to accelerating the transition of research from the laboratory to the commercial marketplace, U-M President Mary Sue Coleman said earlier this year.
"We are eager to collaborate with companies to drive transformative research that can change the world," she said.
Startups are expected to stay at the incubator for 12 to 36 months and, ideally, grow to the stage where they can move out and establish their own separate offices.
U-M's Tech Transfer Office helps about 10 companies a year spin out of the university.
Ken Nisbet, executive director of the Tech Transfer Office, said the goal is not to generate a higher number of startups but to improve the quality of those startups.
"When they launch, hopefully they're going to be far more sustainable and grow quicker and have an economic impact," Nisbet said.
The establishment of the incubator — located at a building on the east side of Huron Parkway on the 174-acre North Campus Research Complex — reflects "a major step in creating a continuous innovation pipeline for our faculty to move their ideas from the lab bench into a commercial reality," U-M Vice President for Research Stephen Forrest said in a statement earlier this year.
Edington, who also served as director of U-M's Health Management Research Center, described the Venture Accelerator as "absolutely critical" to getting his new company a boost.
"When I found out about it, I just had to be here," he told AnnArbor.com in October. "What a better place to start a company."
Nonetheless, he added: "I hope we don't have to stay here very long. I think any company that comes where should be planning on getting out as soon as possible — not because they want out, but because they want to grow as fast as possible."
The incubator also comes as the university's research budget continues to rise. U-M reported a record research budget of more than $1.2 billion last year, and the university signed 101 technology licensing deals with existing businesses and new startups.
It was the most active year of new technology licenses in the history of the Tech Transfer Office.
"Having the success we've had in this market is astonishing," Nisbet said. "We're trying to provide opportunities to people to break through this cycle."
Contact AnnArbor.com's Nathan Bomey at (734) 623-2587 or nathanbomey@annarbor.com. You can also follow him on Twitter or subscribe to AnnArbor.com's newsletters.