Posted on
Fri, Aug 5, 2011 : 5:58 a.m.
Ultra Electronics to boost fuel cell manufacturing at Adaptive Materials in Pittsfield Township
By Nathan Bomey
United Kingdom-based Ultra Electronics Holdings plc plans to invest almost $3 million to expand fuel cell production and implement new technology at its Pittsfield Township-based Adaptive Materials unit.
The investments, revealed in an interview with AnnArbor.com, mark the latest sign that Ultra plans to maintain Adaptive Materials' 47,000-square-foot operation just off of South State Road after acquiring the business for $23 million in December.
"We've committed to keeping the business here because of the people," said Phil Evans, Ultra's divisional managing director for aircraft and vehicle systems, in an interview while he was visiting the local fuel cell operation earlier this week. "We're not a capital-intensive business. We're a people-intensive business. There are great people here and therefore that's where we'll build the business."
Evans said Ultra plans to spent about $1.8 million by January or February to install new fuel cell manufacturing equipment at Adaptive Materials' facility. The company, which had promised an expansion after it made the acquisition, also plans to spend about $1 million on software to improve the subsidiary's information technology capabilities.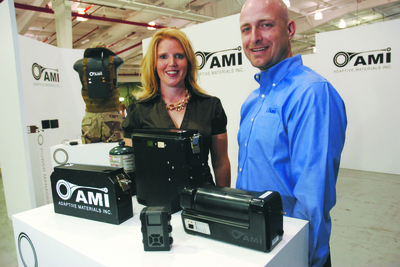 File photo | AnnArbor.com
The investments come seven months after husband-and-wife Aaron Crumm and Michelle Crumm, Adaptive Materials' co-founders, sold the company.
Michelle Crumm, chief business officer, left the company after the acquisition, and Aaron Crumm, chief technology officer, was promoted to president. Aaron Crumm started developing the technology as a doctoral student at the University of Michigan more than a decade ago.
The firm produces portable fuel cell units that run on commercially available propane fuel and can replace heavy batteries for soldiers and unmanned aerial vehicles. The company is also pursuing various commercial applications for the technology.
Ultra's investments will boost Adaptive Materials' fuel cell production capacity from "tens to hundreds to thousands," Evans said.
The company, which has grown from about 55 workers a year ago to about 65 employees today, doesn't expect to add jobs in 2012. But, as production gradually increases, the company projects job growth in 2013 and 2014.
Ultra, a publicly traded company, declined to reveal revenue projects for Adaptive Materials, which relies heavily on military contracts for its sales.
The decision to expand production capacity comes as Adaptive Materials recently shipped its first fuel cells for use in the battlefield by U.S. soldiers. Until now, the company's technology was only being used in training and tests.
But 15 of the company's 300-watt solid-oxide fuel cells were shipped to the U.S. Army for field testing as part of a $4.68 million contract — and some of those will be used in action, the company said.
Crumm, who said the fuel cells are 10 times lighter than batteries that generate the same amount of power, said he was confident that the fuel cells would prove to be durable in war situations. The company tested the fuel cells in temperatures ranging from -20 degrees Celsius to 50 degrees Celsius.
Meanwhile, Crumm said he believes the company's sale to Ultra Electronics creates a broader market for its products and brings a brand name that will help the company recruit talented workers.
"We had a good business. Now it's about building a better business," he said. "Ultra's oversight and reporting have really taught us to run a better business."
Contact AnnArbor.com's Nathan Bomey at (734) 623-2587 or nathanbomey@annarbor.com. You can also follow him on Twitter or subscribe to AnnArbor.com's newsletters.