Posted on
Wed, May 30, 2012 : 5:59 a.m.
Underground Printing to open 4th Ann Arbor store in ex-Blockbuster Video
By Lizzy Alfs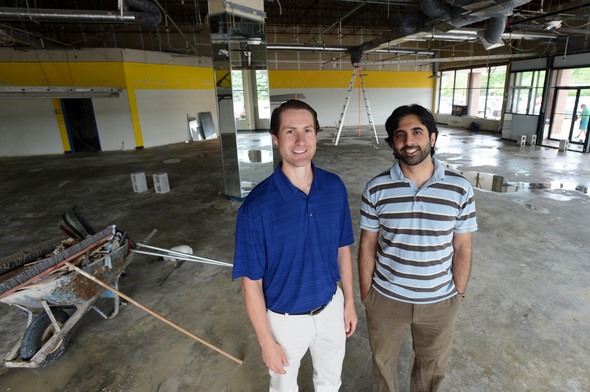 Melanie Maxwell | AnnArbor.com
It's been more than a decade since
Underground Printing
co-owners
Ryan Gregg
and
Rishi Narayan
first started printing custom t-shirts out of their West Quad dormitory at the
University of Michigan
.
Years later, the duo — who now have 18 retail locations in 10 states — plan to open their fourth store in Ann Arbor next month after taking over a former Blockbuster on Ann Arbor-Saline Road.
The roughly 6,000-square-foot space, located in the shopping center anchored by Busch's, was vacated by Blockbuster earlier this year.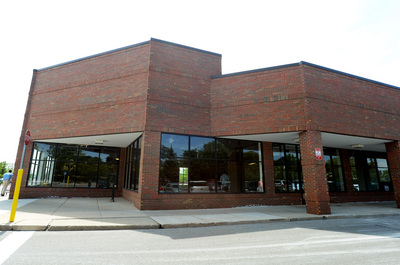 Melanie Maxwell | AnnArbor.com
Gregg and Narayan said the space was too attractive to pass up; it has high visibility, the convenience of free parking and is located in a busy shopping center. Tom Goldberg of ATMF Realty & Equity Corp owns the shopping center and Colliers International's Ann Arbor office represented Underground Printing in the deal.
The Underground Printing stores, which they describe as a "hip boutique" versus a typical fan shop, sell a variety of U-M apparel and accessories and also custom print clothing. All the printing for the business' 18 locations is done out of a 55,000-square-foot facility in Scio Township.
The new space on Ann Arbor-Saline Road marks the largest Underground Printing retail store, but Gregg and Narayan aren't intimidated by the space.
"We'll have a custom area where you can sit down, talk to someone and go over samples," Gregg said. "We want to be able to do more of that and do a more expansive retail lineup."
Narayan added: "We never want customers to walk in and us to have crammed another style into the corner."
They also plan on having areas where they'll highlight various local foundations they partner with so people can learn about the causes.
"We don't want you to walk in and think this looks like another Underground (Printing) location," Narayan said. "They all have their own personality, whether it's influenced the city or the school."
With the expansion, Gregg said they plan to add about 12-15 employees, bringing the company's total to about 150 people. They hope to open the new store by the end of June.
Reflecting on more than a decade in the printing business, Gregg and Narayan said their company has evolved as they age.
"When we were in college, our world was campus so we thought about campus," Narayan said. "When we got older and we were around Main Street, we thought it was a niche we weren't filling. Experiences make you change and you see things differently as you get older."
But in a competitive industry, they've watched similar businesses come and go in the last decade, including Steve & Barry's and Michigan Book & Supply — which also sold U-M apparel and accessories.
"In the economic downturn, we refocused a bit and kept growing throughout it, and actually, it provided a lot of opportunities for us," Gregg said. "For instance, this is our second old Blockbuster location."
They said their model of expanding into college towns, staying on top of campus trends and constantly updating their product line has proven successful.
"From 2008 to today, our sales have doubled in Ann Arbor and probably throughout the whole company," Gregg said. "We've been investing in new things to grow sales and when we have sales, we invest more."
And even though they've come a long way from the days in the West Quad dorm, Gregg and Narayan haven't let go of their tried-and-true Michigan pride.
Asked whether they'd open a store in Ohio, Narayan responded: "People know we're true fans because there are just some things we can't do; that would be one of them."
Lizzy Alfs is a business reporter for AnnArbor.com. Reach her at 734-623-2584 or email her at lizzyalfs@annarbor.com. Follow her on Twitter at http://twitter.com/lizzyalfs.