Posted on
Wed, Dec 21, 2011 : 11 a.m.
Blockbuster to close video rental stores in Ann Arbor and Saline
By Nathan Bomey
(Update: Restaurants showing interest in Blockbuster store in Ann Arbor)
Blockbuster plans to close at least two local stores, further diminishing the Ann Arbor area's stand-alone video rental store options.
The chain plans to close the stores on 2248 S. Main St. in Ann Arbor and 1305 E. Michigan Ave. in Saline, several sources said.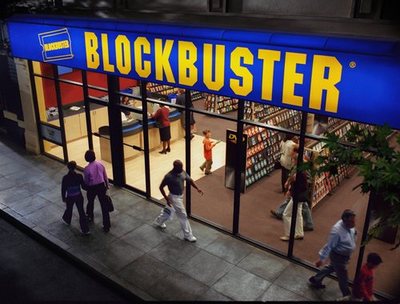 Photo courtesy of Blockbuster
It was not immediately clear whether the stores on Main Street in Chelsea or Ellsworth Road in Ypsilanti Township were affected by the decision.
Local store managers referred questions to a district manager who declined to comment and directed inquiries to a corporate media relations department, which did not respond to requests.
Blockbuster has closed several local stores in recent years, including one on Jackson Road and one on Plymouth Road.
The local closures come after Blockbuster filed for Chapter 11 bankruptcy protection in 2010 and was sold in a bankruptcy auction to Dish Network Corp. earlier this year.
Blockbuster faces a litany of challenges, including video-streaming services such as Netflix, video rental machines like Redbox and a costly real estate footprint.
The company had announced in July that it would maintain more than 1,500 stores and 15,000 employees.
In the Ann Arbor area, Blockbuster plans to close:
--The store at Woodland Plaza at the corner of Main Street and Ann Arbor-Saline Road, a shopping center that also includes a Busch's grocery store. An owner of the complex could not be reached for comment.
--The store in the same shopping center as the Country Market store on Saline's east side. The complex, called the Commons at Sauk Trail, also recently lost the Fashion Bug clothing store, Pack & Mail, the Flaming Shish restaurant and the Dollar Tree, which moved across the street. A resale shop run by Washtenaw Christian Academy opened in one of the vacant spaces.
A real estate broker representing the Commons at Sauk Trail could not be reached for comment.
A listing by brokerage CB Richard Ellis is marketing 17,700 square feet of empty space in the facility at $12 per square foot per year.
The other leading video chain in Washtenaw County was Hollywood Video, which closed its last local store in spring 2010.
Contact AnnArbor.com's Nathan Bomey at (734) 623-2587 or nathanbomey@annarbor.com. You can also follow him on Twitter or subscribe to AnnArbor.com's newsletters.