Posted on
Thu, Feb 21, 2013 : 5:58 a.m.
Union members vote down negotiated contract at Saline auto parts plant
By Ben Freed
A combination of former Automotive Components Holdings employees and probationary workers at the Faurecia automotive parts plant in Saline voted down a union-negotiated contract with Devon Alpha Services II on Monday.
Union officials expressed frustration with the vote, while leaders of a group that filed charges against the UAW with the National Labor Relations Board said the vote showed the union was failing its members.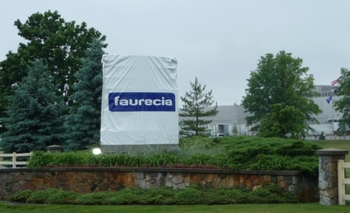 Courtesy of Faurecia
Much of the conflict surrounding the contract centers on the timeline of the document's release and the scheduling of the vote.
The plant's union chairman Jason Heath posted signs late on the night of Feb. 14, announcing that the new contract was finalized and that a vote would be held Feb. 18. The flyer also announced informational meetings to be held the same day as the voting.
According to union officials, the four-day period between the flyer's posting and the vote was not an uncommon time period, especially for a relatively short contract. The contract between the two parties was 20 pages long including supplements for both ACH employees and probationary employees.
Copies of the contract were available for employees to review and while they were not advertised on the flyer, union officials say they were readily available to any employee who made an effort to acquire one.
Debi Muncy, a former Ford employee, said she spoke with employees in the plant who felt they were not given enough notice about the vote or time to review the contracts.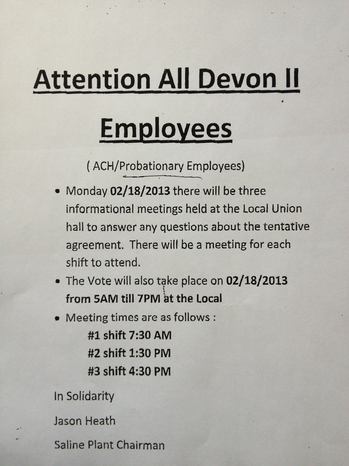 "Everything that comes down to them is presented as 'do this or you're done here,' and it's all done in a very rushed timeline with no information," she said.
"This was really a one-day notice, not four. If they want to count Saturday and Sunday they should have made some attempt to reach out to people before Monday."
Union officials say they understand the transition from ACH to the new payroll company is confusing for some employees, but they believe that this contract presents an opportunity for employees who otherwise would be unemployed.
Some former ACH workers at the plant chose to continue as temporary workers rather than hiring on full time with new owner Faurecia. The ones currently being employed by DAS II are the ones who had not yet been placed in a Ford plant at the time ACH disbanded in late 2012.
"This was actually one of the best agreements we've got for people at former ACH plants," a union official said.
"It turned out to be a bit complicated because we're trying to give all of our members options. This was unique to Saline that these people were able to continue working. At all the other locations, all extra members got laid off… It was different here than the rest of the plants but it was better, we thought."
According to the contract, the ACH employees transferring to DAS II have no change to their wage or benefits from a previous agreement reached between the UAW and ACH in August, 2010.
ACH employees are reminded in the document that as they transfer to DAS II, they are still considered temporary employees and in the event of a reduction in force, "ACH employees shall be laid off first in accordance with their seniority."
Most former ACH employees at the plant are waiting to be transferred to Ford's Flat Rock plant. Muncy said the frustration level of those employees has been growing since they were first hired in, most of them in 2006 and 2007.
"Just last week a group of people were told they were going to be transferring to Flat Rock finally and then at the last minute it was pulled back," she said.
"And things do change like that, it's not uncommon, but for this particular group to say that and then pull it back again is just not fair. They've been temporary workers for so long it plays very prominently in their feelings."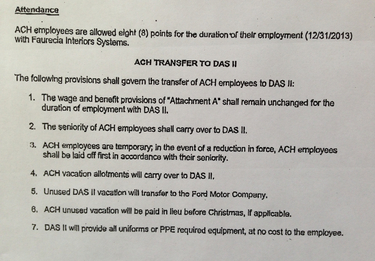 The union officials said their next step will be to go back in to the plants and talk with people to try to find out why the contract was voted down. They said they believe frustration on behalf of people who have not been transferred to Ford might have been a bigger issue than the bargaining agreement itself.
The transfer dates for many employees have been pushed back. Some who were told they would have jobs in Flat Rock by February have now been told that their hire in date will not come until May or June.
Muncy and fellow organizer Pat Meyer, who filed the NLRB charge against the UAW, said the issues go beyond the delayed transfers to Ford plants. A new attendance policy, or "point system," has drawn the ire of some plant employees. Under the new system, ACH employees are allowed 8 "points" during the 2013 calendar before they are fired.
Muncy and Meyer say the points are an unfair system that can punish employees for being injured on the job or refusing overtime work. Union officials characterize the system as an attendance policy that is actually more similar to Ford's agreement than the employee's former system was.
"We don't negotiate for people to not come to work," an official said.
"We negotiated a very fair system… it's just different than what they're used to." When they get to Ford, they will be working under an agreement that's very similar to this one."
The non-ACH workers who voted on the contract are workers who are in their first 90 days of employment at the plant. Under the contract, new employees would technically be employed by DAS II until they complete their probationary period and would then be hired into full-time jobs as Faurecia employees.
With the contract voted down, DAS II workers will continue to work without a collective bargaining agreement until union officials determine the cause of the no-vote and return to the negotiating table with Devon Alpha Services II. Once a new contract is negotiated, it will be brought back to the employees for another vote.
Ben Freed covers business for AnnArbor.com. You can sign up here to receive Business Review updates every week. Reach out to Ben at 734-623-2528 or email him at benfreed@annarbor.com. Follow him on twitter @BFreedinA2