Posted on
Mon, Feb 18, 2013 : 8 a.m.
Charges filed with National Labor Relations Board allege improper union activity at Saline auto parts plant
By Ben Freed
Courtney Sacco I AnnArbor.com
Tensions continue to mount at the
Faurecia
automotive plant in Saline as workers from the plant have submitted formal charges to the
National Labor Relations Board
against both the
United Auto Workers
union and former plant operator
Automotive Components Holding
(ACH).
Patricia Meyer, founder of Labor Advocates Workers Solution, filed the charge against the UAW on behalf of plant employees.
According to the charges, the union allegedly "restrained and coerced" employees at the plant by misrepresenting them during the transition period that occurred in the summer of 2012.
Shortly after Faurecia took over the plant, ACH workers were given the opportunity to take jobs with the French automotive parts company. However, doing so would remove their status as preferential hires at Ford plants in the area. While some signed on with Faurecia, many workers opted to remain ACH employees.
In November, union representatives told ACH workers that they would be transferring to a new company known as Devon Alpha Services II (DAS). The employees were told that transferring to the new entity did not have any bearing on their status with Ford Motor Company relating to potential jobs at Flat Rock and other plants.
Many former ACH employs signed on with DAS without a contract in place. Others, like Dan Kelly, were frightened by language in the employment packet and resisted joining the new entity.
"I talked to the people in the union office and I showed them this page that said I would be an 'at will' employee, and they said they had never seen it before," Kelly said.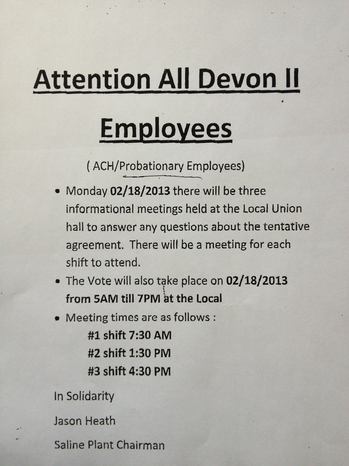 Further complicating matters, an "up-or-down" vote was announced late last week on a new contract with Devon Alpha Services II that workers in the plant allege they were never given access to or a chance to read.
Employees noticed a flier posted by Saline plant chairman Jason Heath Friday. It announced three informational meetings about the contract on Monday, Feb. 18 in addition to the vote that would take place the same day.
Meyer and former plant employee Debi Muncy both said that employees had not been given a contract to review beforehand and were wary and skeptical of signing a new agreement without time to look at it first.
Multiple calls and messages to the union office in the Saline plant and Jason Heath were unanswered.
Even without the contract, Meyer said that one of the employee's major problems with the new employment standards at DAS is that the employees are now on an unfair 'point system,' which puts them at greater risk of being fired.
"If they are injured on the job and have to leave for medical assistance, that's a point," she said.
"And there are so many ways to get points, and if they get a certain number, they're done."
While not signing on with DAS did not effect the employees status with Ford, it is still unclear what the employees status would be if they were fired from their jobs while working for the new company.
Thomas Dyze, the registered agent of Devon Alpha Services II, LLC, said the company is owned by Devon Facility Management, which is in turn owned by Devon Contract Holding, a part of the Devon Group based in Detroit.
Devon Facility Management human resources manager Belinda Cunningham said in an email that the company "[did] not have approval from Faurecia, The UAW, or ACH to discuss our business agreements with them," and was therefore unable to answer questions regarding the impetus behind moving workers from ACH to Devon Alpha Services.
The specific charges against the UAW allege that they have engaged in unfair practices regarding section 8 of the National Labor Relations Act. The charges, filed against the Local 892 and the international office, are:
"The Union through its agents and representatives, has restrained and coerced employees of ACH by: 1. Since about October 1, 2012, misrepresenting to them the consequences of surrendering their ACH employment to take jobs with Devon Alpha Services; 2. On or about December 1, 2012, requiring ACH employees who accepted employment with DAS to execute membership applications and/or dues checkoff authorizations in order to collect their first paycheck with DAS."
A spokeswoman from the UAW said that until they had an opportunity to review the charges they would not be able to comment on the case.
Meyer filed the charges after meeting with approximately 50 plant workers at an American Legion hall in Saline on Feb. 5 and consulting with NLRB Grand Rapids resident officer Thomas Good.
Saline Plant Fast Facts:
Size: 1.6 million square feet
Primary products: instrument panels, door panels, consoles
Converted from Ford to a Visteon Plant in 2000
Transfered from Visteon to holding company ACH in 2005
Nearly sold to Johnson Coltrols in late 2007
Sold to Faurecia in June, 2012
Employees in November, 2007: approximately 1,150
Employees in August, 2011: approximately 2,300
Employees today: approximately 1,400
Employees who came to the meeting at the hall alleged violations including hiring of non-union employees from a temporary agency at the Saline plant and Ford hiring off the street at their other plants instead of honoring preferential hires currently working at Saline.
There was also concern over seniority expressed by some employees caused by Ford hiring in ACH workers, many of whom who were previously Visteon workers, as entry level employees. This comes despite insurance paperwork that lists "Ford Motor Company" as the worker's employer during their time at the Saline Plant.
Good said the process to resolve the charges starts very quickly but can take a long time to resolve
"When a charge comes in we immediately notify the charged party by mail that there is a charge filed against them," he said.
"We then do a preliminary review of the charging party's witnesses and documents to see if we have a prima facia case. This usually happens within the first week or ten days after receiving the charge, we then ask the charged parties to respond."
Once the NLRB agent has reviewed information from both parties, they make a report to the regional director of the NLRB. If the director determines that there is reasonable cause to believe the charged party has violated the National Labor Relations Act, the case moves to settlement or a hearing in front of an administrative law judge.
The ruling of the judge can be appealed to the full National Labor Relations Board, a five-member appointed panel that sits in Washington, DC. Only after the board rules on a case can it be taken to circuit court.
Good said the full investigation by the NLRB agent the director rules on reasonable cause usually takes five to nine weeks, after which over 90 percent of cases are either dismissed or settled by the parties. If the case goes to an administrative law judge, it can take two to three months for the case to be heard and an additional three months to issue a decision.
"Most of the charges filed from year to year do not make the standard of reasonable cause," he said. "It's still far too early to say how long it would take to resolve this dispute."
Meyer, who has been working in labor relations for over 20 years both as a union bargaining representative and with her advocacy organization, said the conditions in the Saline plant were among the most acrimonious she's ever seen.
"I've really never seen anything like what's going on here," she said.
"The workers don't know what's happening to them and they can't trust the union to help them at all."
Ben Freed covers business for AnnArbor.com. You can sign up here to receive Business Review updates every week. Reach out to Ben at 734-623-2528 or email him at benfreed@annarbor.com. Follow him on twitter @BFreedinA2