Posted on
Tue, Apr 23, 2013 : 5:57 a.m.
Unity Vibration kombucha opens Ypslanti Township tasting room
By Tom Perkins
Unity Vibration is beginning to reach a larger national audience with its lines of kombucha beer and tea.
Their bottles' tops are being popped in Los Angeles, San Francisco, Florida, New York, Ohio, Washington and a half dozen other major markets with more in the works.
The company that was once a small fermented tea producer operating from a makeshift commercial kitchen/brewery in Ypsilanti's Depot Town continues to grow exponentially.
While that's exciting news for owners Rachel and Tarek Kanaan, they say they are foremost locally-minded, locally-focused and are encouraging Ypsilanti and Ann Arbor-area beer-lovers to stop by their newly established tasting room to sample their unique offerings.
"We're going to grow the Michigan market the best we can out of all the markets," Tarek Kanaan said. "We're a very local company."
The tasting room is a chance for area residents to get acquainted with a type of beverage that is a "marriage" of a fermented tea health drink and a beer, though many varieties are almost more like a wine or Lambic. The beer and tea are still a niche in the craft beverage world, but that's quickly changing, and Unity Vibration is at the front of a kombucha wave.
"People who are liking it are thinking of it as a cool, unique thing in its own category, which I like," Tarek Kanaan said. "It's not huge and on the end caps - it's still in the corner of the cooler."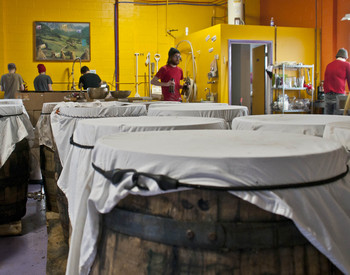 Tom Perkins | For AnnArbor.com
The Kanaans established their Ypsilanti Township Kombucha microbrewery less than a year ago and added the small tasting bar last week at the same time as new lines of Kombucha Tea and Beer.
The first pallets of their two new beers - a Bourbon Peach and Kombucha Pale Ale - just shipped out to distributors.
The bourbon peach is billed as an "American Wild Ale" and comparable to a saison. Rachel Kanaan explained it's fermented in virgin bourbon barrels, is like a sour beer and made with locally-sourced peaches and peach juice. She recommended it be paired with desserts.
The beer registers at 7 percent alcohol and is available either on tap or in 22 ounce bottles.
Tarek Kanaan said the hoppy and drier Kombucha Pale Ale is a departure in taste from Unity Vibration's beer line, which already is an almost entirely one-of-a-kind offering.
"It's a completely different flavor profile. It's less kombucha-y," he said. "It's more like a beer, and that's what the idea is."
Like the new bourbon peach, it's organic and locally-sourced, though it's also available in 15-ounce bottles.
More than just the hops and produce are sourced locally. The 20 new beer taps that just arrived at Unity Vibration headquarters are made by local woodcrafter, local artist Mary Thiefels did the drawings for the two new beers' labels and a local graphic design firm attends to the design work.
But the national markets aren't being ignored. When Unity Vibration opened the facility last April, they were producing 200 cases a month and are pushing north towards 1,000. That's due in large part to national sales.
To an extent, success from market to market rests with their distributors. Those who understand kombucha beer and the potential of an exciting new product have been more successful making headway into new markets.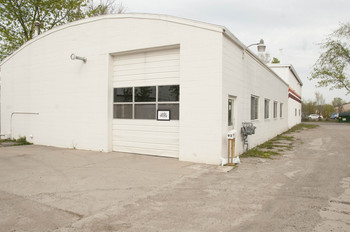 Tom Perkins | For AnnArbor.com
And sometimes there's a learning curve. Unity Vibration saw slow sales in San Francisco - a town that would seem ready to embrace kombucha beer - until their distributor began pushing it to the right places and enjoying selling it. The distributor recently ordered 80 pallets.
That's also one of the challenges. Kombucha is so new that part of the sell is an education process that goes beyond the good taste.
A year into their expansion out of their home, Unity Vibration is reaching their goals. They hoped to be in 15 markets by the end of the year and already are in 11. The coveted Texas and New York City are up next, and they say their five-year goal is to reach sales of 6,500 cases a month within five years and, eventually, to establish their own farm.
"The sky is the limit," Tarek Kanaan said. "You've got to think big."
Check here for a full list of where to find Unity Vibration products or stop by their facility at 93 Emerick between 9 a.m. and 4 p.m. on weekdays or on weekends by appointment.