Posted on
Wed, Feb 15, 2012 : 8:58 a.m.
University of Michigan expects to launch more renovation projects at ex-Pfizer site
By Nathan Bomey
The University of Michigan executive who oversees the ex-Pfizer campus in northern Ann Arbor said Wednesday morning that the university expects to launch several significant renovation projects to prepare the facility for more workers.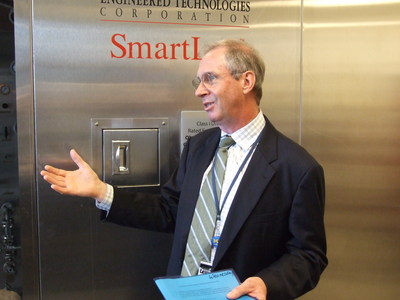 Nathan Bomey | AnnArbor.com
David Canter
, executive director of the
North Campus Research Complex
, said the university would invest in more construction after completing a $13.7 million renovation project already underway to upgrade 120,000 square feet of ex-Pfizer space for the
U-M Medical School
.
"We'll have multiple larger construction contracts over the next two to three years," Canter said at the A2Y Chamber's Early Edition event.
When U-M bought the Pfizer complex for $108 million in June 2009, it said it would eventually create between 2,000 to 3,000 jobs at the site within 10 years.
Today, the university has 1,120 employees at the 2 million-square-foot ex-Pfizer complex, including about 200 lab scientists, the university's entire DNA sequencing program and a growing core of health care policy researchers.
"We've got, I reckon, about another 2,000 people to stuff into there," Canter said today. "The university president says it will take 10 years. I don't think it will take 10 years."
He added, with a laugh: "I personally don't have enough patience to take 10 years."
U-M has said it expects to have about 1,700 workers at the site by the end of 2012.
But Canter said many of the remaining empty facilities need to be spruced up.
Several of the site's 30 buildings are pristine. Pfizer spent several hundred million dollars to renovate them before it announced Jan. 22, 2007, that it would shutter the campus by the end of 2008.
But some of the buildings are aging, including at least three that were built in the 1960s, according to an analysis conducted by the Ann Arbor Business Review in 2007.
"We're going to have to put a fair amount of renovation into them to get them up," Canter said.
Canter said the university is committed to using local contractors.
"It's a strategy that we've had to use small local companies rather than building up a university workforce," he said.
U-M also expects to purchase equipment to repopulate the site because "a lot of the small equipment that was put in there was taken out," Canter said.
Meanwhile, the startup business incubator collocated at NCRC with the U-M Technology Transfer Office and Business Engagement Center is nearing full capacity no less than a year ahead of schedule.
The 16,000-square-foot incubator, called the Venture Accelerator, houses 16 startup companies that are licensing U-M intellectual property.
"We must soon have a graduate out of that Venture Accelerator, and where are they going to go? They're going to go into commercial space around Ann Arbor," Canter said. "I hope that very soon there will be a steady stream of startup companies looking for private space throughout Ann Arbor."
Contact AnnArbor.com's Nathan Bomey at (734) 623-2587 or nathanbomey@annarbor.com. You can also follow him on Twitter or subscribe to AnnArbor.com's newsletters.