Posted on
Wed, Jul 21, 2010 : 1:17 p.m.
University of Michigan gets first commercial tenant for former Pfizer site
By Nathan Bomey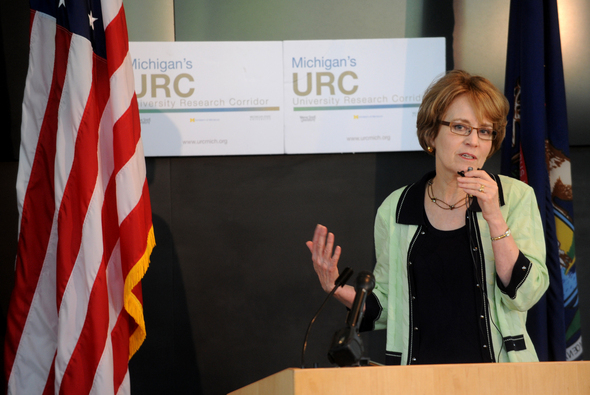 Melanie Maxwell | AnnArbor.com
A startup chemical products company that spun out of Michigan State University laboratories will become the first commercial tenant of Ann Arbor's 174-acre ex-Pfizer campus since the University of Michigan acquired the site in June 2009.
U-M said today that it is renting 4,300 square feet of lab space to BoroPharm Inc., which is commercializing a process to reduce waste in the production of chemical materials called boron intermediates.
It's the first outside company U-M has welcomed to the former Pfizer space. University officials envision using other parts of the complex to house various industry collaborations and possibly even the university's own startup companies. Most of the space will be dedicated to the university's own research initiatives.

University officials said the decision to lease the space to BoroPharm was easy, in part because they had no immediate plans to use the chemistry lab the company is occupying - a facility known as Building 40 under Pfizer's leadership.

U-M President Mary Sue Coleman told AnnArbor.com that BoroPharm is emblematic of the type of industrial partners the university hopes to attract to the site.
"We knew we would have a robust opportunity here, not only to have a partnership with technologies that are coming out of the university, but that we could attract companies that are small, that are growing, that make sense from a research perspective," Coleman said. "This little company, BoroPharm, meets all those criteria.The reason we actually liked them as our initial tenant is because they actually sell products. They're making some profit right now."
Financial terms of the lease were not immediately available, but David Canter, the former Pfizer site leader hired by U-M to direct the campus' repositioning, said the space was leased for a price comparable to industry standards.
Canter said the building is a "very specialized chemistry facility" designed for the types of chemical production BoroPharm is pursuing.

BoroPharm is expected to maintain its business office in Novi and a collaborative technology operation with the MSU BioEconomy Institute at another former Pfizer complex in Holland, U-M said.

It was not immediately clear how many jobs the company plans to add in Ann Arbor, but the university's press release said "BoroPharm has pledged to invest significantly in equipment and improvements over the coming years."
AnnArbor.com files
"The NCRC location provides us a terrific platform to continue to grow our company and continue partnering with world-class researchers," BoroPharm CEO Todd Zahn said in a statement.
BoroPharm was considering leaving Michigan, which largely lacks the unique chemical production facilities the company requires.
"To have them move down here is the perfect example of how we can use our collective strength, because they were going to move to another state if they hadn't found the space here, the support here and the ability to grow here," Coleman said. "And that's what we offer them."

The decision to welcome BoroPharm comes as the university has repeatedly emphasized its intentions to welcome industry partners at the ex-Pfizer site, a massive complex that includes 30 buildings and 2 million square feet of facilities. BoroPharm plans to use two-thirds of its 4,300-square-foot lab space right away.
"These are the types of opportunities we want to look for," Coleman said. "We don't just want to fill up the space. That's not an option."

The city of Ann Arbor, still reeling from lost taxes tied to the university's acquisition of the site, will not reap a big financial boost from the new company.
BoroPharm will not be subject to real property taxes because the university owns the property, City Finance Director Tom Crawford and City Assessor David Petrak confirmed.

The company will be subject to personal property taxes on equipment it owns and uses at the site - unless it's using U-M-owned property, which would not be subject to taxes.
"We're more likely to see indirect benefits" from companies moving into the Pfizer site, Crawford said, citing improved employment levels and a boost in the housing market.
Ann Arbor SPARK, the region's economic development organization, applauded the news of BoroPharm's move into the university's space.

"SPARK is working closely with U-M on the redevelopment of the ex-Pfizer complex, and we view today's exciting announcement as the confirmation by U-M of their desire to consider both public and private uses for the NCRC," SPARK Vice President for Marketing and Public Relations Elizabeth Parkinson said in an e-mail.
So far, U-M has moved about 300 of its own employees to the ex-Pfizer site, now called North Campus Research Complex. The university is methodically mapping out its strategy for the site, and executives hope it will encourage new multidisciplinary research initiatives and innovative collaborations.
The university recently hired former Pfizer site leader Canter to lead the site. He officially started on the job Monday.
Contact AnnArbor.com's Nathan Bomey at (734) 623-2587 or nathanbomey@annarbor.com. You can also follow him on Twitter or subscribe to AnnArbor.com's newsletters.