Posted on
Mon, Jun 24, 2013 : 4:36 p.m.
University of Michigan Health System cements affiliation to extend block 'M' brand
By Amy Biolchini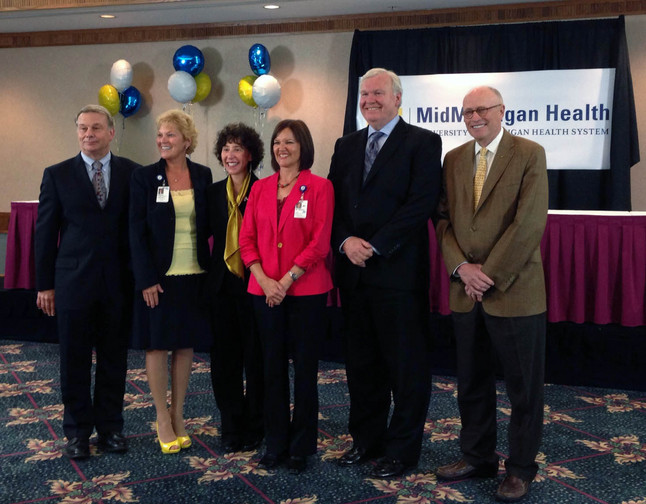 Courtesy of Kara Gavin
The
University of Michigan Health System
has
cemented an affiliation agreement
with Midland-based
MidMichigan Health
, officials announced Monday.
In exchange for the use of U-M's block "M" brand on MidMichigan Health's logo and for the expertise of UMHS faculty physicians, the MidMichigan has given UMHS minority equity ownership and two seats on its 17-member board of directors.
Doug Strong, CEO of U-M Hospitals and Health Centers, and Dr. David Spahlinger, executive director of the U-M Faculty Group Practice, will be taking those seats.
The agreement is the first in which UMHS has part-ownership of one of its affiliates.
UMHS' interest in MidMichigan Health begins at less than one percent, but there will be an opportunity for that to grow to as much as 20 percent, officials said.
It also solidifies referral relationships between the Midland, Alma, Clare and Gladwin medical centers that MidMichigan Health encompasses and the specialty care UMHS provides in its Ann Arbor hospitals.
"We are so pleased to finalize this strategic affiliation with MidMichigan Health, which has a proud history of ensuring high-quality care," said Dr. Ora Pescovitz, UMHS CEO, in a statement Monday. "Working together, we will improve the health of our patients, and find new ways to cooperate for better care."

Courtesy of UMHS
Officials from both health systems gave brief remarks on the affiliation Monday afternoon at an annual meeting of MidMichigan leaders and managers at the
Valley Plaza Conference Center
in Midland.
MidMichigan Health is a nonprofit health care system that serves 14 counties in the central and northern parts of Michigan's Lower Peninsula.
It was formed in the early 1980s when MidMichigan Medical Center-Clare joined MidMichigan Medical Center-Midland.
Leaders from both health systems announced their intent to affiliate about a year ago in August, when MidMichigan Health was under the direction of then-president and CEO Richard Reynolds. Reynolds retired in December and Diane Postler-Slattery took his place.
The two organizations previously had struck an agreement in December 2011 for cancer treatment.
MidMichigan Health will retain its local control of its health centers, but the block "M" is now a part of the organization's logo.
Part of the affiliation means some specialists from UMHS will travel to MidMichigan facilities to see patients, and there is an opportunity to expand telemedicine between doctors and patients, Strong said in a news release.
"Physicians at UMHS and MidMichigan Health are sharing clinical protocols and best practices with one another," said Dr. Lydia Watson, vice president and chief quality and safety officer of MidMichigan Health. "One of the first advances we are making is physician-to-physician collaboration. Members of our medical staffs have had the opportunity to meet on a number of occasions, and this face-to-face interaction has been very valuable."
Amy Biolchini covers Washtenaw County, health and environmental issues for AnnArbor.com. Reach her at (734) 623-2552, amybiolchini@annarbor.com or on Twitter.