Posted on
Tue, Dec 6, 2011 : 2:54 p.m.
University of Michigan may convert old Mott Hospital into extension of adult hospital
By Nathan Bomey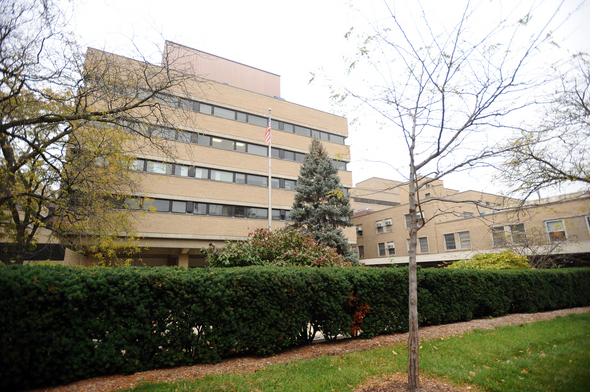 Melanie Maxwell | AnnArbor.com
The
University of Michigan Health System
is exploring the possibility of converting the old
C.S. Mott Children's and Von Voigtlander Women's Hospital
into an extension of the university's general hospital, executives told AnnArbor.com.
Converting the former Mott Hospital building into single-adult rooms for the University Hospital is the "most likely" solution, said Pat Warner, executive director for the Mott and Von Voigtlander hospitals.
U-M on Sunday moved its inpatient operations from the old Mott facility to the new 1.1 million-square-foot building, which took more than five years and $754 million to construct.
Although the U-M Health System has spent about seven years planning for the new Mott, little has been said about the fate of the old complex, which opened in 1969 with 200 beds and was renovated in the 1980s.
The old Mott Hospital is physically connected to the University Hospital, making a conversion a natural way to expand the capacity of the adult hospital.
It was not immediately clear whether the U-M Health System envisions the proposal as a permanent solution to meet projected increases in patient volume or whether it would be a temporary solution.
"There's been a lot of conversations about that looks like, how many beds, what kinds of services," said Loree Collett, associate hospital administrator for Mott and Von Voigtlander and operational lead for the new Mott construction project.
Hospital executives were quick to say that the university had not made a formal decision to press ahead with the conversion project.
The new Mott Hospital has enjoyed a wave of publicity in recent months, but the University Hospital remains the university's biggest health care operation.
The 11-story University Hospital, which opened in 1986, has 1.79 million square feet — which is 62.7 percent larger than the sparkling new Mott Hospital facility.
The university declined to provide a University Hospital executive to comment for this story.
In June, U-M Hospitals and Health Centers projected a 2.3 percent increase in patient days and a 4 percent rise in outpatient activity from the 2010-11 fiscal year to 2011-12. The university also projected a rise in occupancy from 85.2 percent to 86.7 percent.
The U-M Health System employs more than 22,000 workers and pays more than $1 billion in annual wages.
Contact AnnArbor.com's Nathan Bomey at (734) 623-2587 or nathanbomey@annarbor.com. You can also follow him on Twitter or subscribe to AnnArbor.com's newsletters.