Posted on
Wed, Sep 29, 2010 : 3:21 p.m.
University of Michigan planning to build $46 million nanotechnology research facility on North Campus
By Nathan Bomey
The University of Michigan plans to build a 63,000-square-foot research facility to house a new nanotechnology operation on its North Campus, U-M and the U.S. government announced today.

The new facility, called the Center of Excellence in Nano Mechanical Science & Engineering (NAMSE), will be financed in part by a $9.48 million grant announced today by the U.S. Department of Commerce's National Institute of Standards and Technology.

The U.S. government said the project would cost $41.2 million, but U-M said the final pricetag would be closer to $46 milion. U-M said construction would start in spring 2011 and finish in May 2013.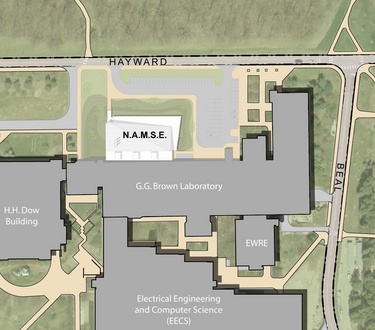 Photo courtesy of U-M
"The new research facility will explore a broad range of topics at the intersection of mechanical engineering and nanometer-scale science and technology," NIST said in a statement.
The facility will be located on U-M's North Campus off of Hayward Drive and directly adjacent to the G.G. Brown Laboratory in a cluster of buildings dedicated toward engineering research and education.

The U-M Board of Regents originally approved the project in June 2009, calling it an addition to the G.G. Brown building, but now the facility is being described as wholly dedicated to nanotechnology research. The project still needs additional approval from the Board of Regents to move forward.
The U.S. government said the three-story building would include 60 laboratory modules, eight specialized NIST chambers and an underground ultra-low vibration lab.
"Strengthening research and development in the United States is critical to our ability to create jobs and remain competitive," U.S. Commerce Secretary Gary Locke said in a statement. "These construction grants will help the U.S. produce world-leading research in science and technology that will advance our economic growth and international competitiveness."

Researchers will focus on various nanotechnologies, including nanomanufacturing, DNA molecules, energy conversion and microelectromechanical systems for use in medical technologies.
"Michigan Engineering has always been strong in traditional large-scale mechanical engineering areas including automotive research. This new facility will propel us to the next level. It will allow researchers to pursue exciting projects at the frontiers of mechanical science and engineering, where the discipline intersects with nanoscience and biology," U-M College of Engineering Dean David Munson said in a statement.
Some $15 million for the project will come from U-M's financial resources, $15 million from what the university called "private commitments" and $6.5 million from the College of Engineering.
U-M is considered a global leader in nanotechnology research. One of the university's spinoff companies, Ann Arbor-based NanoBio Corp., founded and led by U-M professor James Baker, last year signed a multimillion-dollar licensing deal with pharmaceutical giant GlaxoSmithKline to market one of its therapeutic medicinal candidates.
Jack Hu, U-M's associate dean for academic affairs in engineering, led U-M's efforts to secure the NIST funding. He described the nanotechnology facility as a multi-disciplinary opportunity.

"Nanotechnology is full of promise," Hu said in a statement. "It has applications in manufacturing, in medicine and in solar and thermal energy conversion, to name just a few fields. Fundamental to all these areas is a good understanding of the mechanical behavior of nanoparticles and we don't yet have that. Through this facility, we are providing an enabling platform for this research and innovation."

Contact AnnArbor.com's Nathan Bomey at (734) 623-2587 or nathanbomey@annarbor.com. You can also follow him on Twitter or subscribe to AnnArbor.com's newsletters.