Posted on
Tue, Apr 20, 2010 : 12:40 p.m.
University of Michigan biotech spinoff NanoBio expanding Ann Arbor lab space
By Nathan Bomey
University of Michigan spinoff biotech firm NanoBio Corp. is expanding its Ann Arbor presence to support the acceleration of its drug pipeline, AnnArbor.com learned this morning.
The expansion underscores the firm's faith in the ability of Ann Arbor's life sciences talent to support its growth and reflects the company's commitment to the region after striking an international pharmaceutical licensing deal in December.

NanoBio is adding four laboratories and office space totaling an additional 4,300 square feet. The firm is also renovating some existing space and will occupy 11,000 square feet when its Green Road expansion is complete, said John Coffey, NanoBio's vice president for business development.
Coffey said the expansion would "allow for the increased staffing plans."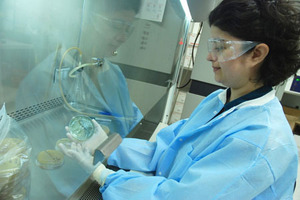 NanoBio lab tech Ann McCarthy. (photo by Robert Ramey)
The firm, which employs about 18 people in Ann Arbor, plans to hire a vice president of vaccine research, a director of vaccine research, a director of clinical vaccines, an analytical scientist and a research associate.

The expansion comes after NanoBio struck a multimillion-dollar deal with United Kingdom pharmaceutical giant GlaxoSmithKline to license a cold sore treatment still in clinical development. The deal provided $14.5 million upfront to NanoBio in addition to royalties and payments of up to $40 million if the treatment hits specific milestones.
The latest expansion reflects NanoBio's commitment to the Ann Arbor region -- hot biotech companies are often recruited to move to the coasts -- and seems to indicate that GSK is comfortable with having a Midwestern partner.
It also comes as NanoBio is launching a program in cooperation with U-M's Michigan Nanotechnology Institute to pursue an intranasal vaccine to treat people who already have hepatitis B.

NanoBio and U-M will use a $300,000 Small Business Technology Transfer grant from the National Institutes of Health to conduct preclinical studies to demonstrate safety of its nanoemulsion hepatitis B vaccine in animals.

That would precede a Phase 1 clinical trial to evaluate safety in humans - the first major step required by the Food and Drug Administration on the road to market approval.

"This new intranasal vaccine would have great value as a treatment to reduce the risk of HBV associated liver diseases and deaths globally," NanoBio founder and CEO James Baker said in a statement. "The vaccine is also highly stable at room temperature enabling storage without refrigeration, a factor of great importance in the developing world."

Contact AnnArbor.com's Nathan Bomey at (734) 623-2587 or nathanbomey@annarbor.com or follow him on Twitter. You can also subscribe to AnnArbor.com Business Review's weekly e-newsletter and breaking business news e-newsletter.