Posted on
Mon, Jan 4, 2010 : 6:04 a.m.
University of Michigan spinoff Shepherd Intelligent Systems pursues bus tracking technology
By Nathan Bomey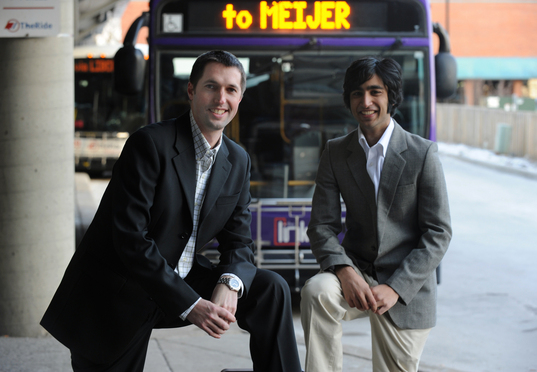 Lon Horwedel | AnnArbor.com
Waiting at a bus stop for your ride to arrive may soon be an annoyance of yesteryear.
At least that's what Ann Arbor-based Shepherd Intelligent Systems hopes. The months-old University of Michigan spinoff company is commercializing technology that allows bus riders to get free digital access to information about a bus' location and route.
"You can send a text to a stop on a route and you will then get a text back about when the bus will be there," said Adrian Fortino, Shepherd's CEO. "The accuracy is within 30 seconds. That's the part people really love the most."
The technology, based off a system already in use by U-M's bus system, is being tested via a pilot project with the Ann Arbor Transportation Authority.
Fortino said the early results of the project, recently extended for two months, were validating the company's strategy. The test, in place on AATA's most-traveled route, has attracted some 200 daily users.
Shepherd has developed a software application that interacts with global positioning system hardware in each bus. That stands in contrast to the company's competitors, most of whom developed proprietary hardware to provide similar tracking services.
"They do have a lot of intellectual property in the creation of those systems. The trouble is you don't necessarily need that. We see the value in the software, the predictive technology," Fortino said.
U-M's original "magic bus" technology was developed by a team of researchers, including Shepherd's chief technology officer, Jahan Khanna.
Shepherd's software amounts to tracking software that communicates with a mobile Web site, which can be easily accessed on most smart phones. The technology uses predictive algorithms that include information about traffic and weather to project arrival times.
The idea is that bus riders can time their arrival at a bus stop with the arrival of the bus.
"You could be sitting in your office rather than out in the cold in the snow, and then when you're ready and it's a minute or two away you can go and get in the bus and not have to be sitting there 15 minutes," Fortino said.
AATA officials say demand is strong for bus-tracking technology.
"We have had many suggestions from our customers for this type of real-time technology," AATA Community Relations Mary Stasiak said in a recent news release.
Shepherd, currently located at U-M's TechArb incubator, has five full-time employees.
Fortino, a 2000 U-M business graduate working on a master's degree, joined the company a few months ago when it spun out of the university.
The company's revenue model would involve charging an annual rate based on the size of the transportation company's fleet. That means the service could be extended to other vehicle services and taxi cabs.
Contact AnnArbor.com's Nathan Bomey at (734) 623-2587 or nathanbomey@annarbor.com. You can also follow him on Twitter.