Posted on
Sun, Nov 15, 2009 : 5:12 a.m.
University of Michigan's TechArb incubator offers new economic pathway
By Nathan Bomey
Perhaps it's time to let student entrepreneurs steer Michigan's rickety economic ship.
The rapid proliferation of college-student-led startup companies in the Ann Arbor region is not to be disregarded as frivolous.
And it's not accidental. The University of Michigan is encouraging its student entrepreneurs to pursue their business ideas.
That commitment is further solidified in the form of TechArb, a student business incubator that started as an experiment this summer to measure interest. Several companies, including iPhone application developers and Web companies, quickly populated the temporary space on Washington Street.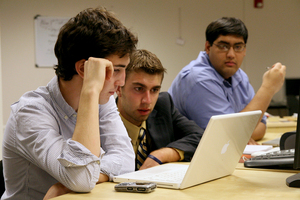 Now the university is making it a permanent piece of its entrepreneurial puzzle. Student entrepreneurs will be welcomed at the permanent version of TechArb next to Google and Ann Arbor SPARK at the McKinley Towne Centre.
Some 10 percent of U-M students have already started a business by the time they enroll in college, U-M President Mary Sue Coleman has said.
Fostering entrepreneurial spirit among the student community is a critical step to reshaping Michigan's culture. And student organizations like MPowered Entrepreneurship, which has attracted 600 participants, are contributing to this evolution. MPowered has attracted more than 1,000 videotaped entrepreneurial ideas for its second annual "1,000 Pitches" competition.

The state needs to embrace the role of entrepreneurship in recreating economic hope for a population starving for jobs.

"I think it can be universally agreed that this state requires some reinventing of itself," said Marc Weiser, partner in Ann Arbor venture capital firm RPM Ventures. "The University of Michigan and its students and professors can be part of the nexus that helps drive that change. It's going to take time to see that change happen, but sometimes you just have to give somebody the first helping-hand to get them going. And if TechArb is that first helping-hand, awesome."
Weiser, a quiet catalyst of the Ann Arbor region's entrepreneurial activity, played an instrumental role in starting TechArb. After fine-tuning the idea with U-M's Thomas Zurbuchen and student entrepreneur Jason Bornhorst, he struck a deal with Ann Arbor real estate firm McKinley Inc. to establish the first TechArb, where students got space for free. (Weiser's father, Ron, founded McKinley.)
The original space gave student entrepreneurs a chance to prove demand for a student-centric business incubator, and they delivered.
For the permanent version of TechArb to be successful, Weiser said it's critical that the students be given freedom to do things their way. Students will receive low-cost rent - and, in some cases, free rent.
"It's got to stay all about the students," he said. "You can't try to control and guide this too much."
Student-run businesses may be nontraditional, but their role in boosting Michigan's economy should not be overlooked.
"The things that made Michigan successful in the past, while they are still tools in our toolkit in the state, it's not going to drive massive economic growth. It's not going to drive massive job creation," Weiser said. "So we need to find new ways to innovate here."
Perhaps students know the way.
Contact AnnArbor.com's Nathan Bomey at nathanbomey@annarbor.com or (734) 623-2587 or follow him on Twitter.