Posted on
Thu, Sep 9, 2010 : 3:29 p.m.
University of Michigan's federal stimulus winnings? $277 million and counting
By Nathan Bomey
The University of Michigan has received more than $277 million in funding from the federal economic stimulus package, according to information available on the university's website.
That means the university, which could still receive more stimulus funds, accounts for about 3.6 percent of the $7.7 billion in stimulus funds awarded so far to the entire state of Michigan.
The university celebrated that funding today in an event with U.S. Rep. John Dingell, D-Michigan, who issued a statement calling U-M "one of the shining examples of the good work that has come as a result of" the stimulus package.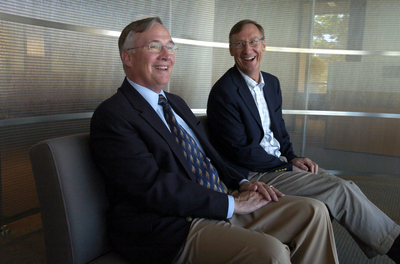 File photo | AnnArbor.com
Dingell said U-M's stimulus projects had created 503 jobs, although that figure is very difficult to authenticate.
In a report issued last week, Bloomberg said it had conducted its own independent study of the stimulus package and found that U-M had won $272 million in stimulus funding from the National Institutes of Health. That was "the highest discovered by a Bloomberg survey of top research universities," the news organization reported.
It's unclear how Bloomberg arrived at its figure, although it may be attributable to instances in which researchers from several universities were awarded funds for a joint project.
According to U-M's figures, the Medical School accounts for $83.7 million of the university's stimulus funding.
"Our success at securing these awards reflects the creativity, expertise and talent our researchers have been able to focus on the myriad health related problems facing our nation, and the potential impact of their ideas on medical care and scientific understanding of human disease," U-M Medical School Dean James Woolliscroft said in a news release in April. "We are especially pleased to be able to bring significant funding to Michigan to help build the foundation for the state's long-term economic growth."
U-M's College of Engineering has received $49.95 million, the School of Public Health $36.9 million and the College of Literature, Science and the Arts $21.6 million.
U-M, whose annual research budget passed $1 billion last year, is the Ann Arbor region's largest recipient of money from the $787 billion American Recovery and Reinvestment Act, which Congress approved in early 2009.
But other local groups have also been big winners. Ann Arbor-based Merit Network has received more than $111 million in federal stimulus funds to improve broadband Internet access throughout Michigan. Ypsilanti-based Clean Energy Coalition has received $15 million to help its governmental and transit partners buy alternative propulsion vehicles and install clean fueling stations.
The university's top awards include $48 million for an expansion and other projects at the Institute for Social Research; $19.5 million for an Energy Frontier Research Center to discover new solar energy technologies; and a multitude of smaller grants for various scientific research projects.
"This research will expand the learning opportunities for our students, inform and educate the public, serve as a resource for scientific research for the federal government, and spur faculty and students to start small businesses in our community," Dingell said in a statement.
Contact AnnArbor.com's Nathan Bomey at (734) 623-2587 or nathanbomey@annarbor.com. You can also follow him on Twitter or subscribe to AnnArbor.com's newsletters.