Up for bid: 'Strong interest' in Washtenaw County tax foreclosure auctions on first day
Posted on Wed, Jul 18, 2012 : 12:50 p.m.
Bidding is under way for more than 150 parcels in Washtenaw County's tax foreclosure auction, and potential buyers showed strong interest the first day, said Washtenaw County Treasurer Catherine McClary.
The auctions, which started Tuesday, include vacant lots, commercial buildings and residential homes.
McClary said some of the properties have opening bids after the first day, but the auctions do not close until July 23 and 24, depending on the property.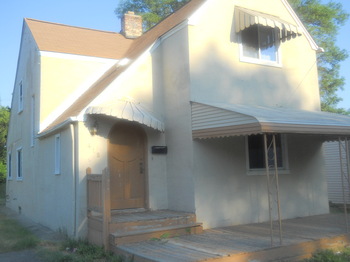 Katrease Stafford | AnnArbor.com
"The auction does not close until next week, and that's when we've seen bidding really start to pick up," she said.
She added: "It looks like there's strong interest…there seems to be a lot of activity and some initial bidding."
As of noon on Wednesday, 24 properties had received bids, including seven properties in Ypsilanti, six in Manchester and four in Ann Arbor.
Most of the properties drawing interest have bids that are at or slightly above the minimum bid price, which includes taxes, fees, interest, penalties and the cost to bring it to auction.
An Ann Arbor house at 2909 Marshall St. started with a minimum bid of $15,476, and is now up to $20,100.
Bidding on a property at 7524 Lake Street in Dexter is at $43,000 — $5,700 above the minimum bid price.
In Ypsilanti Township, a property at 641 Woodlawn Ave. has a bid $471 above the minimum bid price of $5,529.
Some Washtenaw County properties will not be available until a Sept. 6 auction, including four parcels holding the former Greek church at 401 N. Main St. in downtown Ann Arbor.
McClary said if the county receives the minimum bid on a property, it breaks even. If a bid is higher, it's considered an excess proceed and goes to benefit county programs.
She said the county has received more than a million dollars in extra proceeds each year since 1999, with the exception of 2010 and 2011.
"That's when the (bad) economy really hit and that's when we really had foreclosures," she said. "I suspect that it's likely we'll lose money again this year."
But at the same time, the total number of properties up for bid is down significantly from the record number auctioned in 2011. That year, 639 parcels went to auction, compared to fewer than 300 this year.
And judging from the drop in delinquent taxes — the total fell from $35 million in 2011 to $29 million this year — McClary said she suspects conditions will continue to improve.
"I know two or three or four years out, I'm going to have a drop in foreclosures," she said. "I'm already seeing a drop in foreclosures, and I think things are improving dramatically."
Among the bargains McClary highlighted is a home at 901 Pine Tree Drive, in Ann Arbor. It has a minimum bid listed for around $21,000, and McClary said the assessed value is around $200,000.
The highest bid for the property as of noon on Wednesday was $23,300.
In Ypsilanti Township, two mobile home parks are for sale.
Homes in Ypsilanti and Ypsilanti Township start for as low as $6,000, such as one at 1670 Holmes Road which has a starting bid of $6,476. Bids for vacant parcels begin around $600.
The auction is available for viewing on www.Auctions.com/Washtenaw.