Posted on
Sun, May 19, 2013 : 5:58 a.m.
Upcoming Michigan Growth Capital Symposium brings Midwestern investors and entrepreneurs together
By Ben Freed
The Michigan Growth Capital Symposium, held this coming week in Ypsilanti, will bring together investors from across the country to discuss the state of venture capital and meet the "Best of the Midwest" in startup companies.
The two-day event will feature panel discussions and presentations by emerging technology and early-stage companies. Ann Arbor-based managing director for the Venture Investors fund Jim Adox said top regional funds as well as major funds from the coasts attend the event.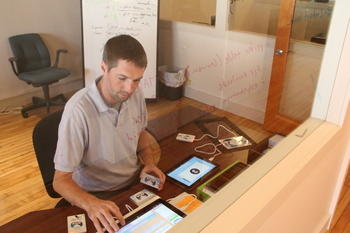 Ben Freed | AnnArbor.com
"We have three-quarters of the partners in our fund here learning and looking at deals," he said. "We're voting with our feet because we think this is the top VC gathering in the Midwest."
The conference is co-sponsored by the Zell Lurie Institute in the Ross School of Business and the Michigan Venture Capital Association, whose CEO Carrie Jones said the ability to attract investors from outside the region to the conference can have a direct effect on the amount of venture capital funding companies raise in the state.
"People come in from all over to attend, so there's more potential for Michigan VC funds to encourage some of the larger coastal funds to support deals here and bring more investment to Michigan," she said.
According to the ZLI, venture capital investments in Michigan grew from $84.75 million in 2011 to $232.31 million invested in 47 separate deals in 2012, the highest totals since 2000.
In the first quarter of 2013, there have been 13 venture capital deals in Michigan worth $17.6 Million, according to a National Venture Capital Association and PricewaterhouseCoopers' MoneyTree report based on data from Thomson Reuters. Since the close of the first quarter, bio-pharmaceutical company Esperion already has tripled the state's VC intake by closing a $33 million funding round.
"It's really just a great place and a great time to have an early-stage fund," Ann Arbor entrepreneur and investor Adrian Fortino said.
"My fund partner Mahendra [Ramsinghami] has been running the First Step Fund in Detroit for three years. He says he has never seen as many quality deals for seed and pre-seed funding as we've seen in the past six months."
Fortino has been on both sides of the growth capital equation. A graduate of University of Michigan's engineering school with an MBA from the Ross School of Business, Fortino recently began investing in other entrepreneurs through Invest Detroit.
"There's no better place to be on the investment side right now," he said.
"We actually just launched Detroit Innovate (a new seed fund) because we saw a substantial number of companies and a huge amount of technology being developed here in the area. There's billions of dollars of research happening in educational and commercial settings that is super-unsupported in regards to growth capital."
FlockTag, the third and most recent startup company founded by Fortino, will be presenting to investors at the MGCS. Adox said being given a chance to display their company at a conference give startups a leg up in their fundraising process.
"A lot of the companies that come and present have success coming out of the conference," Adox said.
"They don't leave the conference with a check, but they leave with names of venture capital funds and investors that have interest in what they're doing. I generally have two or three opportunities that catch my eye and I follow up to have a more complete meeting with them that could lead to investment."
Adox said other deals are often started on the sidelines of the conference, when one venture capitalist pitches a company that he is invested in that is looking to raise another round.
"Talking with other investors, if they have a company that they're already in and really excited about, I'm more likely to take a look," he said. "And this is a time for us all to be in the same place and make those connections."
Washtenaw County in particular has been a magnet for investments in the past month. In addition to the Esperion Deal, three other local companies closed deals totaling more than $2.5 million.
Fortino said he hopes enough capital will make its way to Michigan to allow these smaller companies to continue their growth here.
"As more and more seed-stage companies are built here, that will draw more growth funding to those companies," he said.
"In the end I'd like to think that will allow for offices to be set up here or new funds established that are for companies a bit further down the maturity spectrum."
The Michigan Growth Capital Symposium will be held May 21 and 22 at the Marriott Resort at EagleCrest in Ypsilanti. On-site registration for the event opens at 10 a.m. May 21 at the Marriott Resort.
Ben Freed covers business for AnnArbor.com. You can sign up here to receive Business Review updates every week. Reach out to Ben at 734-623-2528 or email him at benfreed@annarbor.com. Follow him on twitter @BFreedinA2.