Posted on
Sun, Nov 4, 2012 : 5:58 a.m.
Upland Green developer moving forward with plan for more apartments on Plymouth Road
By Lizzy Alfs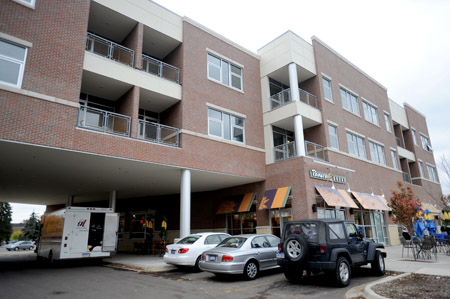 AnnArbor.com file photo
A years-old plan to construct a second building on the
Upland Green
site on Ann Arbor's Plymouth Road appears to be moving forward.
The developer behind the original project submitted an administrative amendment to the city of Ann Arbor this week to increase the size of the proposed building and convert it to strictly residential.
"It's going to be all apartments rather than having office and retail, because back in there is better for apartments," said Bill Conlin, one of the original developers behind the plan.
Conlin first proposed the two-phase project, located on a former auto salvage yard at 1771 Plymouth Road, in 2004. His partnership closed on the two-acre property in 2006 for $3.025 million, according to city records.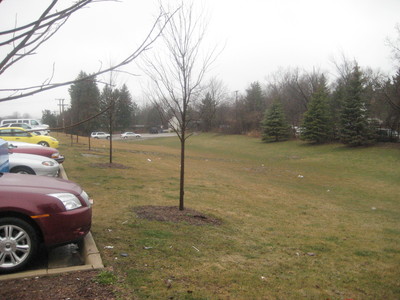 AnnArbor.com file photo
The first phase of the project, a three-story, 30,000-square-foot building with first floor restaurants and upper level apartments, was completed in 2010 after being stalled for some time. New Jersey-based BSG Management Co. acquired the property in late 2009 to help move the project along, keeping Conlin involved as a partner.
The tenant mix on the first floor of that building includes Panera Bread, Great Plains Burgers, Seoul Street and Qdoba.
The second phase building was approved as a mix of condos, office and retail spaces with one level of parking underground.
But Conlin, who now plans to purchase the parcel where the new building will be located back from BSG, is requesting some changes to the site plan.
He wants the new building, which would be located on a grassy area at the north end of the existing parking lot, to consist of two stories of apartments with one level of parking six feet below grade. His amendment calls to increase the size of the building by 2,372 square feet, increase the parking by five spaces and revise the location and type of landscape materials.
The building would consist of 34 apartments, with 620-square-foot one-bedroom units, and 490-square-foot studios. Plans include 42 covered parking spaces, which would be accessed from a curb cut on Upland Drive.
"The reason why (the units are) small is because small units are now very much in vogue," Conlin said.
The existing apartments at Upland Green rent for $983 to $2,200, according to marketing materials.
Conlin said once the administrative amendment is reviewed by the city, he is all set to begin construction. The architect for the new building is Royal Oak-based James Schneider.
Conlin is one of several developers moving forward with new construction projects in the Plymouth road corridor: The Plymouth Road Plaza is under construction in front of Plymouth Road Mall, just east of Nixon Road; and an Ohio developer wants to build The Shoppes at Plymouth Road on a vacant outlot in front of Holiday Inn hotel.
Lizzy Alfs is a business reporter for AnnArbor.com. Reach her at 734-623-2584 or email her at lizzyalfs@annarbor.com. Follow her on Twitter at http://twitter.com/lizzyalfs.