Posted on
Tue, Jan 8, 2013 : 5:59 a.m.
Upscale American restaurant Vellum now open in downtown Ann Arbor
By Lizzy Alfs
After five days of working in the kitchen at Vellum, Peter Roumanis is pleased with customer feedback at his new downtown Ann Arbor restaurant.
Located at 209 S. Main St., Vellum opened its doors last Thursday following a 10-month renovation, which transformed the former Full Moon space into an upscale American restaurant.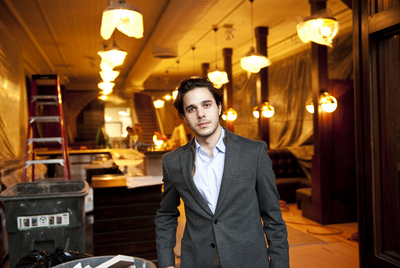 Daniel Brenner | AnnArbor.com
"I think people are really excited," Peter said. "It's very different and we're holding (customers') hands through some of the menu descriptions…we want to set up the meal with them together."
The restaurant is still in a soft opening phase, where it will be limiting the amount of dinners cooked on a nightly basis. Peter anticipates they'll stop limiting covers by sometime next week.
"We're just kind of making sure that what we're serving right now is coming out as perfect as possible," he said.
Peter and his father, John Roumanis, owner of Ann Arbor's Mediterrano and Carlyle Grill, purchased the three-story building on South Main Street in February. The third-floor eventually will be converted into a loft.
Peter describes the carefully selected and seasonal menu, which took the team six months to create, as a mix of modern and traditional techniques that create a "new" American feel.
"We're doing very composed food," he said. "It's very stylized."
Some menu items include a mushroom tart with tarragon, aged Parmesan and tomato sauce; poached chicken breast with root vegetables and mushroom sauce; pan-fried walleye with onion broth, shallot and apples; and a burger with egg, pickle and bacon jam.
Having worked in restaurants in Paris, Chicago and New York, Peter said Vellum is bringing two generations of restaurateurs — father and son — together in a single project.
"I have been a guy, for the past year, without his kitchen," he said. "It's really wonderful to be back on my playground; this is what I do," he said.
Although Vellum is more of a formal restaurant, customers won't find tablecloths or wait staff wearing ties and vests. There is a bar, a second-floor wine cellar, and a lounge area, where customers are seated before being shown to a table. The idea, Peter said, is to make the restaurant feel warm and inviting.
"We wanted to make the experience really warm and welcoming," he said. "We're able to do that, I think, because we have these brasses, coppers and wood…you go upstairs and see hand painted wallpaper, which I thought was brilliant."
Vellum is open for dinner everyday from 5:30 to 10:30 p.m. The bar and lounge is open Friday and Saturday from 5:30 p.m. to 1 a.m., and Sunday through Thursday from 5:30 p.m. to 11 p.m.
Lizzy Alfs is a business reporter for AnnArbor.com. Reach her at 734-623-2584 or email her at lizzyalfs@annarbor.com. Follow her on Twitter at http://twitter.com/lizzyalfs.