Posted on
Thu, May 2, 2013 : 5:58 a.m.
Walgreens signs 20-year lease to open store on Ann Arbor's South State
By Lizzy Alfs

City of Ann Arbor
Agree Realty
and retail pharmacy giant
Walgreen Co
. negotiated a 20-year lease agreement for Ann Arbor's
former Michigan Book & Supply
building, Agree Realty CEO
Joey Agree
told investors last month.
The publicly traded Farmington Hills-based real estate firm purchased the building on the corner of South State and North University in December for $5.8 million. The deal was finalized nine months after Michigan Book & Supply closed as part of its parent company's bankruptcy protection filing.
Agree Realty and Walgreens have been mostly silent about plans for the high-profile building at 317 S. State, but Joey Agree told investors on earnings conference calls that it's being transformed into a "campus flagship" Walgreens store.
"This existing project is pre-leased to Walgreens under a 20-year agreement and will be Walgreens' first new campus flagship store in the country," he said
He said the store is expected to open in the first half of 2014.
Agree Realty has an established relationship with Walgreens — nationwide, its top three tenants are Walgreens, Kmart and CVS. As of April 30, 29 percent of the company's annualized base rent came from Walgreen Co., according to a quarterly filing with the U.S. Securities and Exchange Commission.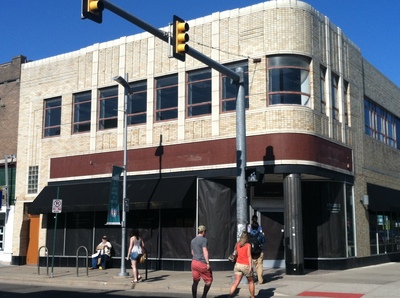 Lizzy Alfs | AnnArbor.com
Agree controls the Ann Arbor property on the corner of Jackson and Maple roads where a Walgreens was constructed in 2010.
It's unclear what specific plans are for the "campus flagship" store on South State, and representatives with Walgreens and Agree have not returned multiple requests for comment.
In late March, Birmingham-based Sachse Construction & Development applied for city of Ann Arbor permits that would allow Walgreens to move forward with its interior renovations. Sachse also requested a reoccupation permit for Walgreens to take over the space.
The building has 12,000 square feet on two floors and a 6,000-square-foot basement that Michigan Book & Supply used for textbook sales. Most recently, Texas-based Hogarth Management, an entity controlled by the Borders family, owned the building on South State Street and Ann Arbor's First Martin Corporation managed the property.
Just down the street at 209-211 S. State St., CVS Pharmacy opened a store in 2011 after it completed an $8 million project that preserved the historic facade, but demolished two houses behind it.
Meanwhile, a major redevelopment of the former flagship Borders store is underway just west of the Michigan Book & Supply building. Five retail and restaurant tenants are expected to fill the first-floor of the vacant building.
Lizzy Alfs is a business reporter for AnnArbor.com. Reach her at 734-623-2584 or email her at lizzyalfs@annarbor.com. Follow her on Twitter at http://twitter.com/lizzyalfs.