Posted on
Sun, Mar 28, 2010 : 5:59 a.m.
Washtenaw County braces for job growth and economic rebound to begin in 2010
By Paula Gardner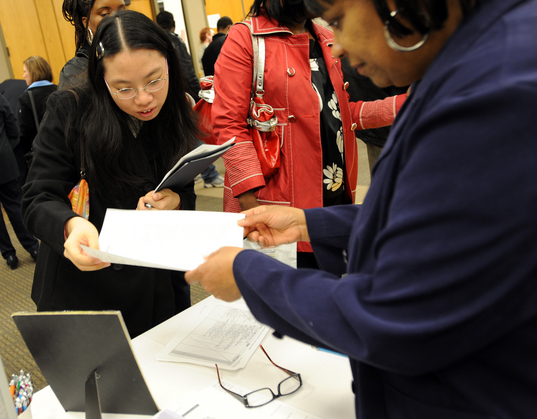 Lon Horwedel | AnnArbor.com
The improved jobs outlook in Washtenaw County will be both gradual and precise: Jobs will be gained only in certain skilled positions that, on a whole, require higher education and reflect the region's strength in both technology and health care.
People employed in software development, banking, computer systems design and nursing will watch their industries return to a more robust hiring pace, adding a combined thousands of local positions in coming years.
Others still struggle. Some industries won't be hiring more people until 2012 - the area's bars and restaurants, for example. Book manufacturers are likely to lose over 300 jobs in coming years. And auto manufacturing likely never will climb to the levels seen even just a few years ago.
Yet this year's Outlook report confirms that Washtenaw County is headed for a gradual economic rebound, one that started at the end of 2009 and will play out through 2012.
Key sectors will ramp up hiring enough to offset losses, forming the foundation for the finding of University of Michigan economists George Fulton and Donald Grimes: "Following more than a decade of sub-par performance, it appears that the county will be returning to a healthier rate of employment growth in 2012."
Rich Sheridan, CEO of Ann Arbor-based software firm Menlo Innovations, said that forecast fits with what he sees: a gradual upswing in optimism and end to the swell of local job cuts.
"I don't sense that there's the big layoffs going on anymore," he said. "I'm not hearing a lot of people coming in our door who are saying, 'I've just been laid off.' I don't sense there's this new wave of job losses."
Other indicators also point to stabilization that started at the end of 2009, according to the Outlook report.
"At least around here, there is a feeling that things are improving around Washtenaw County," said Peter Schork, president and COO of Ann Arbor State Bank.
That's reflected in the perception that the economy has stabilized, Schork said.
The bank is processing more applications for commercial loans. That increased demand is still small, Schork said, but it's notable over the end of 2009.
It also represents a psychological shift in willingness to take on business risk, he said.
"You see people trying to figure out a way to do more business instead of trying to hold onto business," Schork said.
Melanie Maxwell | AnnArbor.com
Sectors that U-M researchers forecast for rebound this year include:
• Business and professional services, which should gain 61 jobs instead of losing 2,143.
• Transportation, warehouse and utilities, which should gain 43 positions instead of losing 613.
• And state government - which reflects all of U-M operations and Eastern Michigan University - continues to add hundreds of new jobs, offsetting both local and federal job cuts.
By 2011, only manufacturing and the leisure and hospitality sectors should be posting losses, while overall, gains will finally dominate after five years of declines dating back to 2006.
That the data in the jobs forecast for Washtenaw County anticipates a turn toward a net gain in hiring within the next year seems to confirm the area's success at diversifying the economic base beyond automotive jobs.
"We're doing better than the rest of Southeast Michigan despite the fact that we're losing auto jobs," said Grimes. "Washtenaw County seems to be doing a better job than other areas at absorbing those hits."
The numbers of jobs classified as motor vehicle manufacturing fell to 4,111 this year, and the total will be 3,281 by 2012, according to the forecast.
"By 2012, there will be fewer people employed in the local auto industry than in grocery stores," according to the report.
The rest of Michigan is grappling with that shift, but as manufacturing and automotive jobs disappear and the focus turns to the innovation and technology sectors, Ann Arbor has a strong foundation, said Mike Finney, CEO of Ann Arbor SPARK.
"We continue to hold our own," he said.
The forecasts of job gains for the county are consistent with increases in the inquiry pipeline at SPARK, Finney said.
"A year ago our pipeline was about 60 percent of what it's at right now," he said.
The types of businesses represent bigger operations and larger space needs, he added.
"We have dealt with five different entities looking for 100,000 square feet or more," Finney said. "That's a first for us."
Washtenaw County job gains (losses)
Here is how the county fared in recent years and the forecast, according to the annual Outlook report.
2003: (2,886)
2004: 1,026
2005: 215
2006: (1,240)
2007: (2,594)
2008: (3,883)
2009: (5,858)
2010: (66)
2011: 612
2012: 2,079
UNEMPLOYMENT RATE
Washtenaw County lost 2,866 jobs in 2003, then experienced a two-year rebound when a total of 1,241 jobs were added to the county, according to the annual Outlook reports.
During 2004 and 2005, the local housing market was booming. Nationally, auto sales were just beginning their drop to the lowest levels in decades, and the national unemployment rate was still falling.
The changes hitting Ann Arbor by late 2006 put this region's unemployment rate on equal footing with the U.S. rate at 4.6 percent. A year later, both the county and state unemployment rates were higher than the nation's. Only in 2009 did the national unemployment rate surpass Washtenaw County's again.
By 2009, the county's jobless rate was 8.8 percent; in Michigan, 13.6 percent; and in the U.S. it was 9.3 percent.
Looking at the 2010 Outlook's forecast of the local unemployment rate shows a slight increase in 2010 - including the 66 jobs to be lost in this calendar year - and a decline to 8.7 percent in 2011 and 8.6 percent in 2012.
Those projections do not convey a job-growth rebound, despite the county adding 2,691 jobs in 2011 and 2012.
"The bad news is the unemployment rate, which is at record highs right now, is not going to drop significantly," Fulton said.
The reason, he said, is that job growth barely stays ahead of growth in the labor force, keeping the rate high. People who had stopped looking for jobs will return to the labor force as job-seekers.
"We'll be in a high unemployment rate environment for a while, even though we see some job growth," Fulton said.
Yet the rate projections also return Washtenaw County to the range of U.S. levels, which should fall to 8.7 percent by 2012, according to the report.
A RIPPLE EFFECT
The jobs count is important to the region's economy. But there's a ripple effect from a company's success that can result in economic impact in other areas.
There's the real estate component: The regional commercial real estate market's vacancy rate climbed in 2009 to just under 18 percent. As job growth rebounds, there's likelihood that landlords will fill the vacancies.
And the growth forecast for professional services by 2011 shows the impact of business-related spending on the economy.
One example of a local business affecting both is Arbor Assays, the second local startup by Russ Hart. The company, launched in 2008, sells test kits for pharmaceutical companies and biomedical research.
With four employees, it remains small. But with five-fold sales growth in 2009, the number of international distributors doubling over the last 12 months and sales volume for March tripling over the same month in 2009 - with more days still to sell, he notes - Hart is ready to hire.
One shipping coordinator is likely to be the first hire, and more may follow.
"We just expanded into some more space," he said of his southeast Ann Arbor office.
And as the company launched, it's growing with the help of the same support team that Hart turned to when he established Assay Designs, which is still based in Ann Arbor.
"We went back to our old bank, our old attorneys, our old accountants … because we'd worked with them for so long," Hart said.
UNIVERSITY OF MICHIGAN'S IMPACT
U-M remains one of the most obvious generators of jobs in Washtenaw County.
Across the university - from campus to the medical center - employment grew from 34,313 in 2004 to 38,853 at the end of 2009, according to U-M data.
While the Outlook 2010 data can't break down where on campus those jobs were added, it's likely in the research areas targeted for growth.
"Even though there were a lot of difficulties in the Ann Arbor economy in the last year, one thing that did really quite well is the research environment at the (U-M) … in terms of the money they brought in," Fulton said.
Research spending topped $1 billion in 2009, and facility expansion can be found in various stages across campus: At the $132 million expansion at Kellogg Eye Center, the $175 million North Quad residence hall, the $750 million Mott Children's Hospital replacement.
Jan Mulcrone, director of human resources services for the U-M Health System, said the Health System expects to add 500 to 1,000 jobs over the next few years to support its growth. That includes patient care jobs such as nursing and other jobs such as radiation technicians. She said U-M fields anywhere from 10 to 400 applications for each open position.
"Within the health system, we're really continuing to grow right now," she said. "For us that primarily means a lot more patient-care positions."
This spring, the university announced the first tenants at the 2 million-square-foot North Campus Research Complex, which represents the first steps toward what could result in at least 2,000 new research-related jobs in Ann Arbor.
That follows a mission to create business opportunities on campus through entities like the Tech Transfer office and the Business Engagement Center.

"We are committed to supporting the Ann Arbor area and Michigan as a location for innovation, new technology and a well educated workforce," said Jim Kosteva, director of community relations at U-M. "We are working harder than ever to get new discoveries into the marketplace, create new companies and build a culture of entrepreneurism."
Some areas of U-M won't see job growth. One example is the College of Literature, Science and the Arts, which is considering lecturer layoffs.
State funding also remains a concern, Kosteva said. A likely $10 million cut "will certainly cause all units to be very, very careful with their budgets and will certainly have an impact … on budgets, hiring and tuition."
Still, growth in the number of researchers - particularly at the NCRC - seems assured. Unclear is the timing. It's possible, Fulton said, the pace could result in additional job gains by 2012 instead of beyond that timeframe.
"We think university-connected research and outreach is going to grow," Fulton said. "But we're less certain of the timing. … If some of this accelerates, then the forecast is going to look better in the short-term."
Paula Gardner is Business News Director of AnnArbor.com. Contact her at 734-623-2586 or by email. Sign up for the weekly Business Review newsletter, distributed every Thursday, here.