Posted on
Sat, May 7, 2011 : 5:58 a.m.
Wendy fashion shop pleased with initial response after opening in Nickels Arcade
By Laura Blodgett
Wendy, an upscale clothing boutique in downtown Ann Arbor's Nickels Arcade shopping corridor, officially opened its doors on April 25.
"We are really pleased with the turnout," said owner Wendy Chapman, who also works as a commercial real estate appraiser. "We have had such positive feedback—people love the clothes."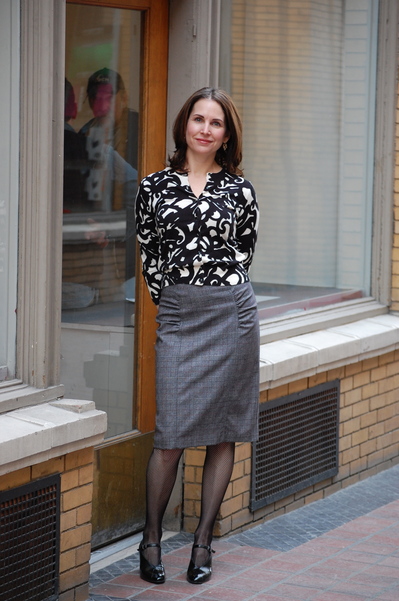 Janet Miller | For AnnArbor.com
The store is also offering concierge service: delivering clothing to women "if they have a conference coming up and spilled something on their shirt or maybe they have a party that night and can't get home in time to change," said Chapman. She believes the service is not being offered anywhere else in Ann Arbor.
Catering to working women professionals, the store offers classical stylish clothes for women of all ages and sizes. Lines include Zelda, Ravel, Leota and Comfy USA and provide everything from office and party wear to everyday casual clothes. Chapman, who launched Wendy with business partner Johnny Vaughn, plans to ramp up to 12 to 15 lines eventually.
Prices range from $50 for tops to $500 for coats, with most items running between $100 and $200. Although some may feel that is a high price point, Chapman is focused on offering better quality clothing that will last 10 years or more.
"I feel like there is already so much of the lower-end product out there, and there is no way I can compete with Target or Urban Outfitters anyway," she said.
Before opening, Chapman conducted extensive market research and looked at what other local boutiques were carrying.
"We felt there was plenty of room for our product and we were really conscious of not crossing any lines currently being carried," said Chapman.
Chapman selected the 600-square-foot space in Nickels Arcade because it exudes class and sophistication.
"It was originally built as an upscale destination shopping center modeled on a center like this in Europe. And there are so many neat retailers in here," she said.
The store will have a grand opening sometime in the future, said Chapman.
Laura Blodgett is a freelance reporter for AnnArbor.com.