Posted on
Fri, Sep 23, 2011 : 5:59 a.m.
What Rick Snyder's college research project reveals about Michigan's governor today
By Nathan Bomey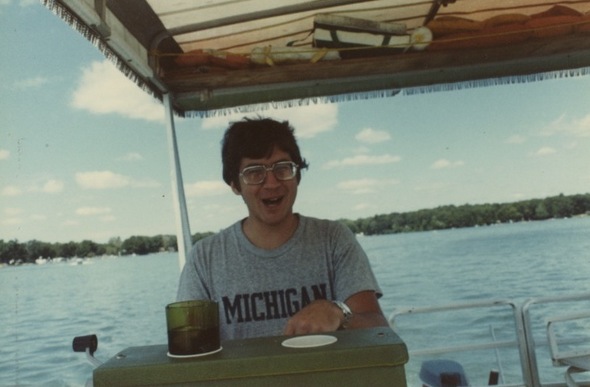 Photo courtesy of Rick Snyder's 2010 gubernatorial campaign
Gov.
Rick Snyder
's persistent recitation of the importance of "
relentless positive action
" comes from an executive whose interest in optimistic talk can be traced all the way back to college.
A research paper co-authored by Snyder in 1979 while he was finishing his MBA from the University of Michigan's Graduate School of Business Administration illustrates his understanding of the role of positive words in influencing the public.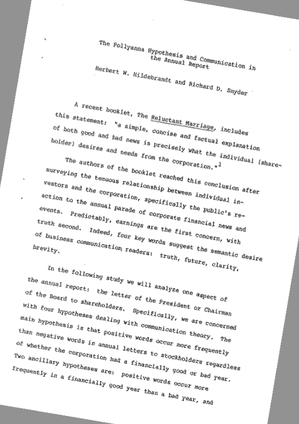 Photo courtesy of the University of Michigan
The original 26-page paper — discovered by AnnArbor.com in the online archives of the
U-M Kresge Business Administration Library
— was titled "
The Pollyanna Hypothesis and Communication in the Annual Report
."
A revised, 15-page, peer-reviewed version of the study was published two years later in the January 1981 edition of "The Journal of Business Communication." (Download the working paper here and the published journal version here. Both are PDFs.)
The paper, which analyzes business executives' use of positive words in their annual letters to stockholders, casts new light on the mindset of Snyder, who rarely criticizes others or displays pessimism.
Snyder's self-proclaimed focus on "relentless positive action" — a mantra he repeats in most of his public appearances and interviews — stands in stark contrast to many other politicians who rarely miss a chance to slam opponents or mock competing proposals.
Snyder's grasp of the role of positive communication is on full display in the study he co-authored with U-M business professor and former university secretary Herbert Hildebrandt, who retired in 1998 after a 40-year career at the university.
In an interview Thursday, Snyder — who earned bachelor's, master's and law degrees from U-M by age 23 — told Ann Arbor.com that getting the paper published "was a very proud moment for me."
"I still have one," he said. "I was just excited because you've got one of the world's experts in the field and having a chance to do the research project … was a great opportunity to work together. And I thought it was just super."
The study — the only professional manuscript Snyder has ever published — examines the role of positive and negative words that appear in the annual letters written by CEOs of major public companies.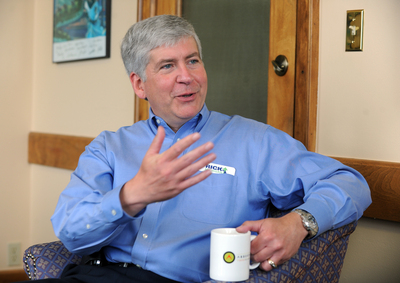 File photo | AnnArbor.com
By analyzing word usage, the researchers validated their main hypothesis — that "positive words occur more frequently than negative words in annual letters to stockholders regardless of whether the corporation had a financially good or bad year."
The authors wrote that the trend is partially attributable to the "Pollyanna Hypothesis" — that is, certain executives' "apparent tendency to communicate about life -- positively, no matter what."
The paper asserts that business executives, like the broader public, are naturally inclined to use more positive words to describe their activities.
But it concludes with a series of suggestions, saying that business executives should refrain from being unrealistically positive.
"In a financially bad year, a direct statement of that fact, devoid of puffery, would meet reader desire for clarity and truthfulness," Snyder and Hildebrandt wrote. They add: "While recognizing the Pollyanna attitude in most of us, more negative words would suggest a conscious attempt at objectivity, again meeting reader desire for truthfulness and brevity."
By the time the paper was published in July 1979, Snyder, now 52, was a month short of his 21st birthday — and had just earned his MBA about a month earlier.
Hildebrandt, 80, who still lives in Ann Arbor and conducts grant-funded research through his university connections, said he asked Snyder to co-author the report while Snyder was still an undergraduate student taking his "Parliamentary Law" class. After the paper made its way through the university's review process, it was published in July 1979 as Snyder was earning his MBA.
"He was the first undergraduate and the only undergraduate with whom I wrote a scholarly article," Hildebrandt told AnnArbor.com. "The only person ever. Usually my writing was with PhDs and people of that sort. But in my class, there was no doubt he was an exemplary leader."
He added: "There was no doubt that of the classes that I had over my 40 years, he's among the top 1 or 2 students that I have ever worked with, and that's why I asked him if he'd be willing to join me in writing" the report.
That a peer-reviewed version of the paper was published in "The Journal of Business Communication" was particularly notable.
"That is to say, it got a lot of publicity," Hildebrandt said.
Hildebrandt said he distinctly recalled that Snyder was "one of the most organized individuals I ever worked with" — and enthusiastically positive.
"Optimism is certainly part of his outstanding qualities," Hildebrandt said. "In a sense he is Pollyannaish, but does it after analysis of the issues — strong and statistical analysis — and listening to opinions."
Snyder told AnnArbor.com that he chooses not to criticize because "it never solves a problem."
As a business executive, Snyder, who resigned as president of computer-maker Gateway Inc. in 1997 to start a venture capital firm in Ann Arbor, would occasionally give talks about the importance of staying positive.
As a politician, he often reverts to a version of that speech, exhorting business people, politicians and citizens to stop arguing and start working together.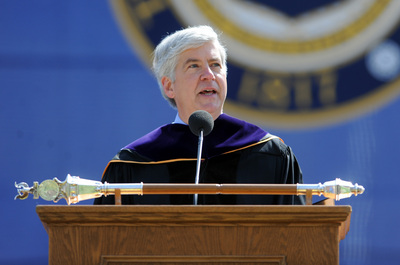 Melanie Maxwell | AnnArbor.com
"You solve a problem by staying focused on what the problem is and what the solution is," Snyder said. "To be really successful, if you want to be an entrepreneur or go off and be innovative, you need to be a half-full kind of person."
Politically, it might be a smart move to stay positive in the midst of a sea of negativity, said Craig Ruff, an analyst with Lansing-based Public Sector Consultants.
"The citizenry really craves leaders who are truthfully optimistic," Ruff said.
But the focus on positivity bears risks, too. Snyder's "relentless positive action" could backfire if voters believe he's out of touch and doesn't understand their problems.
Ruff said politicians have to strike a delicate balance between "buoyant optimism" and "catharsis."
"It's awfully difficult to be a Pollyanna and say to those people who are really suffering that all you have to do is pursue relentlessly positively thoughts and everything will work out," he said.
The Michigan Democratic Party, which has issued a stream of press releases criticizing Snyder for his approach to job creation, did not respond to a request seeking comment for this story.
Mary Campbell, an Ann Arbor venture capitalist who earned her MBA from U-M at the same time as Snyder, said he's always emphasized positivity.
"He is one of the most consistently positive and therefore, I presume, optimistic people I've ever known," Campbell said. "His glass, as he sees it, is always half full, never half empty. He is a strong believer in his own capabilities and the capabilities of others and certainly uses very positive approaches to motivate people."
The 52-year-old Snyder is not much different than the 20-year-old who co-authored the study on business communications, Hildebrandt said.
"I sense a continuation of what I saw earlier, carrying over into his later years — a consistent optimist regardless of the negativism that any governor or any individual would face," Hildebrandt said.
Despite a relentless focus on positivity, Snyder is not altogether averse to using negative words from time to time.
During his gubernatorial campaign, he repeatedly described the controversial Michigan Business Tax as the "dumbest tax" in the U.S. He called his Republican opponents "career politicians" during the primary. And, after being criticized during a debate for his role as a member of Gateway's board of directors when the computer company started shedding jobs in the early 2000s, he questioned Mike Cox's character in a reference to the former attorney general's acknowledged adultery.
But Snyder was generally credited with running an exceedingly positive campaign.
Snyder told AnnArbor.com on Thursday that he's not trying to avoid a discussion about negative issues.
"But I won't do it in the context of blaming someone for it," he said.
Earlier this year he ordered the state to post "dashboards" on its website providing information about the progress of the state's economic recovery and other activities.
Since taking office Jan. 1 in his first political job, Snyder has maintained an emphasis on positivity in interviews, public appearances and political communications.
When asked about the recall effort against him, the thousands of protesters who have rallied against his policies or the steep decline in his approval ratings, Snyder still stays positive. He often describes it all as part of the "Democratic process" while maintaining that he believes the public still supports his efforts.
"He doesn't lash out at Democrats or their interest groups like the MEA," Ruff said in a reference to the Michigan Education Association, the state teachers union. "He's really careful about toeing a public policy line and defending his position on the policy initiatives rather than attacking either current or potential foes. He lives his motto."
Snyder said he doesn't mind being called a Pollyanna.
"We're showing results," he said. "They can be saying I'm a Pollyanna for doing those things, but we're doing things."
Hildebrandt suggested that consistent optimism is a natural side effect of being a political figure.
"Politicians by nature have to use positive words," he said. "I think there is a deep danger in wallowing in negative words."
Contact AnnArbor.com's Nathan Bomey at (734) 623-2587 or nathanbomey@annarbor.com. You can also follow him on Twitter or subscribe to AnnArbor.com's newsletters.