Posted on
Sun, Sep 1, 2013 : 5:59 a.m.
What's next for Domino's Pizza? CEO Patrick Doyle outlines some goals
By Lizzy Alfs
Melanie Maxwell | AnnArbor.com
Domino's Pizza
CEO
Patrick Doyle
sometimes quotes legendary Michigan football coach
Bo Schembechler
.
"Every day, you either get better, or you get worse. You never stay the same."
Doyle said continuous improvements are the key behind the 53-year-old company's growing profits — from introducing a new core pizza recipe to growing the company's technology department.
"We have to wake up every day and figure out how to get better," he said. "Otherwise, eventually the brand starts to fade."
Domino's hosted a tour of its 220,000-square-foot Ann Arbor Township-based headquarters this month. Doyle took time to outline for attendees — which included four Michigan Congressmen — the company's recent triumphs.
Domino's reported a net income of $112.4 million in 2012, up from $54 million in 2008, and the company's stock value has shown steady gains for three years.
AnnArbor.com sat down with Doyle after the tour to ask the question: What's next for Domino's? Here are some goals Doyle mentioned:
Store redesigns
Earlier this year, Domino's Pizza rolled out a new look for stores in certain markets. The stores feature open kitchens so customers can see employees spinning dough in the air and prepping pizzas. It also includes interactive features, such as a chalkboard for customers to write comments.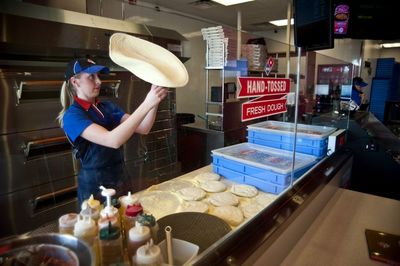 AnnArbor.com file photo
Doyle said every Domino's store built now has the new design, and the company is working through a plan for renovating old stores.
"We're getting really positive feedback," he said. "It's still early enough — we have over 100 of them total — that we can't quantify what kinds of sales lift it's generating yet, but we do know from the feedback we're getting that it's definitely a big step forward."
"That's clearly going to be part of what we're doing with the brand moving forward. We have to have all of our stores looking great," he continued.
Technology developments
As much as Domino's Pizza is a food company, it's also a technology company.
At the Ann Arbor Township headquarters, Doyle said the largest department is technology, which accounts for about 170 jobs out of the 550-person workforce.
From designing phone applications to tracking Domino's website analytics, Doyle said the company has heavily shifted focus to its still-growing technology department. He said talented web developers and statisticians are in high demand.
"We have laid out years of advancement from a technology front," he said.
After developing applications for the iPhone, Android and Windows Phone 8, Domino's plans to introduce an iPad application.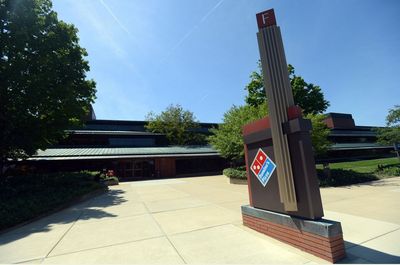 Melanie Maxwell | AnnArbor.com
The company is also introducing a feature called profiles, where the website can save a customers' order history and favorites for easier ordering.
"We want to make the ordering experience as efficient as we can for the customers, because we know that generates happier customers who will come back more. And frankly, in just the near term, it will generate more sales," he said.
Marketing innovation
As part of the pizza recipe relaunch in 2009, Domino's Pizza spent $75 million on a marketing campaign to tell the world its former pizza recipe was subpar.
Although risky, Doyle said the campaign paid off.
Doyle said Domino's has since tried to remain innovative in the marketing world. The company rented an electronic billboard in New York's Times Square to highlight customer feedback, whether it was positive or negative. Domino's also ran its "Show us your pizza" campaign, where it asked customers to take pictures of their Domino's products at home and post the photos online.
"All of these things are about showing (customers) that we're truly listening, taking feedback and making changes," Doyle said. "What it means is customers have some ownership of the brand perceptions that they didn't have in the past."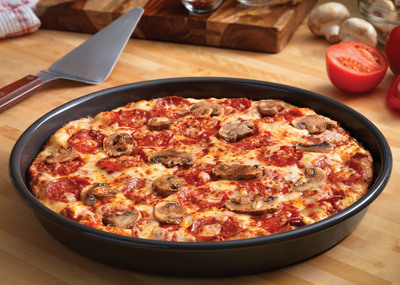 Courtesy photo
He added: "You're going to continue to see that."
He said Domino's has replaced a lot of its mailbox coupons with digital advertising.
"We still do some of that, but we continue to see the efficiency and effectiveness of digital advertising being terrific and so we keep shifting dollars that way."
International growth
In 2012, for the first time in Domino's history, the company's international store count exceeded its domestic store count. As of March 2013, the company had 5,407 international stores and 4,923 domestic stores.
Doyle said there is plenty of opportunity for expansion overseas — from India, the company's fastest growing market, to certain markets in Africa.
"Most of our store growth is still going to come from existing markets," he said. "So, growing bigger in India, growing bigger in Brazil, growing bigger in Russia. Opportunity for us is largely now driven by sheer scale of population. The bigger the country, the bigger the opportunity."
Lizzy Alfs is a business reporter for AnnArbor.com. Reach her at 734-623-2584 or email her at lizzyalfs@annarbor.com. Follow her on Twitter at http://twitter.com/lizzyalfs.