Posted on
Mon, Aug 8, 2011 : 4:40 p.m.
Why the University of Michigan is now a safer investment than U.S. government
By Nathan Bomey
The University of Michigan now has a better reputation as a safe place to invest than the United States government.
U-M's bond rating remains stable at AAA per the assessment of ratings agency Standard & Poor's, which on Friday announced that it had downgraded the U.S. credit rating, undercutting financial markets and sending stocks tumbling today.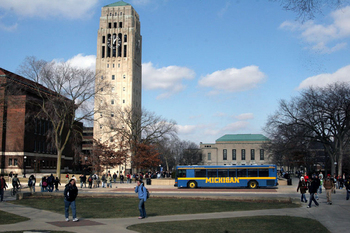 The university — which maintained its pristine credit rating over the last several years even as the state of Michigan's general obligation credit rating
fell from AA to AA-
in 2007 — is a safer place to park cash than the
U.S. Treasury Department
, according to S&P's assessment.
That U-M has been able to maintain its AAA credit rating is a testament to enormous financial stability supported by a $6.6 billion endowment and selective cost cutting under President Mary Sue Coleman in recent years.
U-M's financial prudence stands in stark contrast to Washington's profligacy.
"The University of Michigan has a very positive balance sheet, more assets than liabilities, and I guess that's the opposite of the U.S. government," said Don Grimes, a U-M economist.
At the same time, the university, which plans a $1.6 billion core budget in 2011-12, is still investing selectively. It's continued its massive building boom, expanding, renovating and adding facilities, including the $175 million North Quad complex and a forthcoming $116 million facelift for East Quad.
In addition, U-M paid $108 million in 2009 to acquire the 174-acre ex-Pfizer complex in northern Ann Arbor and plans to add 3,000 employees to staff the site by 2019.
Collectively, the actions underscore the broader point: U-M is more powerful financially than it's ever been before, despite the financial crisis.
That said, of course, U-M's endowment has surely lost millions — perhaps hundreds of millions — as the stock market has contracted in recent days.
But the endowment bounced back after the financial crisis of late 2008 and early 2009 — and the U.S. economy isn't in nearly as bad shape today as it was then, Grimes said. He cited high corporate profits as a sign of general economic stability.
"My hunch — and it's just a hunch — is that (the economy) will turn out a little better in the fall of this year than what everybody thinks right now in terms of real GDP and sales," he said.
Nonetheless, in light of S&P's downgrade of U.S. debt, is U-M concerned that its AAA rating could be in jeopardy, too? A credit downgrade, in theory, can increase the cost of borrowing.
In addition to the broader troubles in the economy, the state of Michigan is cutting its funding commitment to the university by $47.5 million — the latest in a series of cuts. But the university raised tuition by 6.7 percent to help make up for the shortfall — much like the government can raise taxes to cut deficits, a reality that has historically given confidence to ratings agencies.
Timothy Slottow, U-M's executive vice president and chief financial officer, was not available for comment.
U-M spokesman Rick Fitzgerald said he was not prepared to discuss whether the university is concerned about the impact of the U.S. credit downgrade on its own credit.
"But the university has had a AAA bond rating through some other really bad times in both our state and our nation economically," Fitzgerald said.
Meanwhile, the city of Ann Arbor — whose credit rating, AA+, is now the same as the U.S. government — is "monitoring the federal situation," chief financial officer Tom Crawford said.
"Given S&P's actions with the U.S., there could be an impact on locals, but it's really too early to estimate the chance or probability," Crawford said in an email. "I would imagine the AAA entities would be looked at first."
Eastern Michigan University's bond rating in April was affirmed at A1, a few notches below AAA, by Moody's, which upgraded the university's credit outlook from negative to stable. S&P rates EMU's credit ratings as A-.
"I do not believe that S&P's downgrade of the U.S. from AAA to AA+ will impact EMU's credit ratings," EMU chief financial officer John Lumm said in an email. "As a public university, EMU's ratings could potentially be impacted if the agencies were to change their ratings for the state of Michigan."
Contact AnnArbor.com's Nathan Bomey at (734) 623-2587 or nathanbomey@annarbor.com. You can also follow him on Twitter or subscribe to AnnArbor.com's newsletters.