Posted on
Fri, Mar 12, 2010 : 2:19 p.m.
Wireless Washtenaw in doubt: Federal funding rejected, 20/20 Communications exits deal
By Nathan Bomey
The federal government rejected Wireless Washtenaw's stimulus funding application - one of several developments that places in doubt six-year-old plans to extend high-speed Internet access to the entire county.
The relationship between the county and Wireless Washtenaw project manager 20/20 Communications has collapsed, punctuated by the federal government's rejection of the program's $4 million stimulus application.
Responsibility for the network has tentatively shifted to Southfield-based Internet 123 Inc., also known as 123Net, which does not share the original vision of the project.
Ann Arbor-based 20/20 Communications, which managed the beleaguered program on behalf of the county for six years, quietly sold rights to 400 to 500 customers to 123Net, the companies announced yesterday.
That deal marks the end of a business relationship that has cost 20/20 more than $2 million.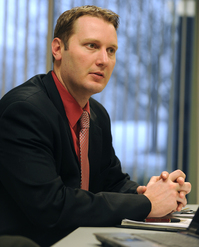 Lon Horwedel | AnnArbor.com
Former 20/20 Communications President Bob Wolff confirmed today that he left 20/20 and no longer has an ownership stake in the company. 20/20 Vice President Debbie Peterson could not be reached for comment.
123Net President Dan Irvin told AnnArbor.com today that the vision of creating a wireless cloud that provides access to all 347,000 residents of Washtenaw County is not realistic.
"That's a pretty tall order," he said. "Some of those areas are not commercially feasible."
Irvin said 123Net is developing separate plans to launch a free wireless Internet network in downtown Ann Arbor.
"We don't have those plans quite solidified yet," he said. "I'm quite excited about it."
Complicating the deal between 123Net and 20/20 Communications, however, is a clause in the 42-page Wireless Washtenaw contract that requires the county to approve any deals that shift responsibility for the network to another company.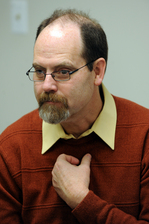 Lon Horwedel | AnnArbor.com
"I'm frankly not up to speed on that clause," Irvin said. "We had one meeting with the city and the county and it was just very positive."
James McFarlane, information technology director for Washtenaw County and project manager of Wireless Washtenaw, said the county is reviewing the deal and will decide whether to endorse 123Net as Wireless Washtenaw's new manager.
"It specifies in our contract that any additional partners that 20/20 brings on need to be approved by the county," McFarlane said. "So we've asked for business plans and some financial statements. We're doing our due diligence to make sure this new partnership will meet the vision of the project."
Wireless Washtenaw had about 550 regular customers when the project applied for $4 million in federal stimulus last fall. The county could file another application through the second and final round of stimulus awards, but county and company officials said that's unlikely.
"The Wireless Washtenaw project has been and is a significant undertaking," Peterson said in a statement. "With Dan's visionary leadership and the experience of the 123Net team we look forward to bringing this project to fruition and applying the lessons learned from other Michigan counties."
Irvin said 123Net acquired 400 to 500 residential customers from 20/20 in addition to a dozen collocation customers. He said 20/20 would continue to sell data plans, but 123Net is operating 20/20's networks.
Wireless Washtenaw Timeline

2004: Washtenaw County officials and business leaders hatch an idea to provide wireless Internet access to the entire county.
March 28, 2005: The county Board of Commissioners creates the Wireless Washtenaw Advisory Committee, a broad coalition of leaders.
Nov. 29, 2005: A request for proposal (RFP) is released.
March 7, 2006: Four RFPs are received.
June 16, 2006: Committee recommends Ann Arbor-based 20/20 Communications.
Sept. 26, 2006: County Board signs agreement with 20/20 Communications to deploy a wireless data network throughout the county.
Feb. 28, 2007: Pilot phase is complete. Network covers 100 square miles.
Late 2007: Original goal for covering county's 700 square miles.
August 2009: 20/20 requests $4 million in federal stimulus funding to expand the network.
February 2010: 20/20 sells customers to Southfield-based Internet 123 Inc.
March 2010: Federal funding application rejected

He said 123Net has about $12 million in annual sales from its telecommunications business, including phone customers and Web data plans.
Wireless Washtenaw launched in 2004 amidst national hype for municipal wireless networks.
County and local municipalities agreed to provide free access to government structures where 20/20 could install wireless Internet equipment for the networks. But the county did not invest any funds in the project, except an initial $70,000 to finalize contractual details, leaving 20/20 to take on the financial risk.
Officials hoped to provide low-speed Internet access for free and high-speed access at a cost.
20/20 built a 100-square-mile network that continues to operate, but the company was never able to convince outside investors to fund the expansion of the network to the county's 720 square miles.
Wolff, one of the visionaries behind the project, said today he left 20/20 because the company could no longer afford to employ him and that he wasn't not angry about the outcome. He said the county still needs improved Internet connectivity options.
"I still think there's a need in this county," he said. "I still think there's a digital divide. If anything, at the end of the day, we raised great awareness."
Contact AnnArbor.com's Nathan Bomey at (734) 623-2587 or nathanbomey@annarbor.com or follow him on Twitter. You can also subscribe to AnnArbor.com Business Review's weekly e-newsletter or the upcoming breaking business news e-newsletter.