Posted on
Sun, Oct 14, 2012 : 5:57 a.m.
The Original Cottage Inn adapting to a changing neighborhood with increased opportunity and competition
By Ben Freed
Joseph Tobianski | AnnArbor.com
The landscape of William Street and the surrounding areas has changed rapidly around the
Original Cottage Inn
. Two years of construction have wrapped up with a new student high-rise and new pizza restaurant moving in
next door
, long-time neighbors White Market and College Shoe Repair have closed to be replaced by yet another pizza shop just a
block away
, and major retailers Borders and Michigan Book and Supply have closed.
None of this worries general manager Tim Patino, he has a major anniversary to prepare for.
"We're going to be 65, but we're not retiring at all, we're just getting started," he said. "In fact, we've got a bit of a re-birth going on down here."
Patino said the changes next to the iconic restaurant will be good for businesses now that the major construction has been completed.
"We had an out-of-business bank next door for a while, then it was a hole in the ground, and then it was under construction for a couple of years," he said.
"The first year of construction is a challenge for any business, but when it got into the second year is when it was really difficult. Some days people weren't even able to make it to the front door because of equipment on either side of the entrance."
But once the construction was completed, Patino said Cottage Inn experienced its highest level of Art Fair revenue in at least eight years. He said that while it wasn't an easy transition, the addition of more students in the area and a more densely populated downtown is good for business, even with a new competitor moving in.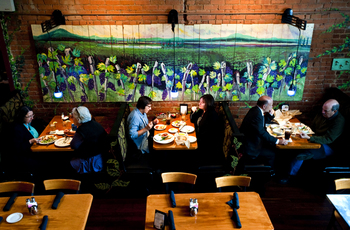 Joseph Tobianski | AnnArbor.com
"We're excited to have it done and we really think the new building and the landscaping has cleaned up the street for the better," he said.
"Was I happy about it at first when I saw that the ground floor would be pizza? No. But now we've embraced it… it could be the new pizza district of Ann Arbor."
Not everyone is so enthusiastic about the amount of pizza moving into William Street. Ed Davidson, who owns the Bivouac outdoor clothing store on the State Street, wants to see more diversity downtown.
"Do we need to have NYPD, the NeoPaplis place, Cottage Inn, and another pizza place next to where White Market was? The answer is of course not," he said.
Davidson and Pation agree that Cottage Inn's sit-down style and more expansive menu will enable it to weather the storm from any new campus-focused eateries. Patino said that while his restaurant has always done well with students and on the weekends, one of his main focuses has been using new and different promotions to increase weekday dinner traffic.
"We've started a 'kids eat free' promotion on Monday," he said.
"And we have found that parents actually look at these things and set their calendars to what places have those kids eat free offers on different days of the week."
Cottage Inn has also implemented special deals on specific items on Tuesdays and Wednesday to try to lure more traffic. The restaurant already experiences high volume on Thursday nights when the Glee Club comes after practice and on weekends thanks to a loyal following due to its status as "the original Ann Arbor pizza."
"This is a unique restaurant in that I can be sitting here and someone will come walking around with their kid and say 'mom used to work here back in college,'" Patino said.
"We get a lot of returns and a lot of people with fond memories of the restaurant reaching back years and years."
Davidson said that having a loyal following and good standing in the community is what allows institutions like the Cottage Inn and Bivouac, which opened on State Street 40 years ago, to stay in business. He said foot traffic has been down since similar stores closed shop recently.
"Hopefully it will get very exciting again when Borders is rented and the Michigan Book and Supply is filled, provided it isn't filled with something that's already here," he said.
"We need unique things, not duplications, to get people to come downtown. Not things people can find somewhere else, we need things that will make people say 'I want this and I can only get it on State Street."
For Patino, the focus is squarely on making the Original Cottage Inn a destination in and of itself. The past year has included a re-vamped website with online ordering, increased promotions on holidays such as St. Patricks day and Cinco de Mayo, and a new-look menu.
"We're welcoming what's going on, we're making the changes, and we're going to be here for a long time to come," Patino said.
Ben Freed covers business for AnnArbor.com. Reach him at 734-623-2528 or email him at benfreed@annarbor.com. Follow him on twitter @BFreedinA2