Posted on
Sat, Jan 21, 2012 : 5:59 a.m.
Wolverine State Brewing Co. to expand tap room and brewing capacity
By Lizzy Alfs
Ryan Stanton | AnnArbor.com
Wolverine State Brewing Co
. has its sights set on expansion for 2012.
This year, the company plans to expand its roughly 2,000-square-foot tap room to include a rental space for up to 60 people, expand its brewing capacity, distribute its products in the Grand Rapids market and roll out new beer.
Wolverine Brewing occupies about 6,000 square feet in the former Big George's Home Appliance Mart building on West Stadium Boulevard at 2019 W. Stadium Blvd., which opened in November 2010.
Ann Arborites Matt Roy and Trevor Thrall founded the company in 2006 and they first began producing beer in Roy's basement.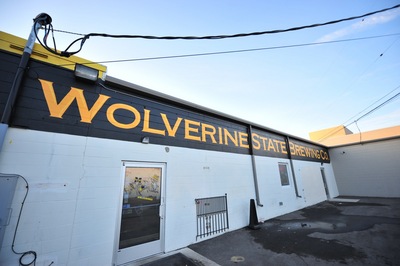 Ryan Stanton | AnnArbor.com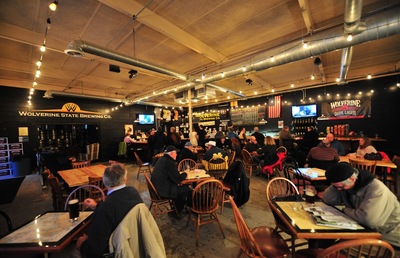 Ryan Stanton | AnnArbor.com
Wolverine Brewing found its niche making only lager beers, which are sold across the state under the flagship
Wolverine Premium Lager
and
Wolverine Dark Lager
brand.
After producing 35 barrels in its first year, the company's goal for 2012 is 1,200 barrels, up from 800 barrels in 2011.
As part of the expansion this year, the company plans to take an additional 850 square feet of the warehouse for an "overflow" tap room and rental space.
"I field, every week, several requests to rent the entire space," said E.T Crowe, the company's marketing director. "Everything from wedding receptions to huge office holiday parties."
Rather than shut the doors to the public during these events, she said it made sense to create a separate room that people can rent. When it's not being used, it would be an overflow tap room for customers.
Part of the project would include reconfiguring the bathrooms, building a back hallway and adding a service window from the main tap room to the new space, which will have its own bar. There will also be space for caterers.
Wolverine Brewing has also become an unofficial hangout for foosball players, Crowe explained. The owners recently purchased two competition-level foosball tables that will be located in the overflow space.
The expansion will also include increasing the company's brewing capacity by 270 barrels. They plan to build a malt room so they can grind their own malt, and add three thirty-barrel fermentation vessels by the end of 2012.
Crowe explained the company's distribution plans for the next few years as barrel capacity increases, with a goal of opening the market in Grand Rapids in 2012, the Kalamazoo and Flint areas in 2013 and Detroit in 2014.
Other goals for 2012: Roll out an array of "experimental and extreme" lagers and make a Wolverine Amber Lager available on store shelves and in bars and restaurants.
One of the new lagers to look out for this year is an Imperial Black India Pale Lager, Crowe said, which is aged in bourbon barrels for nearly a year.
She said much of the company's success is due to its loyal following and the "hugely" popular gathering space.
"People love it," she said. "There are lots and lots of regulars and parties. We kill it during tailgate season. There are lots of folks who like to think of it as their local bar, which is what we wanted."
Reflecting on the company's decision to open on Ann Arbor's west side, Crowe said the location couldn't be better.
"We positioned ourselves there for two reasons: It's the west side and there is nothing like this there, and it's within a mile of the stadium. Football season for us is huge. Always has been, always will be," Crowe said.
Lizzy Alfs is a business reporter for AnnArbor.com. Reach her at 734-623-2584 or email her at lizzyalfs@annarbor.com. Follow her on Twitter at http://twitter.com/lizzyalfs.