Posted on
Sun, Aug 18, 2013 : 5:59 a.m.
Worth the cost? Ann Arbor area car dealerships continue multi-million dollar facilities upgrades
By Ben Freed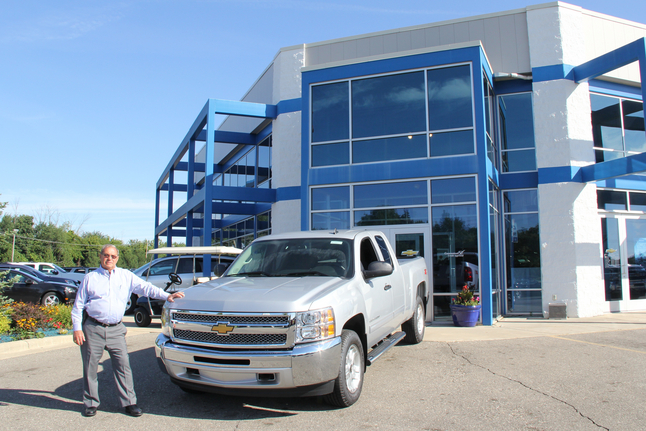 Ben Freed | AnnArbor.com
Even as the automotive industry took a major hit during the Great Recession, car dealerships across the county and the country were swept up in a trend of major upgrades and expansions to their dealerships that has continued through the economic recovery.
The Scio Township Board of Trustees approved the latest local renovation at its meeting Tuesday, an exterior remodeling of the LaFontaine Buick GMC dealership on Jackson Road.
According to a study released in February by the National Automotive Dealers Association, many of the upgrades are the result of pressure from the major automotive manufacturers to standardize the looks of their franchise dealerships.
Bill Crispin finished a major renovation to his Chevrolet dealership in Saline just three and a half years ago, but he is already planning another upgrade for later this year that he said could cost nearly $1 million.
"As a matter of fact, General Motors or Chevrolet comes to the dealerships and they tell you they want all of them to look alike. So if you're driving in Boston or Florida or whatever and you pull into a Chevy dealership, the front ends will all look the same," he said.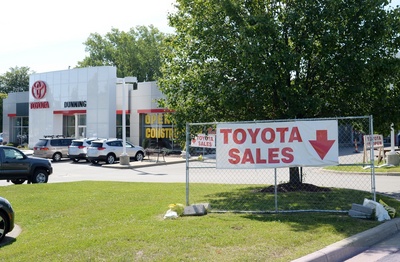 Melanie Maxwell | AnnArbor.com
"All the tile, all the office furniture, everything will be the same, that's the way they want it. They want it to be like a McDonald's where when you drive down the street you see the arches and wherever you go you know it'll be the same."
NADA data showed that between 2005 and 2012, annual total dealer investment in facilities upgrades averaged between $10 billion and $15 billion annually, causing average rent levels for dealerships to rise by approximately 28 percent to more than $400,000.
In Washtenaw County, a number of dealerships, including Gene Butman Ford, Suburban Cadillac-Chevrolet and Chelsea Chevrolet Buick, have all expanded in the past two years, and new Fiat and MINI dealerships have opened with sleek exteriors.
Dunning Toyota general manager and vice president John Taylor agreed that manufacturers have been leaning on dealerships to make their physical spaces more attractive to customers.
"There's been a big push from the manufacturers to the independent business owners to create an environment for our guests that is more modern and inviting in every category," Taylor said. His dealership is about eight weeks away from completion of a $2.5 million renovation.
"… At a certain point they said 'we'd like to see you guys make an investment in this facility,' so we did that and took it a step further with the LEED certification."
Scio Township supervisor Spaulding Clark said he's noticed that a number of car dealerships in the township have been a part of the renovation wave. He said he's not sure of any others in line to make changes but that each time one dealer makes an upgrade it seems that those right around follow suit.
"Part of it comes from the manufacturer I think, but part of it comes from the dealer also," he said.
"When one starts classing up their place the next one wants to do the same thing."
According to the NADA study, some upgrades can show significant return on investment for the dealers, while the exterior and facade work favored by manufacturers has less impact on sales.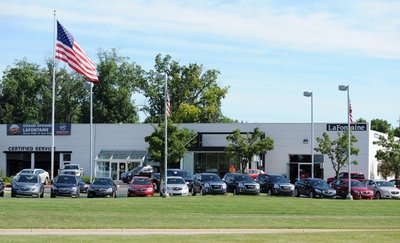 Melanie Maxwell | AnnArbor.com
"Expansion of the facility can pay off well. Modernization is harder to justify and standardization (as we define it, which is replication of features from store to store far above and beyond logos and signs) seems to be of no benefit," the report said.
The NADA study said that in order to justify a $1 million investment, dealerships would have to experience a bump in sales of approximately 60 new cars a year, an increase that very few dealerships see after changing signs.
Crispin said that his previous facilities upgrade was a major improvement for the dealership, but he's not as optimistic about the new exterior that General Motors has asked him to install.
"When I did my upgrade three years ago, sales and service increased 100 percent after the facelift," Crispin said. "I built my store in 1978, so from '78 up to 2007 or 8 there's a big difference. It increased sales; it meant more people came to work here, more sales people, more service people and more customers — that's what really helped us. But this new upgrade? I don't know how much it's going to pay off."
At Dunning Toyota, Taylor said that he expects the upgrade to have an impact beyond impressing customers. He stressed that salespeople and other employees look forward to the new working environment and the ability to show off
"I can't say for sure what the return on investment will be in the upgrades. It's really different in every market," Taylor said.
"But it's extremely exciting because it's a new opportunity for us to provide a better experience for our customers and our employees."
Taylor and Crispin agreed that aside from the standardized exterior, the highest priority has been improving the customer "waiting" areas. Both spoke of the need to use the renovations to create a unique look and feel for customers at their dealerships.
"The customer lounge is a major-league upgrade, and we're going to bring in really good coffee; people like good coffee in this city," Taylor said.
"Having WiFi, nice TVs, a nice lounge — that's all just a ticket to get into the game now. We have to make our guests feel like they're not just in some sort of waiting room. People want to have an experience at a car dealership."
Ben Freed covers business for AnnArbor.com. You can sign up here to receive Business Review updates every week. Get in touch with Ben at 734-623-2528 or email him at benfreed@annarbor.com. Follow him on twitter @BFreedinA2