Posted on
Sun, Feb 20, 2011 : 5:56 a.m.
Auto manufacturer plans to move 250 jobs to Ypsilanti's ex-Visteon plant by July
By Tom Perkins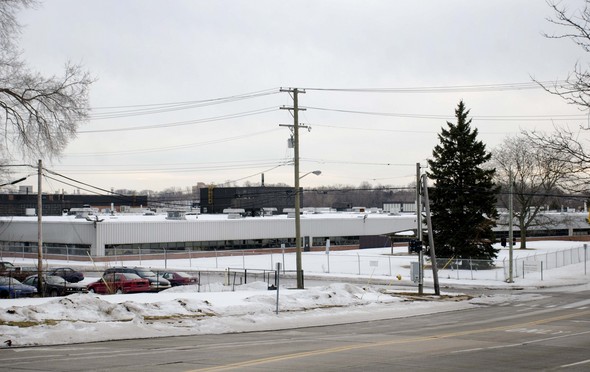 Tom Perkins | For AnnArbor.com
The company that bought the former Visteon Plant in Ypsilanti is hoping to move 250 to 300 employees to the site by July after renovations to the 35-acre property.
The Ypsilanti Planning Commission has approved the first phase of a three-phase site plan that will allow Taylor-based Angstrom USA to start operations at the facility it purchased from Ford-controlled Automotive Components Holdings in 2009 for $2 million.
Angstrom, a global precision tube manufacturer, builds precision needle bearing assemblies, driveshaft assemblies and other tubular assemblies for auto companies. The company plans to consolidate its operations at the Ypsilanti site.
According to an overview of the site plan, the company could add up to 1,000 jobs by 2012. City Planner Teresa Gillottisaid that final figure depends on Angstrom's growth. Angstrom officials declined to comment.
The facility is located south of downtown between I-94 and Spring Street. The site plan calls for improvements to start at the property's northernmost building.
The first phase of the parcel's three-phase renovation will include incremental reactivation of several buildings and the construction of an atrium to connect two buildings that will function as Angstrom's entrance.
"They're actually transforming it in a lot of ways from a standard industrial plant to a corporate headquarters," Gillotti said. "They're really trying to do a nice job and cleaning up the site.
"It's a big investment and it's exciting," she said. "It shows a commitment on their part."
All three phases could be completed by 2015, and the city will approve a new site plan before each phase. Gillotti said there currently is no timeline on when Angstrom would reactviate the other two parcels comprising the property. That also depends on the company's growth.
Angstrom purchased the building from ACH after it acquired the facility from Visteon in 2005. Visteon and Ford established ACH as a holding company for Visteon's less profitable operations.
In 2008, city records listed the state equalized value of the Ypsilanti property at $9,290,300, meaning the true cash value would be upwards of $18.4 million before the facility closed that year. The listing price was $7.25 million, a price that translated to $7.24 per square foot, and city records show a sale price of $2 million.
As part of the purchase agreement, ACH demolished roughly 250,000 square feet of the 1 million square foot building on the property's southwest corner throughout early 2010. That area, which used to hold a power plant, will now include parking and landscaping, Gillotti said.
Angstrom has a separate contract with Ford Environmental Quality to remediate the site's soil and groundwater. Parts of that work is expected to take another four years.
"It's nice that Angstrom has that deal," Gillotti said. "Ford has done a lot of work on the site. They're reorienting it so Angstrom can do everything they need on it."