Posted on
Sat, Feb 26, 2011 : 5:54 a.m.
Ypsilanti's newest coffee shop, B-24's, opens on Michigan Avenue
By Angela Smith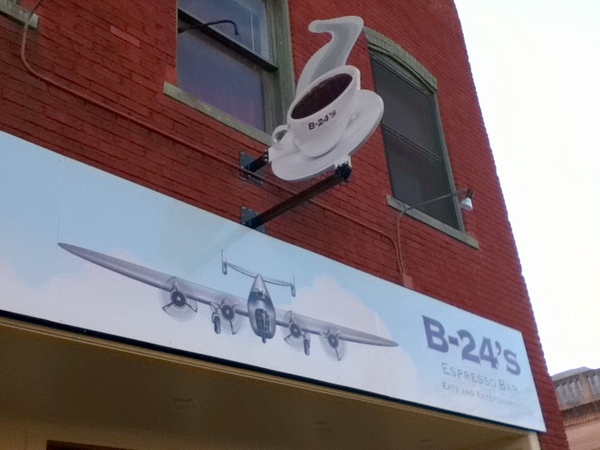 Angela Smith | For AnnArbor.com
Ypsilanti's newest coffee shop, B-24's, "is a tribute to our Ypsilanti heritage," says operations manager Rebecca Manney.
During World War II, almost 8,700 B-24 bombers were built at Willow Run Airport, making it the world's largest bomber facility in 1941. During peak production, the plant employed 42,000 people, according to the airport's website.
"A lot of people come in telling us about a grandfather or father… and the connections they have to the Willow Run plant," says Manney.
The coffee shop's sleek, clean ambiance seems to fit well with its industrial theme. Bomber posters line the back walls, but the front of the shop gives recognition to current local talent. Manney says the shop, which officially opened Feb. 18, also features live music.
Currently the shop is showing the work of David Austin, an established Ypsilanti artist with a gallery downtown. Next month, Fritz Ho, an artist and a barista at B-24, will show work.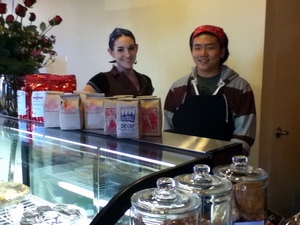 Angela Smith | For AnnArbor.com
B-24's coffee is also a selection of local favorites. Manney and owners Tom and Martha Rumford chose three local roasters to make up their lineup: from Ferndale, Chazzano Coffee; and from Ann Arbor, Mighty Good Coffee and Roos Roast.
Manney talks excitedly about the coffees they serve:
"Before we opened, we ordered a lot of different coffee samples, and we all tasted what we thought was the best and ended up with three. All phenomenal. We really go over and above on the coffee. Espresso training is intense and ongoing. You can never hear enough about it.
"We also do pour-over coffees. We brew each coffee by the cup for the customer, and that way you get to select from a whole lot of coffees, and each one is going to be brewed perfectly. … You can taste all of the little nuances that our roasters are so passionate about."
Manney is probably the face customers will come to associate with the shop, since as operations manager, she's there day in and day out.
"Thank God there is coffee, and good coffee," she jokes.
Manney also worked at the coffee shop that preceded B-24's, Bombadill's, where she fell in love with the cafe industry, the customers and with Ypsilanti.
"I tell people I came with the building," she says.
Of Bombadill's closing, she says she doesn't know a lot about why the business didn't work out but was disappointed. She was happy when the building's owners decided to redesign the coffee shop and carry on.
"This building has been a coffee shop for quite a while now. This space… I think it just wants to be a coffee shop," she says.
Manney has hope for downtown Ypsilanti's Michigan Avenue: "I feel like it is always in a cocoon, and about to become a butterfly. We are just trying to push it… a lot of people coming together to really keep this area alive. And it's a tough battle, I am not going to lie. I've lived downtown here for several years, and I have seen it come and go. There was a time when every shop down here was open. And now there are some vacancies."
B-24's is attracting plenty of newer customers among the Bombadill's regulars, she says, adding that "people have been really excited. I am finding I know a lot of the customers. I am seeing a lot of new faces too, people still checking it out, and the nature of being a university town, there are always new faces coming in and out."
"We are trying to span all ages, not just a certain niche," says Manney, acknowledging the events the cafe hosts and the ice cream and desserts they serve. "It's clean, and its sophisticated, and it's for everybody."
B-24's
217 W. Michigan Ave.
Ypsilanti, MI
Angela Smith is a freelance reporter for AnnArbor.com.