Wolverine Grill's new owner adapts to changing Ypsilanti business landscape
Posted on Tue, Aug 14, 2012 : 2:59 p.m.
Angela Cesere | AnnArbor.com
The Wolverine Grill, a longtime Ypsilanti restaurant on West Michigan Avenue, has reopened its doors under new ownership after closing last October.
The Wolverine has a rich history in Ypsilanti and has been located on West Michigan Avenue since the 1930s. Former owner Greg Batianis owned the restaurant from 1963 until he retired in 2008 and turned ownership over to his daughter, Debbie.
Health complications caused the family to close the business on Oct. 19.
New owner Kevin Hill said the restaurant, at 228 W. Michigan Ave., had its grand opening March 29. Hill signed a lease Jan. 1 for the 1,600-square-foot restaurant and said it took a few months for everything to come together.
Hill said when he heard the restaurant was closing, he saw an opportunity.
"I only live two blocks from there and I had eaten there many times in the previous 20 years," Hill said. "I know they had listed the place and I went to talk to the Realtor and I said, 'Do you really want to sell that?'
Both the 5,000-square-foot building and the restaurant were listed with Tom Stachler of Real Estate One for $189,000. Above the restaurant are two apartments and an office.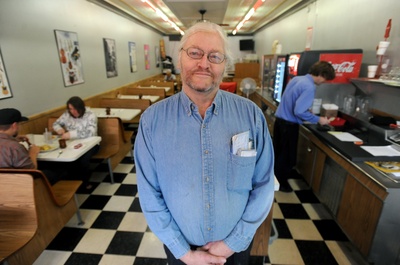 Angela Cesere | AnnArbor.com
Hill reached out to the landlord of the building and said he wasn't interested in buying the building but he was interested in leasing the restaurant space. Hill was able to reach a lease agreement with the current owner.
Hill began planning soon after to determine what renovations he wanted to do.
"We wanted to change the look but we did not want to change the character," he said.
Since the restaurant has been open since the 1930s, Hill said some interior changes were needed. Hill did some extensive painting, refurbished the booths and stools in the 44-seat diner and hired eight employees.
"I'm very happy with the look and what we did," Hill said.
While the interior might look a bit different to former patrons, the menu has changed a bit as well.
Hill said the new Wolverine still sells regular menu items such as hamburgers and the traditional "eggs over easy," but he's incorporating a number of new offerings into the menu, many of which are local and Michigan made.
"I get food delivered once a week from Growing Hope's urban farm," Hill said. "We get very fresh produce from them."
Some of the produce—spinach, squash and zucchini— will be incorporated into special menu offerings.
"I'm trying to do as much local and Michigan products as I can," he said. "We've figured out breakfast and lunch are our niche and we're doing breakfast something different than you can get down the street."
Hill isn't only focusing on the menu though, he also incorporates Michigan's music history into his customers' experience. Hill is partners at the AM 1700 radio station and the Michigan Music Hall of Fame, which share an office on Washington Street.
"I'm more interested in the kind of place people can come in and converse comfortably," he said. "That approach has worked well. We're trying to be a neighborhood downtown restaurant."
Hill said taking over a restaurant with such a deep history was quite the undertaking and and he decided to keep the name the same out of respect for the past owners and customers. However, he hasn't completely ruled out a name change yet.
"From a purely business sense I had to find out how much value the brand and it would have cost me a significantly greater amount of money to change the name," he said. "Whether we change the name or not, we'll discuss that in the future." Although the restaurant has undergone a change in ownership, Hill has retained some old Wolverine customers while picking up new ones.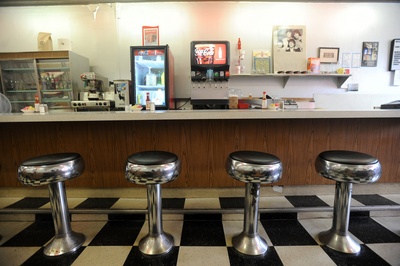 Angela Cesere | AnnArbor.com
"There are people that are looking to the past and we've made significant changes that if you're looking for what it was 15 years ago you won't find it but if you're open, you'll see the prices are good and the food is good," Hill said.
Since there was a lapse in time between the restaurant closing and reopening, Hill believes some former Wolverine customers found other places to go. He said the restaurant's demographics have begun to shift.
"We're developing a broader base of new customers," he said. "We were doing a very good business with college students and I'm looking forward to school starting. When there are no college students, business is going to be less."
Hill said although he has competition literally right down the street with the addition of new restaurants such as Bona Sera Cafe, all of the new businesses are aiding Ypsilanti's economic health.
"There's been significant change for the positive," Hill said. "Business owners are developing more solid business plans. The nature and perception of the area is changing. The reality of what downtown is and the perception is different."
The Wolverine Grill will be featured as part of the 35th Annual Ypsilanti Heritage Foundation Historic Home Tour taking place from noon to 5 p.m., Sunday Aug. 19. The tour will feature eight properties in Ypsilanti.