Posted on
Fri, Jul 13, 2012 : 5:57 a.m.
Bona Sera Cafe latest business to open in downtown Ypsilanti
By Katrease Stafford
What started as an underground supper club three years ago turned into an official business venture Tuesday when the Bona Sera Cafe had its grand opening.
The 3,000-square-foot cafe, which seats 60 people, is located in the previous J Neil's Mongolian Grill location at 200 W. Michigan Ave. at the intersection with Washington Street.
The space is owned by Maurer Management and leased to Bonnie Penet and Leslie Leland, who run Mix Marketplace and Mix.
Bona Sera owner Annette Weathers said for several years, she hosted the Bona Sera Supper Club at different locations such as barns, homes and warehouses. Since early 2009, the club raised nearly $20,000 for local charities.
Everything above the cost of food went to a different charity every single dinner, but as time went on, Weathers said she decided to open up an actual business.
"We decided we liked it so much that we wanted to do something more permanent," Weathers said. "We stumbled across this place in Ypsilanti."
Through a Kickstarter campaign Weathers raised $12,092, which was more than the $10,000 goal, to go toward buying needed supplies for the cafe. With the funds, Weathers was able to purchase a convection oven, dishwasher, various equipment pieces and other items.
The donations came from individuals that had gone to the previous dinners, family members and total strangers.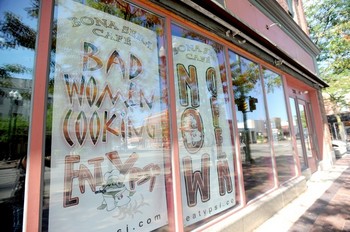 Angela J. Cesere | AnnArbor.com
Upon hearing about the opening of the new restaurant, Weathers said local residents have given her plenty of positive feedback.
"People are really happy to see more businesses coming back to downtown Ypsilanti," she said. "It's turning into quite an interesting place down here."
Weathers was attracted to Ypsilanti because she said she saw a chance to create something new that could potentially thrive.
"Ypsilanti is a little more affordable and there seems to be a lot of opportunity to use existing structures as opposed to Ann Arbor which is a little bit more of a tighter market," she said. "In terms of the business climate here, it seems to be turning around quite a bit. People seem to be investing more."
Weathers said although there have been other establishments opening recently in the area, she thinks there is a market for all of them.
"The nice thing about being where we are is we don't feel like we're in direct competition," she said. "We all do different things. The kind of food that we do, I can't think of anyone down here that's doing this sort of fusion and I feel we've found a place where people can support creative food."
Right now, Bona Sera has three employees but depending on business, Weathers may hire more.
"We're trying to get our flow down and I would love to hire more people," she said.
In what Weathers calls a "funky twist" on traditional food offerings, Bona Sera has an assortment of Vietnamese specialty sandwiches on its menu such as the Porchetta Banh Mi, which comes with a steamed Chinese bun or sub bun, Italian pork roast, fennel apple slaw and fennel vinaigrette. The cafe also has an assortment of soups, salads, desserts and flatbreads.
Red Rock Downtown Barbecue and the newly renovated Wolverine Grill are two businesses Weathers said are examples of businesses helping bring back the local economy in the city.
"It seems to be a lot of street traffic now and people are ready for downtown to come back," Weathers said. "We're hoping to attract everyone here. We're just really excited to see who we can bring in and who we can meet."
The cafe is open from 11 a.m. to 9 p.m. Tuesday through Saturday. Find more information about the menu at eatypsi.com.
Katrease Stafford covers the city of Ypsilanti for AnnArbor.com. Reach her at 734-623-2548 or KatreaseStafford@annarbor.com. You can also follow her on Twitter.