Posted on
Tue, Oct 23, 2012 : 2:59 p.m.
Zingerman's: Expansion project nearing completion as deli hosts 'dress rehearsals'
By Lizzy Alfs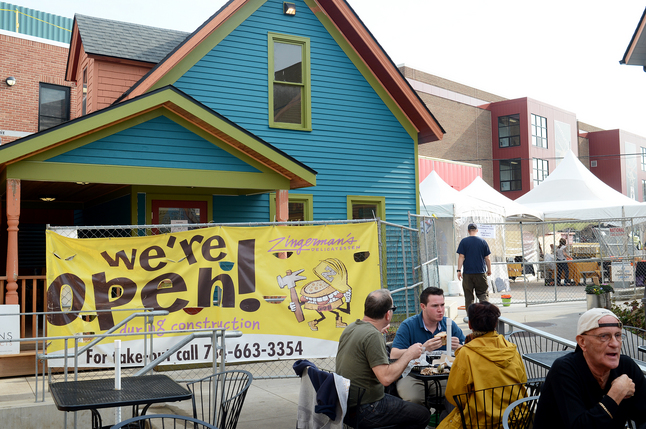 Melanie Maxwell | AnnArbor.com
Two years after launching a multi-million dollar expansion project, Ann Arbor's popular — and often cramped — deli on Detroit Street is testing out its
new space
.
Zingerman's handpicked customers to come in for a "dress rehearsal" this week, soliciting feedback and giving both employees and customers a chance to experience the new 10,400-square-foot building.
"We've been testing out the space as much as possible so that when we go live, there are less surprises and challenges," said project manager Grace Singleton via email.
She said the new building will be open to the public within the next two weeks, but construction will continue until early 2013.
Planted in-between and set back from its existing deli, annex and next door buildings, the two-story addition is expected to change the customer experience at the 30-year-old deli.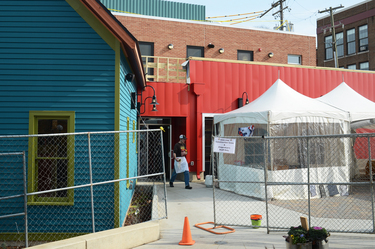 Melanie Maxwell | AnnArbor.com
The building includes additional seating, new kitchens and checkout lines — which Zingerman's hopes will make for a more seamless experience for customers and employees. All kitchen production and sandwich line cooking is expected to move to the new building, and the original deli building will be converted to retail use after the kitchen is torn out.
Indoor seating capacity will increase from 95 seats to 200 seats, giving customers more elbow room while waiting to order food, check-out and eat. It will also increase outdoor seating from 130 to 190 seats, and it includes a new covered picnic pavilion.
"It's going to be great when we're all settled in, but it's going to take a few weeks to decide the best way to organize things in the new space," Singleton said.
Plans for the $6.7 million project were approved in Sept. 2010 by Ann Arbor's Historic District Commission. A house at 322 E. Kingsley St. was demolished to make room for the new building.
When the project is completed in its entirety in 2013, a glass atrium will connect the new building to the original store, and it will have a basement connection to Zingerman's existing storage areas.
Singleton expects Zingerman's will hire up to 65 new staff members within the next five years as part of the expansion. The company is also aiming to receive a Silver LEED certification for efficiency in the building.
Read more about Zingerman's expansion here. Check out photos of the build-out on Zingerman's blog, and watch a time lapse of the construction project below.
Lizzy Alfs is a business reporter for AnnArbor.com. Reach her at 734-623-2584 or email her at lizzyalfs@annarbor.com. Follow her on Twitter at http://twitter.com/lizzyalfs.