Posted on
Wed, Sep 15, 2010 : 5:52 a.m.
Return visit by Brandi Carlile finds singer still unafraid to 'Give Up the Ghost'
By Roger LeLievre
Brandi Carlile clearly remembers the last time she played Ann Arbor, almost exactly a year ago. Thanks to a liberal use of theatrical smoke in her act, the smoke alarms at the Michigan Theater kept going off, to the point where it became comical and one of her band members rushed onstage with a fire extinguisher.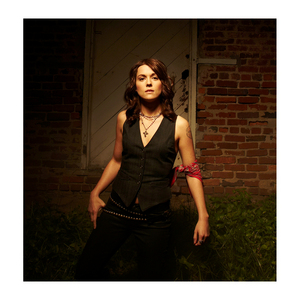 Rather than be annoyed by the interruptions, Carlile, who returns to the Michigan Sunday night for an Ark-sponsored show, said she enjoyed the excitement.
"I kind of appreciated it. I thought it was pretty funny. I love when s--- like that happens during the show," she told AnnArbor.com by phone recently, before embarking on a late summer tour that will see her sharing the stage with Sheryl Crow and the Avett Brothers, as well as performing several solo shows.
She'll be joined at the Michigan Theater by longtime bandmates Tim and Phil Hanseroth (aka "The Twins"), plus cellist Josh Neumann and drummer Allison Miller. Grammy Award-nominated singer Katie Herzig will open the show.
Carlile, who grew up with the music of Patsy Cline, began earning a living as a busker at Seattle's Pike Place Market when not playing in a band. After debuting a self-titled album in 2005, fueled by the single "What Can I Say," Carlile saw her fanbase explode with her second disc, "The Story," which boasted tunes like the title track and "Turpentine." That same year, she was featured on Rolling Stone's "10 Artists to Watch" list. Several of her songs have appeared in commercials and on TV shows such as "Grey's Anatomy," while Paste Magazine called her "the best voice in indie rock." Her third album, "Give Up the Ghost," was released a year ago, just after her Ann Arbor show.
If the phrase "give up the ghost" seems most often used to denote death or dying, it can also be used to describe the passing of stages in life, Carlile said.
"The concept … just basically means leave the present behind for a little while and write about what's influencing the present," she explained. "To give up the ghost is not just to die, since we do it a handful of times throughout our lives. It's a sort of leaving yourself behind. Or what you knew yourself to be so that you can grow and transcend love or youth. Sometimes both."
"It was more like projection," she went on to explain. "Rather than writing down what you are feeling and what everyone looks like — you can imagine what a boring song that would be — you think about what's influencing what you feel like, and that's leaving the moment, a form of giving up the ghost."
PREVIEW
Who: Indie-leaning singer-songwriter. Katie Herzig opens.
What: Alt-rock with country and blues influences. Expect songs from her third album, "Give Up The Ghost," released last year, as well as favorites from her earlier CDs.
Where: Michigan Theater, 603 East Liberty Street.
When: 7:30 p.m. Sunday.
How much: $20, $25, $35. Tickets available at Ticketmaster.com and the Michigan Union Ticket Office. To charge by phone, call 734-763-8587.
For Carlile, the album is one of extremes: "The songs that are stripped down, raw and bare are that way so it makes the listener feel a little uncomfortable," she said. "And the ones that are huge are really big, with big harmonies, piano, layering electric guitar solos and a string arrangement like at the end of 'Pride and Joy.'"
The CD also offered Carlile the chance to work with Elton John, Tom Petty and the Heartbreakers' multi-instrumentalist Benmont Tench, Red Hot Chili Peppers' drummer Chad Smith and Amy Ray of The Indigo Girls. Not only is Carlile still buzzing from that experience, she said she was thrilled this summer to perform at the White House Fourth of July celebration.
"I got this call asking if we'd like to play on the Fourth with The Killers, who I love," she explained. "We didn't even know if we'd get to meet the President. We did, we got our picture taken, we got to watch the fireworks over the (Washington) monument, and go to the White House barbecue on the lawn. I'm still stunned that even happened. It was such an honor."
Although she's never been to the top of the pop charts, Carlile said she's perfectly happy with how her career is evolving.
"I'm ecstatic. It's really a beautiful thing, watching people multiply, coming out to shows in bigger numbers," she said. "It's really an exciting thing to have a career based on touring. … I think it would bother me if I (had a big hit). It would be a bad sign, man."
Roger LeLievre is a free-lance writer who covers music for AnnArbor.com.
Brandi Carlile performing live in Iowa last month: