Posted on
Tue, Dec 15, 2009 : 10:51 a.m.
Fiddler Ashley MacIsaac highlights 2009 Crossroads Ceili this weekend
By Kevin Ransom
Detroit-area fiddler Mick Gavin has been organizing the annual Crossroads Ceili shows at The Ark for "about 12 or 13 years now," he says. But this year, the concerts will showcase a Celtic-music figure who is probably the best-known guest artist the Ceili has ever booked.
That would be Ashley MacIsaac, who started out as a child-prodigy fiddler from Cape Breton, Nova Scotia, playing that region's style of traditional Celtic music — before crossing over into rowdy, exuberant Celtic rock in the mid-90s, when he was just in his late teens. That's when he began doing flashy, flamboyant live shows — for which he donned wild costumes and often ran out into the crowd, screaming at the audience as he played fiery fiddle runs.
He also caused a stir during that era when he wore a kilt onstage, and would often kick up his leg while playing. He even "flashed" the camera — and therefore the TV audience — in such fashion on Conan O'Brien's show, raising his profile, and perhaps his notoriety, even more. On later albums, he alternated modern-rock and punk sounds with his trad-Celt roots.
But in the last couple of years, MacIsaac has focused on those more traditional roots, setting aside the wildman Celtic-rock/alt-rock routine. And when he plays at the Ceili on Saturday and Sunday, he will similarly focus on his trad side.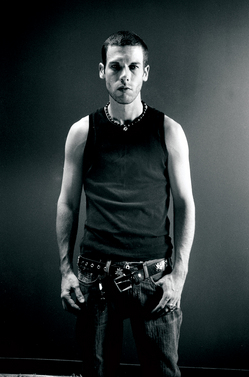 "I've known Mick (Gavin) for about 20 years," says MacIsaac, who moved to Windsor from Toronto just a few months ago. "When I was just a kid, the first time I went to Toronto, to perform outside of Cape Breton, we took a trip to visit relatives in Windsor, and they took me to Detroit for this Valentine's Day show at some Irish hall (The Friendly Sons of St. Patrick Hall in Warren, recalls Gavin), where they had photos of IRA prisoners on the walls. That's where I met Mick."
MacIsaac and Gavin have continued their acquaintance ever since, as MacIsaac has continued to visit his Windsor relatives over the years.
This year, the Ceili's mix of musicians and dancers also includes Gavin; his son Michael (banjo, guitar and fiddle); local 17-year-old Irish harpist Siobhan McKinney (who's appeared at The Ark as a guest with Finvarra's Wren and teaches harp at the Gaelic League in Detroit); the award-winning, local Celt-music sisters Jamie and Kelsey Lutz (Irish harp and fiddle, respectively); fiddler / dancer Holland Raper of Allen Park (a winner of the Michael Flatley Award); and Irish step dancers of various ages from the O'Hare School of Irish Dance in Livonia. The musicians will perform together in various configurations throughout the evening, often accompanied by the dancers.
The name of the show, Crossroads Ceili (pronounced KAY-lee), is inspired by the tradition — dating back hundreds of years to Ireland — when musicians, singers and dancers in rural areas would gather at the village's main "crossroads" and sing, dance, and play into the night.
Over the years, MacIsaac has recorded a couple of trad-Celtic Christmas CDs (in the more rugged Cape Breton style), "so we'll probably do a few Christmas songs, as well" he says. "This will be a fun and interesting show — there will be a lot of spontaneity, because I've never played with most of these folks before. We'll meet that day, go over the music, and then we'll play the tunes sort of by the seat of our pants.
"Every time you play with different musicians, there's a different swing to the music, because different players come from different traditions. In the Detroit area, a lot of the rhythms are quick, from years of playing dances in the area."
MacIsaac, now 35, mostly dropped out of music for about two years in '05-'06, first studying constitutional law, and then going into politics: He ran as a candidate for the leadership of the Liberal Party in Canada.
He retains a strong interest in politics, but he's now focused on resuming his recording career. Even though he's mostly been doing trad-music gigs since early '07, he thinks his next album will be in the Celtic-rock vein of "Hi, How Are You Today?," the '95 disc that launched him to fame in Canada when the disc went triple-platinum there, mainly on the strength of the single "Sleepy Maggie," featuring the great Canadian-Celtic singer Mary Jane Lamond on vocals
Macisaac was initially inspired to go in that more raucous direction because, at the time, "when I was getting out of high school, there wasn't really the market for traditional Celtic music like there is now," he recalls. "So I decided to venture out and see what I could do by rocking things up, and playing for larger audiences, especially in the U.S.
"I guess I had the good fortune of having rock-music success during the grunge era, when people were into hard, loud, in-your-face playing. And, with my being gay, I suppose that accounted for some of the flamboyance of my shows at the time. Plus, throw in the drugs, which were a big part of the scene when I was touring in the '90s……"
MacIsaac says he could "re-create" that part of his past, and do those kinds of shows again. "But at my age now, I'm not sure if I'm interested in doing that. So, what I'm trying to decide is whether to go out there like I used to — this crazy man with a beard, stomping around and giving people the finger — or, do a 35-year-old man's Celtic-rock show."
Kevin Ransom is a free-lance writer who covers music for AnnArbor.com. He wrote about the Crossroads Ceili for the Ann Arbor News every year from 2001-'08, and can be reached at KevinRansom10@aol.com.
PREVIEW Crossroads Ceili What: A celebration of Celtic music, featuring award-winning fiddlers, harpists, pipers, dancers and singers. Who: Acclaimed Cape Breton fiddler Ashley MacIsaac, plus accomplished local Celt-music artists like fiddler Mick Gavin; his son, the multi-instrumentalist Michael Gavin; Irish harpist Siobhan McKinney; sisters Jamie and Kelsey Lutz (Irish harp and fiddle); fiddler / dancer Holland Raper and Irish step dancers from the O'Hare School of Irish Dance in Livonia. Where: The Ark, 316 South Main Street. When: Saturday and Sunday, December 19 and 20, 7:30 p.m. How much: $15 Details: 734-761-1451 / The Ark web site.