Posted on
Sat, Jan 29, 2011 : 12:58 a.m.
Paper Raincoat, Vienna Teng, Avett Brothers highlights of Friday night's Ann Arbor Folk Festival
By Roger LeLievre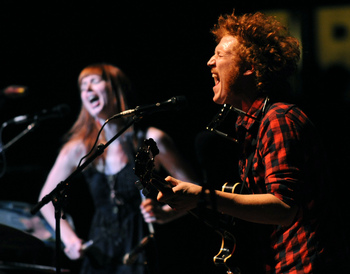 Lon Horwedel | AnnArbor.com
Musical up-and-comers more than held their own with the bigger acts at Friday night's Ann Arbor Folk Festival, the first of two night's worth of music that acts as a fundraiser for downtown's nonprofit music club The Ark.
Friday night's acts generally hew toward the cutting edge of folk, while Saturday's program is more traditional.
As expected, Friday's headlining group the Avett Brothers was superb, but so were The Paper Raincoat, The Spring Standards and Ann Arbor's own Theo Katzman. I could have done with a little less of the melancholy Citizen Cope and more of Vienna Teng, but that's just me, as Cope — a modern folk troubadour if there ever was one — clearly had plenty of fans in the house. And Anais Mitchell is just the kind of up-and-comer I go to the Folk Festival to hear.
Of the lesser-known acts, The Paper Raincoat (Brooklyn's Amber Rubarth and Alex Wong, plus guest drummer Elliot Jacobson) really caught the crowd's attention in the show's first half with their mix of orchestral folk-pop. A highlight of the too-short set was the a capella "Rewind," with its clever, finger-snapping, hand-slapping accompaniment.
Despite having some guitar/monitor issues, The Spring Standards offered a big-room sound that mixed gentler folk-rock like "Unravel Unwind" with the full-out country-rock of "The Hush." Heather Robb's vocals are the icing on the cake for this band of energetic multi-instrumentalists.
Ann Arbor's Theo Katzman, faced with the daunting task of opening act, handled his duties like a pro. Making the most of a three-song set, Katzman and bandmates Love Massive changed configurations for each song, making a particularly good impression with "Feel Love All The Time."
Paper Raincoat's Wong returned to accompany pianist Teng as percussionist, and they were (pardon the hyperbole) phenomenal. It was easy to get lost in this gorgeous music. Teng is a superb vocalist and pianist who is not afraid to veer into the realm of experimental. For "Blue Caravan," she encouraged audience members to shake their house keys, making a sound that reminded me of sleigh bells. "Radio," from their first studio collaboration, "Inland Territory," and "City Hall" ended the first half of the show, earning the pair a deserved standing ovation.
Unlike most of the Folk Festival's performers, Teng doesn't seem to have an upcoming date set at The Ark. Maybe that's because she's busy with her studies at the University of Michigan (a dual program at the Erb Institute for Sustainable Enterprise can be time consuming!) or maybe it's because there's a show planned at a bigger venue. Let's hope.
When Susan Werner introduced Anais Mitchell as a great singer-songwriter, she wasn't kidding. Mitchell, singing with a drummer and keyboard player, started off with "Build a Wall," from her folk-opera "Hadestown," her clear-as-a-bell voice the perfect vehicle for her poetic lyrics. This is the just the kind of act the Folk Festival is meant to present, young talent deserving of wider recognition.
Avett Brothers closed Friday's four-and-a-half hour musical marathon with a mostly high-energy set of country, folk, bluegrass and rock. Highlights included "Shame," "Head Full of Doubt, Road Full of Promises," the rowdy "Fall Down" and a one-two punch of "Kick Drum Heart" and "I and Love and You." The delicate "Bella Donna" showed the band just as capable of exploring its softer side as it is rocking out with full-throttle bombast. This is a band best seen live; the energy they bring to the stage doesn't quite come through on CD.
Now to Citizen Cope, whose introspective story-songs paint vivid word pictures. My companion for the evening put it perfectly: "He's like cranberries — you wouldn't want to have Thanksgiving dinner without them, but you don't want them as the main course." Cope puts a lot of emotion into his rough-hewn voice, as songs such as "Bullet and a Target" and "Salvation" attest. His choice of covers — Neil Young's "Out On The Weekend" and "Wedding in Cherokee County" by Randy Newman, was impeccable, and if the new song he played, "One Lovely Day," is any indication, his new CD is going to be terrific.
Werner had just the right touch as emcee, offering good music (with surprise guest Trina Hamlin, a fine singer-songwriter in her own right, showing up to provide backup) and a slightly skewed sense of humor, even coming out on stage after intermission dressed in a U-M drum major uniform.
Ark Executive Director Marianne James said that both nights of the festival sold out for the second year running. Since The Ark makes about 20 percent of its annual operating revenue from the festival, that news was also sweet music to the ears.
Roger LeLievre is a free-lance writer who covers music for AnnArbor.com.