Posted on
Sun, Jul 15, 2012 : 5:56 a.m.
2012 Ann Arbor Art Fair facts: parking, hours, map and more
By Jenn McKee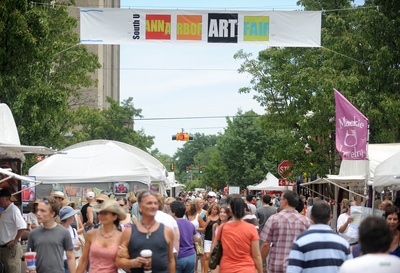 Angela J. Cesere | AnnArbor.com file photo
The Ann Arbor Art Fair
is actually four fairs, but one big event:
The Ann Arbor Street Art Fair is located in the streets surrounding Burton Carillon Tower at North University and East Washington connected by Ingalls Mall.
The State Street Area Art Fair is located on State Street, North University, East Liberty, and Maynard.
The Ann Arbor Summer Art Fair has two locations, on Main Street and Liberty plus one block of State Street (between Angell Hall and the Michigan Union).
Ann Arbor's South University Art Fair fills out the entire South University Avenue area.
Hours: 10 a.m. to 9 p.m. Wednesday, July 18 through Friday, July 20; and 10 a.m. to 6 p.m. on Saturday, July 21. For visitor information call 1-800-888-9487 or visit the Ann Arbor Area Convention and Visitors Bureau.
Traveling to the fair by shuttle: Air-conditioned park-and-ride shuttles run from three different locations. Shuttle service hours are Wednesday through Friday, 9 a.m. to 10 p.m., and Saturday, 9 a.m. to 7 p.m. Shuttles run every 10-15 minutes.
The Trinity Westside Art Fair Park & Ride Shuttle will pick up passengers from The Maple Village Shopping Center (155 N. Maple Road) at Jackson and Maple Roads, just off M-14. Parking is free, and the round-trip cost is $3. Children 5 and younger ride free. The shuttle stops at Washington and Main, and at Washington and State.
The Ann Arbor Transportation Authority's TheRide will continue to pick up passengers from Pioneer High School, at 601 W. Stadium Blvd., and Briarwood Mall (near Sears) on State and Eisenhower. Parking is free, and the shuttle fare is $1.50 each way for adults, $.75 for K-12 students and AATA Fare Deal cardholders; and seniors, A-Ride cardholders and children five and younger ride free. The Main Street route will drop riders off in downtown Ann Arbor, at Main and William, while the South University route will drop off passengers at the South University and State Street shuttle bus stop.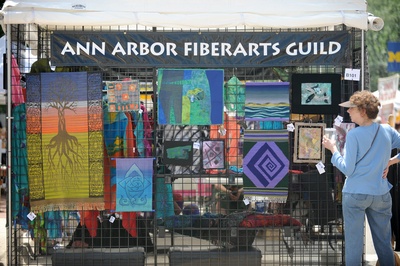 Angela J. Cesere | AnnArbor.com file photo
Parking and traffic:
If the shuttle isn't your thing, know that you're facing lots of congestion and slow traffic. Check out conditions online using the
Google traffic map for Ann Arbor
.
Many downtown streets will be closed, including Main Street; see the PDF map linked to below (all blocks shown in color will be closed). Closures start Tuesday morning for setup.
City parking structures will have all-day rates, and U-M parking decks will have evening and weekend parking. (Visitors may also try the new library lot, with entrances on S. Division and Fifth Ave., which is open for business during Art Fair.) Rates are $12 per day, $6 after 5 p.m. Of course, organizations and private entrepreneurs will offer parking throughout the central city at varying rates; in general, the closer you are, the more you'll pay.
Special parking hints: The Ann Arbor Downtown Development Authority has a system for keeping track of available parking spaces in all the downtown parking structures. Use it online or by phone at 734-761-9477. And this year, for the first time, you can reserve a parking spot; find full details here.
Bus detours: Regular Ann Arbor Transportation Authority bus schedules will be affected by the fairs. Full details on the AATA website.
The coolest way to fair-hop: Renovated, air-conditioned A2 Art Trolleys, presented by VisitAnnArbor.org, will travel a loop between all four art fairs (with eight stops) and run from 9 a.m.-10 p.m. Trolley rides cost $1 per person per day (riders will get wristbands), and children 12 and under ride free.
Wheelchairs/walkers: Wright and Fillipis will provide wheelchairs on site, free of charge, on the corner of South University and Tappan and also on Main St. and William. For more information, or to reserve a wheelchair, call 734-975-6800. U-M Health Systems Home Care Services will also provide wheelchairs at the Corner of North University and Fletcher, free of charge. For more Info, email Will Siembor at wsiembor@med.umich.edu
Weather: The Ann Arbor Art Fair is known for heat and, often, a nasty thunderstorm or two. Keep on top of conditions and forecasts with the AnnArbor.com weather page.
Art Fair app: A free iPhone application is now available via Apple's iTunes store. It was developed by Southfield-based jacAPPS and includes an interactive map of the fair (with geo-location, so users can see their current location in relationship to specific artists), with information about local businesses; AAAF events; the trolley; food; information booths; music stages; parking; and a comprehensive list of artists, with sample images of their work.
Food and drink: A variety of food options are available at the fairs' food courts, located on Liberty Street west of Main; on Ingalls Mall outside the Michigan League; and at the Michigan Union, South State Street at South University Avenue.
In addition, many restaurants will be serving outside their establishments.
For the kids: The Ann Arbor Street Art Fair, The Original will host the Art Activity Zone, with hands-on projects for adults and children, at East Washington between Thayer and Fletcher; The Summer Art Fair will host an Art Activity Zone at Liberty and S. Fifth; and The State Street Area Art Fair will host the Art Activity Zone on Maynard and Jefferson.
Entertainment schedules: A full entertainment schedule is here. Individual stage schedules can be found here for The Fountain Stage located at the Ann Arbor Street Art Fair, at Ingalls Mall; Ann Arbor's South University Art Fair will host the 107.1 Main Stage, at Church and Willard streets; and the The Ann Arbor Summer Art Fair's iSPY Magazine iSpy performance stage will be on Liberty, between Main and Ashley.
Art-in-the-making: Artist demonstrations take place at the Ann Arbor Street Art Fair in a tent under the big oaks on North University; and more demonstrations take place at Ann Arbor's South University Art Fair, Ann Arbor Summer Art Fair and the State Street Area Art Fair. And look for the emerging artists areas in the South University Art Fair and the "New Art, New Artists" tent at the Street Art Fair, The Original, plus the Arts League of Michigan, an artist mentorship program, on State Street in the Ann Arbor Summer Art Fair.
Ann Arbor Art Fair map: The Official Art Fair map and guide are available as PDFs for download.
Related articles: • Art Fair overview • Townie Street Party preview