Posted on
Sun, Jul 15, 2012 : 5:57 a.m.
A very good place to art: 53rd Ann Arbor Art Fair on its way
By Jenn McKee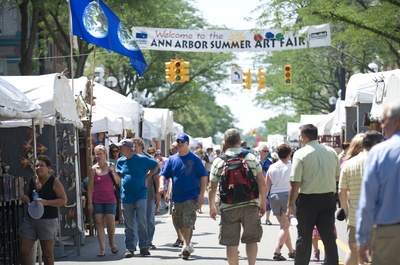 Melanie Maxwell | AnnArbor.com file photo
Related articles:
•
Art Fair facts: Hours, parking and more
•
Townie Street Party preview
•
2012 Ann Arbor Art Fair live entertainment schedules
OK, everyone. Let's all take a deep breath.
Because you know what's coming.
Yes, the Ann Arbor Art Fair is almost upon us again (July 18-21), complete with its ubiquitous white tents on 27 blocks; art of all kinds; often-scorching mid-July heat; sublime people watching; sidewalk sales; family-friendly art activities; live musical performances; food vendors; and parking and traffic challenges that make a football Saturday look like child's play.
The event—which actually consists of four separate but simultaneous art fairs, the Ann Arbor Street Art Fair, the Ann Arbor Summer Art Fair, the State Street Area Art Fair, and the Ann Arbor South University Art Fair—will feature the work of 1,036 artists (representing 47 states and 3 coutnries) and draw an estimated 500,000 people to Ann Arbor. But its origins are far more humble.
THE HISTORY:
In 1959, a State Street merchant proposed having artists showcase their work on North University during summer bargain days. And while the Ann Arbor Art Association (now the Ann Arbor Art Center) initially said, in essence, "No good artist will sit in the street," it nonetheless formed a committee to explore the idea.
1960 thus marked the first "experiment in arts and crafts" (which was named the Street Art Fair the following year), located on two blocks of South University, which featured the work of 132 artists, 99 of whom were local. Artists were charged a registration fee of $1. (AASAF was also the first-ever fair to jury an outdoor show in 1965.)
In 1967, the State Street Area Association launched its own juried fair, and in 1970—when crowds had grown beyond the 70,000 mark—the FreeArts Festival, which became The Guild's Summer Art Fair, arrived on the scene.
Finally, when the original Street Art Fair relocated to the Burton Carillon Tower area in 2003, the South University Area Association filled the void with its own art fair.
FOR THOSE ABOUT TO ART FAIR:
• As mentioned above, the hot temps on Art Fair days can be brutal, so bring your water bottle, hat and sunscreen - as well as your portable umbrella, since there's almost always a rainstorm at some point, too.
• The art-lined streets get so congested with humanity that maneuvering strollers and dogs and bikes is a challenge. You'll probably want to leave all of these things behind.
• Two words: comfy shoes.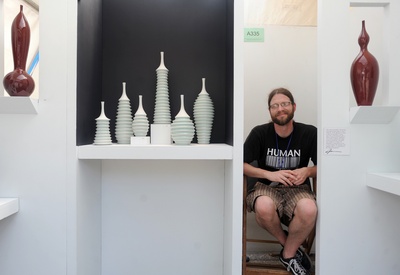 Angela J. Cesere | AnnArbor.com file photo
IF YOU'RE SERIOUS ABOUT BUYING ART:
• You can experience a kind of virtual version of the Fair first by visiting www.theannarborartfair.com or storify.com/AnnArborArtFair to check out the fair's artists, their work, and the location of their booth.
• Take advantage of the artist standing only a few feet away from you and ask about the work you're most interested in. There just might be a compelling story behind it.
ART FAIR BINGO:
See which of these mainstays you can catch during this year's fair:
• Paintings/photos of spiral staircases and windowboxes
• A no-holds-barred argument, and/or an unabashed make-out session
• Local boogie-woogie piano man Mr. B
• A near-miss car accident
• Art on a stick, sailing like a boat upon the sea of people
• Public sleeping
• A booth that makes you wonder where the art is - before you learn that the booth's funky shelves are the art.
• A price tag that makes you do a spit-take (will also accept "haggling")
• A drum circle
• Funny hats (both the "funny ha-ha" and the "funny strange" varieties)
Jenn McKee is the entertainment digital journalist for AnnArbor.com. Reach her at jennmckee@annarbor.com or 734-623-2546, and follow her on Twitter @jennmckee.