Posted on
Fri, Jul 19, 2013 : 5:28 a.m.
5 things to check out Friday at the Ann Arbor Art Fair: toys from yesteryear, comfy chairs and more
By Jenn McKee
• 5 things to check out Wednesday at the Ann Arbor Art Fair
• 5 things to check out Thursday at the Ann Arbor Art Fair
• The Mega Guide: Full coverage of the 2013 Ann Arbor Art Fair

The Ann Arbor Art Fair offers countless fascinating sights—as well as sounds, tastes, smells and experiences.
Here are a few suggestions for things you might want to check out Friday—and add your own in a comment at the end of this post: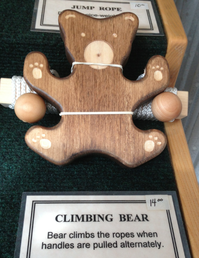 Photo by Jenn McKee | AnnArbor.com
• Toys from yesteryear
You see lots of handcrafted wooden toys at the Art Fair, but the thing that stopped me in my tracks was spotting—for the first time since I was probably 8 or 9 years old—a climbing bear toy in Donald and Dawn Shurlow's booth on Main Street.
The wooden bear, which you make climb up two ropes by alternately pulling each one, had been a mainstay item at my grandparents' house in Clay City, Indiana, having been one of my father's childhood toys.
"It was once used to train kids to milk cows," explained Dawn Shurlow, who noted how much she enjoys doing research on the history of the toys she makes with her husband. The two, from Midland, have been making the toys for 30 years, and coming to the Art Fair for more than 15 years.
How'd they get started making classic toys?
"I wanted to be home with the kids, and (Donald) was unemployed, so I quit my teaching job, and (Donald) quit painting houses," she said.
The penny safe is the pair's biggest seller. "It's one of those things that, engineers can't do it, and then little kids open it by mistake," said Dawn Shurlow.
But you'll also find classic puzzles, train whistles, rattle traps, pillars of Solomon sets, spool knitters, and rubber band guns, among other items.
"I love kind of bringing these things back," said Dawn Shurlow. "It brings back so many memories for people."
• Another alternative cooling station
In the heat of Thursday, many folks opted to escape the crowds, noise and relentless heat for a while by popping a squat under a Diag tree. As long as there's a bit of a breeze, it's a nice break, particularly when you can sit back and listen to folks like this quartet.
• The siren song of the hammock chair
Like every other Art Fair visitor, I always stare longingly at Victor Edward's oak and rope, hammock-like chairs.
Why? Because they look so ridiculously comfy, swinging in the shade of his Liberty Street booth. (He's been coming to the Ann Arbor Art Fair for 37 years, and been in the same spot for 20.)
"I started out selling dining tables and lamps," said Edward, who comes from Monticello, Florida, and started selling his work at art fairs full time after finishing college.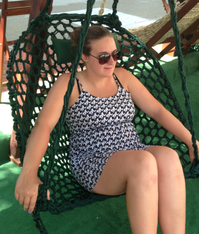 Photo by Jenn McKee | AnnArbor.com
A few years later, he experimented with the rope chairs, making one for an art fair, and then 3 for another.
"I kept selling out and getting so much positive feedback on them," said Edwards, who acknowledges that the style of his chairs perfectly complements the hot days of summer.
"In the winter, I'm going to South Florida shows, which is where Midwest people go in the winter," Edwards said. "So even in winter, I'm often still selling to the same people."
So don't just pass by Edwards' inviting chairs. Take a load off for a few minutes. Sure, it might be hard to leave, but I promise you won't be sorry you tried it.
• Tailor your sidewalk sale stops
Each year, local businesses cash in on the thousands and thousands of visitors flocking to Ann Arbor by putting marked-down merchandise out on the sidewalk. And who doesn't love a good deal?
The trick is to focus your attention on the sidewalk sales happening at your favorite stores.
Personally, my perennial sidewalk sale pitstops during Art Fair include Running Fit and The Dawn Treader used book store. (Feel free to add your favorites in the comment section below.)
• Aluminum gone wild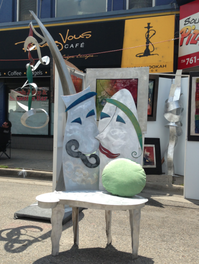 Photo by Jenn McKee | AnnArbor.com
Eric Sauvageau
's framed wall art has a nice sense of color and texture and movement, but his aluminum furniture was what initially drew me to his South University booth.
Unlike Victor Edwards' chair, Sauvageau's furniture pieces don't look super-comfortable, but they do make you smile, particularly one that looks like two people. (Sauvageau grew up in Canada, and studied design in Montreal, before moving to his current home, Harrisburg, Pennsylvania.)
"Part of my work, for a long time, was always serious," said Sauvageau. "But I also do more whimsical pieces."
Jenn McKee is an entertainment reporter for AnnArbor.com. Reach her at jennmckee@annarbor.com or 734-623-2546, and follow her on Twitter @jennmckee.