Posted on
Wed, Jul 18, 2012 : 5:49 a.m.
5 things to check out Wednesday at the Ann Arbor Art Fair: a metal wolverine and more
By AnnArbor.com Staff
Find a roundup of Ann Arbor Art Fair coverage here.
The Ann Arbor Art Fair offers countless fascinating sights—as well as sounds, tastes, smells and experiences.
Here are a few suggestions for things you might want to check out today—and add your own in a comment at the end of this post:
The return of artist Bill Secunda—with a wolverine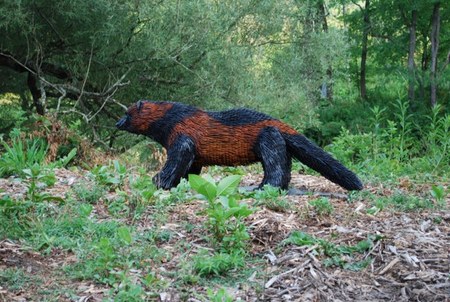 Bill Secunda's striking large metal sculptures have been a perennial attraction at the Ann Arbor Art Fair—but he hasn't been involved the last couple years. This year he's back, with a new sculpture of a wolverine.
"The process that I use of steel nails welded to a steel armature is unique and one that I came up with while trying to imitate the look of fur for a bear sculpture I wanted to create," Secunda wrote in an email. "I create my artwork out of steel nails welded to a hand made steel rod armature. The average piece may contain up to 60,000 nails. The type of nails used are collated, common, varying sizes of finishing nails, cut nails, and even railroad spikes. Some nails are welded end to end to make strands of hair, other nails are welded side by side and end by end to give a smooth texture, where most nails are welded in an overlapping pattern to give the appearance of fur. ... The tools used in this process are mig welder, stick welder, various hammers, and a plasma cutter."
Secunda can be found at the South University Art Fair in booth E161.
The nonprofit booths
What does a block full of booths promoting various political and social causes have to do with the visual arts?
Absolutely nothing, and that's part of why the booths' presence at the Ann Arbor Art Fair continues to fascinate: It's a quirky diversion that can provide a great change of pace from the fair's main attraction.
The nonprofit area usually include political parties and a wide range of other interests ranging from Community Television to a nudist group. People-watching is a great sidelight of the Art Fair, and the nonprofit area offers some of the best.
The booths are located on Liberty Street, between Division Street and South Fifth Avenue.
The birds of Jim and Victoria Mullan
This Pompano Beach, Florida couple bring beautiful boxes and jewelry to the Ann Arbor Summer Art Fair each year, but the items that will likely first catch your eye are Jim's unique, fanciful birds.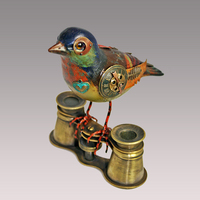 According to the
Mullans' website
, "In 1991 original decoys were passed on to us and they decorated Jim's studio for years. In 2006 Jim decided to go through his boxes of old and damaged birds and have some fun. He combined his love of mixed media with his vast collection of found objects and a new 3-D art form was born. Before we knew it, our feathered friends had become amazingly popular and are a favorite of many collectors. Each bird is hand made in our Florida studio using old carvings as our models. The unusual relics we use such as croquet balls, binoculars and old toys give each inspiring bird their own personality."
Located on Main Street, the Mullans' tent is definitely worth a gander - so to speak.
Dragon Wagon on the iSpy Stage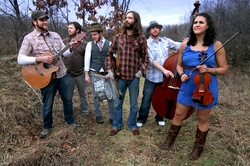 photo by Dree Ziegler
Live musical performances are a key part of the Art Fair experience, with
three different stages offering four full days
of quality sounds—including sets from some of the best local and regional acts.
One highlight on Wednesday is Dragon Wagon, a rising local roots band with a new album out and a substantial following.
Dragon Wagon plays at 7:15 p.m. on the stage sponsored by our friends at iSpy Magazine, located on Liberty Street west of Main. For a full schedule of performances, click here.
The King's Courtyard
Though not an official part of the fair, the King's Courtyard, located at (and around) 315 E. Liberty, between Fifth Ave. and Division, offers a variety of fun, quirky alternatives, particularly for those who might be on the lookout for less expensive items.
Whether it's jewelry, decorated water bottles for kids, hand-dyed clothing, or purses made from record album covers, there are often delightful surprises to be found. Definitely worth a quick browse.
- By Bob Needham and Jenn McKee, AnnArbor.com